When the Texans traded up to select linebacker Jason Babin in the first round of the draft last month, one of the picks they surrendered was their second-rounder. It made for an early Saturday workday.

But while Houston technically wasn't on the clock in this year's second round, their 2004 draft haul did indeed include a second-round selection. Tony Hollings has just been here awhile. Since last summer, in fact.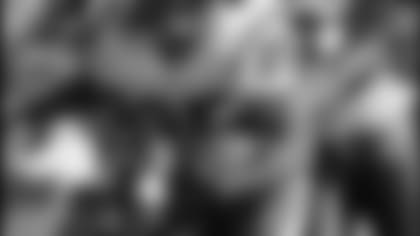 Hollings, whom the Texans snagged in last year's supplemental draft (giving up a second-round pick acquired from Oakland), had what amounted to a redshirt season in 2003. He did play in 14 games, but only carried the ball 38 times, the bulk of those in one start at Jacksonville.

But to the Texans, and in a lesser sense to Hollings, all of that was gravy. After starting just four games at running back for Georgia Tech (albeit an astounding four games) before tearing his ACL, Hollings was both injured and inexperienced when he arrived in Houston.

"When you think back, at this time last year we didn't have Tony Hollings," head coach Dom Capers said. "We picked him up in the supplemental draft and we didn't know whether we'd have to put him on the Physically Unable to Perform list because of his knee. But he came in and he was a little further ahead than we thought.

"He went all through training camp and you could just see his knee getting better as the season wore on."

But Hollings will be the first to admit that, while he saw the field, people weren't seeing the complete picture.

"It wasn't so much the pain," Hollings said Thursday. "It was just not being here when everybody else was here. I was kind of far behind and also coming off the knee surgery. I didn't really know what was going to happen to me last year.


"They just wanted to bring me on slowly. It didn't bother me. It kind of helped me out last year not playing as much as I did. It gave me a chance to get in the system and learn everything."

And Hollings got to learn at the highest level at a young age. That start against the Jaguars came six days after his 22nd birthday. While fellow rookie Domanick Davis dominated the headlines (and rightly so), the Texans also saw potential in Hollings.

"He had speed," Capers said. "He had a burst through the hole. I think he's comfortable and I think like most players you're seeing a jump from the first year to the second year – especially with a guy that's coming off an ACL injury."

Hollings has been impressive this week, showing good vision and speed around the corner, as well as some receiving ability. He can trace that to the comfort he finally feels with the knee.

"It feels a whole lot better," Hollings said. "I think right now I can play a full game without my knee giving me trouble. My reaction is getting down to the point where I'm not worried about my knee."

Hollings surprised most on the team with his accelerated road to recovery last year. But ask most around the game and they'll tell you a player really doesn't feel fully recovered from an ACL until the second season back. Colts running back Edgerrin James is the most prominent recent example. And Hollings agrees.

"I understand it now," he said. "A lot of guys that I played with in college were telling me that it wasn't going to be the same right at first. But you just have to work back into it and get better.

"I think it's more a difference in the belief. You're really just trying not to hurt it or agitate it again. You're kind of taking it easy. But when you get that extra time and your comfort level goes back up, you can go out and play without thinking about it."

That comfort level appears to be rising for Hollings every day. And with that comfort comes confidence.

"I don't have to think as much about what I've got to do," Hollings said. "I can make plays and play football,"