After four weeks of testing out multiple combinations along the Texans offensive line, it's show time for the final five trench men who take the field in the Texans first regular season game against Miami. During the preseason, the squad rotated Zach Wiegert from right tackle to right guard while Fred Weary and Greg Randall have also split time at the two positions. On the left side though, tackle Chester Pitts and guard Milford Brown have remained a steady force in protecting the Texans' quarterbacks.
Though Houston's offensive line was one of the big question marks heading into the 2003 campaign, the group has made significant strides in their protection while passers David Carr, Tony Banks and Dave Ragone haven't spent nearly as much time on the ground as the group did last season.
Against Miami this weekend, Brown and Pitts will face one of their biggest challenges yet while the Texans schedule wastes no time bringing on serious pass rush heat.
Miami's defense features six 2002 Pro Bowlers, including right defensive end Jason Taylor, who will look to keep Pitts and Brown on their toes for the entire 60 minutes of game action in Pro Player Stadium Sunday afternoon.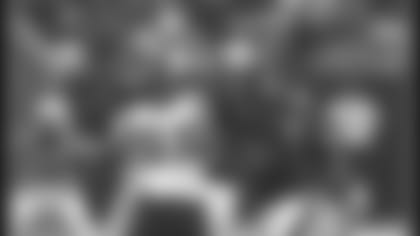 Tackle Chester Pitts and guard Milford Brown will protect quarterback David Carr's left side from a hungry pass rusher in Miami's Jason Taylor.
After tallying 76 tackles, seven forced fumbles, two fumble recoveries and an NFL-leading 18.5 sacks, Taylor is easily one of the league's most talented when it comes to preying on opposing quarterbacks.
Last season, Taylor had an eight-game streak where he recorded at least one sack, establishing a new Dolphins record as well as tying for the fourth-longest streak in NFL history.
Head coach Dom Capers, along with Brown and Pitts, knows the challenge is daunting, but tasks like this one are what drive their love for football.
"If you play left tackle in this league you're going to have a tough assignment every week," Capers said about Pitts protecting Carr from Taylor's clutches. "It just so happens that the first week out of the blocks he gets the sack champ from last year. He does have a big challenge and he is going to have to be at his best."
The left side duo is still new to life in the NFL. Pitts took every offensive snap for the Texans last season from the left tackle post though it was just his rookie campaign. One year later, Pitts has become somewhat of a teacher to his left-side counterpart in Brown, who joined the Texans at the end of last season, straight out of Florida State.
The Texans gave up a sixth round pick in the 2003 supplemental draft after believing that a season on the sideline and offseason in the weight room could transform Brown into a young talent that would be able to make immediate contributions.
It was a good call. Brown has not disappointed and is slated to make his NFL starting debut at left guard in the Texans opener. He doesn't seem intimidated when talking about a tough match up against Taylor, linebacker Zach Thomas and the rest of the Miami clan though. His philosophy is simple and to the point.
"All you can do is just go out there and use good technique and play hard," Brown said about facing a stingy Miami defense. "We just know we need to protect him (Carr), keep him clean."
Both Brown and Pitts have made a conscious effort to ban together not only on the practice field, but in meetings. Many strategic discussions in the team meeting room and thousands of repetitions taken during the spring and in training camp have left the two comfortable alongside one another and prepped to build a shield of protection in front of Carr.
"I feel good playing with him, we both want to get the job done and we both want to be here for a while," Brown said about holding down the left side with Pitts.
Defensively, the Dolphins were third in the NFL last year in total yards allowed, the fifth straight year that they attained a top six ranking. Brown and Pitts will also face nine returning starters from last year's Miami defense along with a new addition to the unit in All-Pro linebacker Junior Seau, who was acquired in an offseason trade with San Diego. Defensive tackle Tim Bowens also returns as a solid run-stopper, helping last year's defense to permit only 97.1 yards per game, as they tied for fifth in the league. Add cornerbacks Sam Madison and Patrick Surtain and free safety Brock Marion to the mix and the Texans offense is looking at an all-around, solid, big-play defense.
"They've been in the top five in defense for the last 50 years for a reason," quarterback David Carr said. "They're going to line up, they're not going to mess up, they're going to know where they are supposed to be, and they're going to play hard and fast. You just have to try and match that."
Pitts, Brown and the rest of the Texans offensive line, who will likely see the return of center Steve McKinney, have been preparing for this match up for quite some time. Though they've showed significant improvement, their ability will be put to the test on Sunday, when the Dolphins shoot to uphold the winning tradition in home openers with a 30-6-1 record in front of Miami fans and a 14-2 performance in 16 seasons at Pro Player Stadium.
"I think we have progressed really nicely," guard Zach Wiegert said about the unit's preseason play. "Todd (Washington )did a great job in there at center. It's going to be nice to get Steve (McKinney) in there and see what he can do and our line is set.
"I think we've progressed tremendously since I came here."
While Pitts and Brown may not have years of experience on their side, the two undeniably have the ability and talent to play with the NFL's best. With or without Taylor as a threat, Pitts and Brown have made in abundantly clear that they plan on keeping their guy in the pocket upright. Keep an eye on the left side to put their bodies on the line on every snap to complete the job with success.
"Even if it's ugly sometimes, do what you have to do to get it done," Pitts laughed. "The player across from you is a man just like you are. He gets paid just like you do, he's going to make plays sometimes, just do your best to make sure you win most of them."