At the tender age of 28, Jake Plummer could be considered the wise old professor when it comes to this particular subject.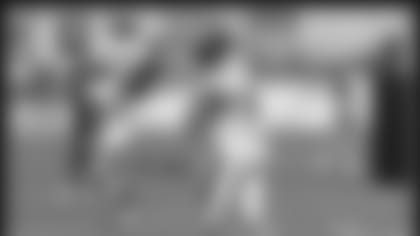 The subject? Young "franchise" quarterbacks. Plummer's been there and now he finds his career at a crossroads in Denver. Meanwhile, David Carr is entering his second season as the Texans' anointed signal-caller. Both quarterbacks were on the field in Houston Wednesday with all eyes fixed upon them. And for different reasons.
Carr, the former top overall draft pick, took every snap as a rookie in 2002 and absorbed 76 sacks, setting a dubious single-season NFL record. But every one of those snaps was crucial in his maturity at the position. No one doubts Carr's physical tools and his rookie campaign accelerated his development upstairs. Plus, the Texans revamped their offense during the off-season, especially up front, and Carr expects his unit to improve in 2003.
"I have more confidence, and so does the team," Carr said. "Offensive-wise, the guys on that side of the ball that played all last year, we know we can go out and make some plays. If I stay off my back and the lines protect and guys run their routes, I think we match up well against all the guys we play this year. I think it's going to be a good situation for us."
In 1998, Plummer was the toast of the town in Tempe, where he also played his college ball at Arizona State. The previous season, as a rookie, the Cardinals inserted Plummer into the lineup to kick start the offense at Philadelphia in Week 7. He immediately led Arizona to a 98-yard touchdown drive and started the rest of the season, boasting the largest average per completion mark (14 yards) in the league.
In Plummer's second season, he led the Cardinals to the playoffs, engineering a wild card win at heavily-favored Dallas. Plummer jerseys were flying off the shelves in the Valley and he was rewarded with a Pro Bowl trip and a fat contract extension.
But in the ensuing four seasons, Arizona slid back into its familiar role of NFL doormat, posting a 21-43 record. Over that span, Plummer threw for 58 touchdowns and 79 interceptions. Now he's in Denver, with a clearly better franchise, and itching at the shot to resurrect his career.
"I'm excited to get this season going," Plummer said Wednesday. "It's an ideal place for a quarterback to go to, whether it's the start of your career or the middle of your career. For me, I couldn't be any luckier to be coached by (Broncos head coach) Mike Shanahan and (offensive coordinator) Gary Kubiak. As a quarterback, it's a nice place to come into so I just have to do my part and make sure we go out and win."
Seeing Carr out on the practice field took Plummer back a bit, when he was seemingly running for his life in the Cardinals' backfield.
"I obviously feel for him as a young guy thrown in there myself," Plummer said. "I got sacked a lot my first year also because one, sometimes you don't know where you're going with the ball and two, how fast you have to get rid of it.
"But he's a young guy with great potential, a lot of talent and they've built a good team around him. You look for good things from him."
Plummer can tell you that's the key -- building a team around the quarterback. He made his mistakes in Arizona, but Shanahan and his staff are betting that was more a product of Plummer's environment there than his true talent. Denver boasts an aggressive offensive line, a 1,500-yard running back in Clinton Portis and veteran wide receivers like Rod Smith and Ed McCaffrey.
It's that kind of supporting cast that the Texans are looking to build around Carr, allowing him to maximize his natural ability.
"Last season was tough, no matter where you come from," Carr said. "You know, everyone wins in college, but you come out here and it's not the same. You have to have players around you that know the system and we were starting five or six rookies each game. That will help us this year and over the next couple of years but that was hard that first year."
Most are expecting Carr to weather the storm, including Plummer.
"He's got a good head on his shoulders and as a quarterback you really need that, especially when you get sacked and hit as much as he did last year," Plummer said.
Both Carr and Plummer continue their work tonight and Saturday's game will represent the first major step towards their respective season goals. For Plummer and the Broncos, that's a return to the NFL's top tier. For Carr and the Texans, it's the opportunity to crack that rarefied air.