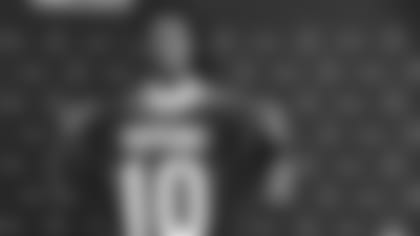 ]( "WR DeAndre Hopkins will wear number 10 for the Texans.")

It's hardly headline news, but the Texans have finalized the jersey numbers for each of their 2013 draft picks.
Wide receiver DeAndre Hopkins, their first-round pick from Clemson, will wear number 10. Safety D.J. Swearinger, the second-round pick out of South Carolina, will wear 36.
Third-round tackle Brennan Williams of North Carolina will wear 73. Third-round outside linebacker Sam Montgomery of LSU will wear 57. Fourth-round outside linebacker Trevardo Williams of Connecticut will wear 54.
Jersey numbers for the Texans' four sixth-rounders are 77 for San Jose State tackle David Quessenberry, 16 for Jacksonville State wide receiver Alan Bonner, 95 for Bowling Green nose tackle Chris Jones and 84 for Connecticut tight end Ryan Griffin.
Here's a look at the previous players to wear each draft pick's number in Texans history:
10 (WR DeAndre Hopkins)
QB Bradlee Van Pelt (2006)
36 (S D.J. Swearinger)
CB Roc Carmichael (2011), S Troy Nolan (2009), RB Ron Dayne (2006-07), FS Chris Carter (2002)
73 (T Brennan Williams)
T Eric Winston (2006-11), T Garrick Jones (2003-04)
57 (OLB Sam Montgomery)
OLB Jesse Nading (2011-12), ILB Cheta Ozougwu (2011), LB Kevin Bentley (2008-10), C Drew Hodgdon (2007), LB Quincy Monk (2004), LB Marcus Bell (2004)
54 (OLB Trevardo Williams)
ILB Barrett Ruud (2012), ILB Mister Alexander (2011-12), LB Zac Diles (2007-10), LB Troy Evans (2002-06)
77 (T David Quessenberry)
G Darius Morris (2011), DE Ryan Denney (2010), T Charles Spencer (2006-07), G/C Todd Washington (2003-05), T Tarlos Thomas (2002)
16 (WR Alan Bonner)
WR Trindon Holliday (2010-12)
95 (NT Chris Jones)
NT Shaun Cody (2009-12), DE Stanley McClover (2008), DT Anthony Maddox (2006-07), DE Jerry DeLoach (2002-05)
84 (Ryan Griffin)
WR Trey Stross (2010), WR Darnell Jenkins (2008), WR Eric Moulds (2006), TE Marceulls Rivers (2005), WR J.J. Moses (2003-04), WR Jermaine Lewis (2002)
Twitter.com/NickScurfield