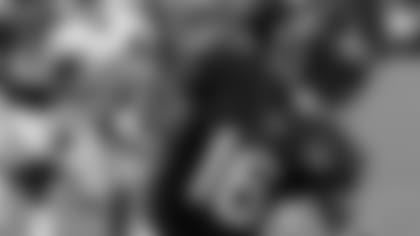 For the second consecutive week, Trindon Holliday found the end zone on a return.
The speedy wide receiver gave the team a big lift courtesy of his 87-yard punt return for a touchdown in the Texans' 20-9 victory over the 49ers Saturday night at Reliant Stadium. His third-quarter dash up the right sideline lasted all of 10 seconds, fitting for the eight-time track and field All-American from LSU.
"He's going to have to do that for this team if you're going to keep a returner," Texans head coach Gary Kubiak said. "He's practiced well, he's making big plays and, you know, that's a huge plus for us field position-wise. We still have a couple weeks to go, but he's definitely making a tremendous case for himself."
Holliday took a knuckling punt from 49ers Pro Bowler Andy Lee at the Texans' 13-yard line and darted quickly to the right up the sideline untouched. He kept his feet after Lee dove for his heels at the 49ers 37. Like Usain Bolt in the Olympics, the speed demon traversed the final stretch of his run with ease, wagging a finger at the crowd before being mobbed by teammates in the end zone.
"I was trying to set the punter up but he didn't move, so I just told myself I was going to beat him to the outside," Holliday said.
The third-year player entered the 2012 offseason fighting for a spot on the roster, but his explosiveness in the first two preseason games has gone a long way toward earning a spot come roster-cuts time on August 31.
"It's very special just coming out every week working hard and then seeing that it pays off in the end," Holliday said.
Holliday's score, which gave the Texans an 11-point advantage, energized his teammates, who continue to marvel at his abilities in the return game.
"It's great, to see how far he has come and see what he is starting to do," Texans fullback James Casey said. "That's two returns in two games and that is hard to do at any level. To do that in the NFL and the preseason is amazing."
Quarterback Matt Schaub also lit up when talking about Holliday's score, appreciating the cushion it gave the Texans in their victory Saturday night.
"It's exciting to see," Schaub said. "He's got a bunch of guys out there working for him to give him some creases. It doesn't take a very big crease for him to get through with his speed and his quickness. It's fun to watch him go to work. The more he does it, the more comfortable he's getting. It's fun to watch."
Holliday's role increased some on Saturday night when he was on the field to cover a punt. On Sunday afternoon, Kubiak explained why Holliday was in the new role.
"I told you, he's going to have to do a lot," Kubiak said. "If he's going to make this team as a specialty player, the more snaps we can get him on the field, the better. So if that's something he can do for us, it gives a DB (defensive back) a break when we do have to punt. Those type of things should make our team better."
Holliday, a Baton Rouge native, returns to Louisiana with the Texans next weekend. He and the LSU Tigers won the BCS National Championship game in New Orleans in 2008.
Twitter.com/DoughertyDrew