Seth Payne hobbled to his locker Wednesday and provided everybody with a little perspective.
"I don't have cancer," Payne said. "I'm not paralyzed. I've got a lot to be grateful for. I'm just going to focus on football and try to help this team."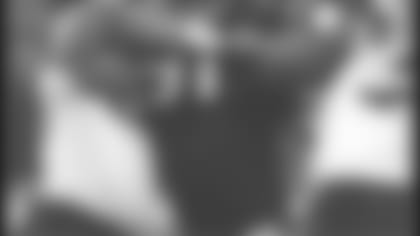 Payne's 2003 season ended after just five quarters.
What Payne does have is a season-ending knee injury and a long period of rehab ahead of him. The seventh-year nose tackle was enjoying a terrific five-plus quarters (11 tackles, one sack) before the Superdome carpet corralled him in the second quarter three days ago. Payne is understandably down, but not discouraged.
"It's unfortunate. I worked real hard to avoid things like this," he said. "I'm just going to go out and try to help the team as much as I can.
"I think rehab is different for everybody. Unless something went wrong, I'll definitely be ready for training camp next year. I'm going to approach like I've got 50 weeks to get ready for our next game."
The Texans, meanwhile, have four days to get ready for the Chiefs. The Texans have already played the first two games without Pro Bowl defensive end Gary Walker. Payne's absence leaves them without their two best defensive linemen.
Into the fire steps rookie Terrance Martin, the lone undrafted free agent to make the squad in 2003.
"I know I can't replace Seth Payne but by learning from Seth and taking his advice, I feel like I can contribute my best to this team," Martin said. "I'll play as hard as he did."
The Texans have always rotated their defensive linemen rather frequently. Martin had four tackles in Houston's win at Miami before recording one against the Saints. But Payne could hold his ground with the best of him and his leadership ability will be sorely missed.
"It's a significant blow, not just from a playing standpoint but Seth is one of our leaders," head coach Dom Capers said. "It's too bad because he was off to an excellent start."
While the Texans like Martin, they knew they had to secure a veteran presence in that slot and their search led them to another Martin.
Steve Martin has logged seven seasons in the league with five different teams, most recently the Patriots. Martin has started 43 of 101 career games and has the skills Capers needs as a 3-4 lineman.
"Steve fits into the mold of our defensive linemen," Capers said. "He's a big, strong, physical type of guy. We'll get him in here and get him on a crash course."
Martin started five games for the Patriots last season, collecting 17 tackles. His best season came in 2001 with the Jets, when Martin started 15 games and racked up a career-high 78 tackles. He has 6 1/2 career sacks.
"I'm a pretty solid run guy," Martin said. "That's what I do, stop the run. This is my first time in a true 3-4, but I've done it before so it's not entirely new. The scheme is similar to some things I've ran in the past. I'm optimistic about what's going to happen but we'll see today how I fit."
Martin now has to cram to learn Houston's playbook. It's a daunting task, but one in which he is relatively familiar.
"You know how the NFL works, you just have to keep going," Martin said. "I did the same thing when I walked into New York and it took about three to four weeks for things to really settle in. But you just have to do what you have to do."
So do the Texans. Losing Payne couldn't come at a worse time with Kansas City's mammoth offensive line venturing into Reliant Stadium Sunday. But virtually every team has to deal with injuries to key players.
         "We've got an outstanding Kansas City
         team coming in," Capers said. "But we've just got to go to work."