The Texans defense forced only two turnovers in the first three games. Sunday against the Oakland Raiders, the defense forced five turnovers and turned them into 20 points.

That big of a turnaround usually leads to a win, in this case, a 30-17 victory at Reliant Stadium.
In a matter of 60 minutes the Texans went from minus-six in the all-important "takeaway/giveaway" statistic to minus-one. This time, the ball bounced the right ways, but it wasn't all due to luck.
"We have a lot of guys on our team that can make big plays," Linebacker Jamie Sharper said. "When we're aggressive guys can make plays and really hurt the offense."
The game was tied at halftime but the Texans held the Raiders scoreless in the second half thanks to a steady plan of blitzing and solid coverage.
And, most importantly, they got off the field and had time to rest.
Texans opponents converted 23 of 39 third down attempts in the first three games. The Raiders were 4-of-11 (36 percent) on third downs. In fact, Oakland didn't convert a third down until the third quarter.
But it was the big plays that kept the Raiders down, starting with Sharper returning Oakland quarterback Kerry Collins fumble 13 yards for a touchdown with 11:41 left in the first half.
Sharper completed what he called a "quadruple-killer" for his second-career fumble return, sacking Collins, recovering the fumble on one hop and gliding into the end zone.
Safety Marcus Coleman returned an interception for a touchdown last week against Kansas City, making Sharper's score the first time the Texans have ever recorded defensive scores in back-to-back games.
"I'm just mad big Robaire Smith jumped on me in the end zone," Sharper said. "I couldn't do the little dance I had planned. I guess it's a good thing because I don't dance well."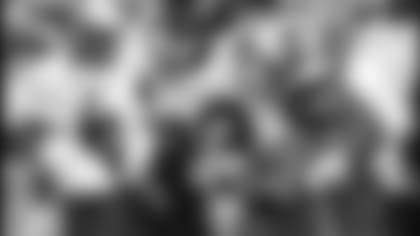 The Raiders turned the ball over four times in the second half, including on a shotgun snap that hit Collins in the face mask and was recovered by Jay Foreman and three interceptions by cornerbacks Demarcus Faggins and Dunta Robinson.
Robinson, a first-round pick in April's draft, got the first and second interceptions of his young career.

Faggins, who battled his way onto the active roster after starting last season on the practice squad, also recorded his first pick as a pro.

"We were playing basically the same stuff we played in the first half," defensive coordinator Vic Fangio said. "We pressured a pretty good bit, particularly on third down. I'm just very pleased with our guys (Demarcus Faggins and Dunta Robinson) came up big to make plays in one-on-one situations."
Faggins pick came at the goal line – one of two Raider turnovers inside the 25-yard line. He nearly got one earlier in the game when a bounced just off his fingertips on the near sideline.
He said he was simply making up for the earlier miss.
Robinson picked off his first pass in the third quarter and his second on the Raiders final drive. He returned the second pick 61 yards after taking a few seconds to realize he could get up and run.
Faggins finally reached down and tugged on his teammate's jersey.
"He had to pull me up," Robinson said. "I thought I was in college you know, once you hit the ground you're down. He pulled me up and I was trying to make some plays. I was trying to get in the end zone, but man, I was dog tired."
Safety Jason Simmons leveled a Raiders lineman with a block to spring Robinson for extra yards.
"He was due for a breakout game," Simmons said. "We know just how good that guy is and the thing is it's time for him to show everybody else and he did that with two interceptions."
Ironically, Simmons appeared to get more congratulatory slaps on the sidelines than Robinson, but it was the rookie who had the biggest smile on his face.
He never let go of the ball. It's now an important badge of honor symbol of confidence.
"I know its part of being a cornerback in the NFL," said Robinson of never letting his early troubles get to him. "They go at a lot of guys, as you saw they went at (Raiders cornerbacks) Charles Woodson and Phillip Buchanon a lot. That's part of being a corner in this league. Everybody's good so you just have to make plays when the opportunity presents itself."
Collins completed 21 passes to 10 different receivers in the game for 237 yards, but had no touchdowns. He was upset with himself after the game and said he was frustrated with his decision making.
The Texans gave up 375 yards in the game, including 112 to Raiders running back Amos Zereoue, but have plenty to build on going into next week's game against the high-powered Minnesota Vikings.
"The most important thing to our team right now is not where we are, but where we're headed," head coach Dom Capers said. "I like the direction we've been heading in the last two weeks. This was an outstanding team win today against a talented Raider team. Every week in this game there is a different challenge and the challenge is to improve and the most encouraging thing about our football team is we are improving and getting better.
"We have a lot of young guys in a lot of areas, three rookies starting on defense. Today was an outstanding win. I thought our team played with a lot of heart, stamina, and persistency in the second half."
RUNNING TO DAYLIGHT:Jonathan Wells started for Domanick Davis at running back for the second straight week Sunday and ran for more than 100 yards for the first time since 2002.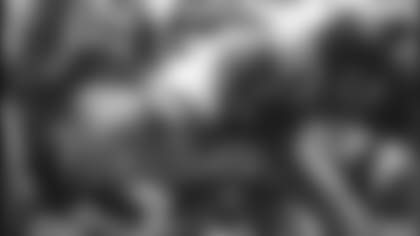 Wells, who started for the Texans two seasons ago, rushed for 105 yards on 26 carries. He recorded his first touchdown since Dec. 15, 2002.
But he was quick to point out the Texans (2-2) are no where near meeting their goals for the season.
"We want to win," he said. "We're tired of losing. We're just going to go out every week and try to continue to win. We're not satisfied with two, we're going to try and go out there and get three.
"This is a real good football team, I mean you can't name a position that we don't have players at. We just have to put it together. If we put it together and stop beating ourselves, we'll be even better."