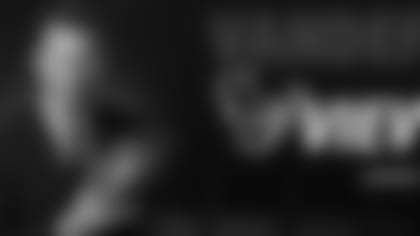 Walking into the stadium on the eve of gameday, I snapped a picture of a huge playoff banner outside and tweeted "The past doesn't matter. All that matters is tomorrow."
The message picked up social media steam very quickly. We all want a second chance. We all want to clean the slate and start fresh. And that's the angle for Saturday.
Think about it. A year ago, the Texans left NRG Stadium after a crushing 30-0 loss to Kansas City. They spent the next 12 months fighting to get back to this stage so they could get another shot. It hasn't exactly happened the way they planned, but here they are.
The season has been a bit of a rocky road. All the injuries, the quarterback situation, the numbing three-game losing streak, the exhilarating wins against Indy and Cincinnati. They survived the grind of conditioning, OTAs, training camp, the preseason slate and the 16 game schedule just to get back to this spot.
It's also another chance for Brock Osweiler. After being replaced by Tom Savage, he sat and watched and learned. He's back in the hole now, making his first playoff start. A good performance doesn't necessarily erase all the disappointing aspects of the regular season. But the whole point of the last 12 months was to get back here and win. What an opportunity!
There's been a lot of talk about how Oakland is banged up. Certainly not having Derek Carr is a huge blow. But if any franchise knows how possible it is to win in the postseason with a rookie quarterback, it's Houston. Five years ago, the Texans did it in this building. Now they must avoid being on the wrong end of a trivia question.
This version of the Texans has to play clean to win. We already know that they might not have the firepower to overcome a deficit in the turnover margin. Having both Lamar Miller and Alfred Blue available will be a big boost, as Blue didn't play against the Raiders in Mexico. And Osweiler's connection with DeAndre Hopkins last weekend in Nashville was a promising sign of what we might see.
The biggest asset the Texans bring to the dance is the NFL's number one defense. In camp, if you had told me the Texans would have that ranking with all the injuries they battled I might have sent you to Houston Methodist.
There's nothing like the playoffs. A chance like this should never be taken for granted by fans, media and members of the organization alike. It took 10 seasons for the Texans to make the postseason. Now they are in for the fourth time in six years. There are at least 20 other NFL teams who would love to be in this position. It's time to make the most of it.