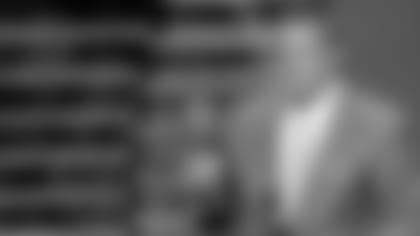 ]( "Texans DE J.J. Watt")

J.J. Watt won the NFL Defensive Player of the Year award in a landslide on Saturday, receiving 49 of 50 votes from the Associated Press to take home the honor.
Texans defensive coordinator Wade Phillips said Monday that he was surprised by the lopsided margin.
"Yeah; I was surprised that one person voted for somebody else," Phillips said in his office at Reliant Stadium. "He should have been unanimous."
Phillips was in New Orleans to see Watt win the award at the NFL Honors ceremony on Saturday evening. He sat next to Watt and the star second-year defensive end's two younger brothers during the Academy Awards-style show at the Mahalia Jackson Theater.
"I was excited for J.J.," Phillips said. "It was certainly deserved. We all know what a great player he is. The stats prove it out. He had one of the greatest seasons ever. Tackles for loss, tackles, sacks, knocked-down passes – he knocked down more passes than defensive backs do, and of course set the record in that area. So it was fun to see him get the award, and (I was) certainly glad for him."
Watt led the NFL this season with 20.5 sacks and tied for 10th with 16 passes defensed, a new NFL record for a defensive lineman. He also had 42 quarterback hits and 39 tackles for loss.
Phillips, who has coached five Pro Football Hall of Fame defensive players in his 36-year NFL career, explained Monday what makes Watt so dominant.
"He's got a lot of natural ability – he's got speed size, quickness – but he's got a great feel for football," Phillips said. "So many guys don't see the passer while they're rushing the passer, and he's got a great knack of being able to see through the lineman, be able to rush the passer but also see the football and see the quarterback. When the quarterback moves, a lot of guys, they beat their man but they don't know where the quarterback is. But he's got that real knack for being able to come back and make the play when the quarterback steps up or tries to scramble."
Something else that separates Watt: His work ethic. Watt, whose motto is "Dream Big Work Hard," became the NFL Defensive Player of the Year just four years after he was a walk-on at the University of Wisconsin.
"I call him the perfect guy to have, the perfect player, because he's got a great attitude, he works so hard, he's trying to get better all the time," Phillips said. "He has a lot of physical abilities, but you can see he keeps improving all the time because he works at it. You couldn't have a better attitude, you couldn't work any harder and you couldn't be any more humble, probably, than he is. He's got all the right intangibles."
Phillips raised many an eyebrow last offseason by predicting Watt will one day have a bust in the Hall of Fame. Phillips said Monday that longevity is obviously a factor, and Watt clearly has a long way to go before he gets to Canton. But his historic 2012 season showed that Phillips just might have been on to something.
Of the 24 eligible players who have won the NFL Defensive Player of the Year award, 13 are in the Hall of Fame. And Watt, 23, is younger than every previous winner but one: Hall of Fame linebacker Lawrence Taylor, who won DPOY honors as a 22-year-old rookie in 1981.
"He's gonna keep getting better," Phillips said. "They're gonna put more people on him, but I don't think that'll help.
"It's just the beginning. It's only just begun. We've heard that song somewhere, way back, but it really has. He's a really young player and he's got a great future, so we're excited about that."
Twitter.com/NickScurfield