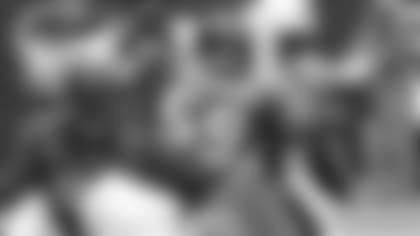 Seven games into his professional career, Whitney Mercilus picked up his first sack and forced fumble. But the mental lift it gave the rookie might have been even more important.
"Me watching him today, it was like night and day practicing," head coach Gary Kubiak said on Tuesday. "You could see confidence coming out of the Baltimore game with him on the practice field."
The Texans' 2012 first-rounder popped Ravens quarterback Joe Flacco in the first half of Sunday's win, picking up a daily double of sorts with a strip-sack. That was fitting, because Mercilus led college football last season in both sacks and forced fumbles. Mercilus' time on the field has steadily increased as the season's progressed, and he made his biggest impact in Week 7, adding a batted pass that wound up getting intercepted by Glover Quin.
"We've been wanting to get him more involved," Kubiak said. "We had a little package in for him against Green Bay. His confidence should really jump right now."
Mercilus tallied the most sacks during the team's preseason campaign, but contributed mainly on special teams through the first month of the season. After 11 total games, with training camp and practices mixed in, he's gone through nearly the same amount of action as he did in 2011 at Illinois. He said the transition to Sundays has changed for him in a big way.
"Dramatically, there going through practice," Mercilus said. "We get out of practice, they beat us up, and they make the game, make it go fast. When it's game time, everything just slows down."
Mercilus' defensive coordinator has noticed the change too.
"We felt like he'd been practicing well, we wanted to get him in the game a little bit more," Wade Phillips said. "He's progressed. We thought it was time to get him in the game a little earlier. I'm glad we did."
Mercilus' sack preceded the Connor Barwin sack for a safety, and the consecutive plays were huge in swinging momentum for Houston in the victory.
"I was happy for him," Barwin said. "I was kind of upset because he knocked the ball out on my side and I was back behind and I wish I had been there to recover it."
Mercilus thinks the best is still to come for him in 2012.
"It was cool," Mercilus said. "It's just showing that hard work pays off and things like that. It's just a first of many and I have to keep producing."
With more game reps, Mercilus will obviously get more chances to produce. And the production will most likely continue flow, if you listen to Phillips.
"We know he's talented," Phillips said. "You're just waiting for the bell to ring. The bell rang this week."