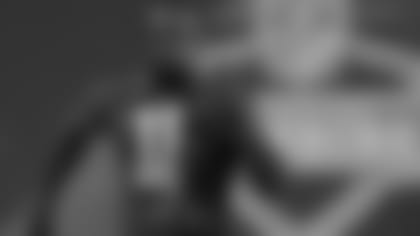 ]( "Texas WR Marquise Goodwin")

INDIANAPOLIS – The Texans have a need for speed at wide receiver, and there's plenty to be had in the 2013 NFL Draft.
Five receiver prospects clocked sub-4.4 official times in the 40-yard dash on Sunday at Lucas Oil Stadium. Nine others ran a sub-4.5, creating discernable buzz among reporters in the Combine media center.
University of Texas wide receiver Marquise Goodwin led the way with a blazing time of 4.27 seconds, just shy of Titans running back Chris Johnson's NFL Scouting Combine record of 4.24. It was the second-fastest 40 at the Combine since 2002.
Ta'Von Austin of West Virginia and Ryan Swope of Texas A&M were the second-fastest receivers with times of 4.34. Josh Boyce of TCU and Kenny Stills of Oklahoma ran 4.38s.
Running sub-4.5 40s were Tennessee's Cordarrelle Patterson (4.42), Virginia Tech's Corey Fuller (4.43), Michigan's Denard Robinson (4.43), Tennessee's Justin Hunter (4.44), Oregon State's Markus Wheaton (4.45), Rutgers' Mark Harrison (4.46), Baylor's Lanear Sampson (4.46), Georgia's Taverres King (4.47) and Lehigh's Ryan Spadola (4.48).
USC wide receiver Robert Woods ran a 4.51. Da'Rick Rogers of Tennessee Tech and Terrance Williams of Baylor clocked a 4.52. Louisiana Tech playmaker Quintin Patton ran a 4.53 and Clemson's DeAndre Hopkins a 4.57. Cal's Keenan Allen, a potential first-round pick, did not run at the Combine because of a knee injury.
Texans chairman and CEO Bob McNair said in early February that the Texans "know we need to add another wide receiver, to add more speed there." Head coach Gary Kubiak said Thursday in Indianapolis that finding another wide receiver "continues to be right now a big focus for us as an organization."
There's a whole lot more to playing wide receiver in the NFL than running a fast 40-yard dash. But Sunday showed that there will be plenty of speed-burning options available for the Texans in April's draft as they continue to look for more weapons to stretch the field opposite Andre Johnson.
Twitter.com/NickScurfield