Texans fans won't mistake their offense for the old Run 'N Shoot Oilers in 2004. But you can expect more yards through the air.

Quarterback David Carr is entering his third season behind an offensive line that is easily Houston's most improved unit. If all goes well, that means more time for Carr to find targets downfield. And there are lots of them.

"Wide receiver is one of the stronger positions on the squad from a depth standpoint," head coach Dom Capers said.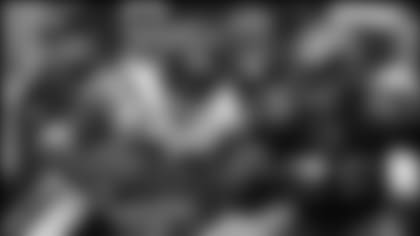 Heading the list is second-year wideout Andre Johnson, one of the best young receivers in the game. Boasting an enviable combination of size and speed, Johnson caught 66 passes for 976 yards and four touchdowns as a rookie. Nobody in the AFC had more yards after the catch. Then again, few receivers are as difficult to corral in the open field as Johnson.

"I think you saw Andre's big-play capabilities last season," Capers said. "He led the NFL in yards after catch. He certainly has all the physical tools. And I think at that position you see the biggest progress from year one to year two."

Johnson broke nine club records in 2003 and posted three 100-yard receiving games. Over the past decade, only Terry Glenn (90, 1996), Randy Moss (69, 1998) and Joey Galloway (67, 1995) have posted more receptions amongst rookies receivers selected in the first round.

Corey Bradford caught just 24 passes last season but he made them count. The six-year veteran averaged 19.2 yards per grab and scored on touchdowns of 78, 65, 73 and 20 yards. Titans wide receiver Justin McCareins is the only player with a better reception average than Bradford (16.9 to 16.8) the past two seasons amongst players with 50 or more catches.

"Personally, I want to go out and get more opportunities to make more plays," Bradford said. "I really just want to show what I can do this year."

Meanwhile, Jabar Gaffney had a solid second season, catching 34 passes for 402 yards and two scores. Derick Armstrong showed flashes in his first season as the club's fourth receiver. He routinely makes jaw-dropping catches in practice.
"Corey certainly gives us a big-play threat at the other receiver slot," Capers said. "Jabar has fit into that third receiver slot. He's a good route-runner and we need to put him in certain situations where he can use his instincts and hands. We have high expectations for Derick going into this year based on what we saw from him on the practice field. He's very good at catching the ball in a crowd."

Keep and eye on former Texas A&M product Chris Taylor in camp. Taylor led Amsterdam with 42 catches for 573 yards and five touchdowns in NFL Europe. Seventh-round pick Sloan Thomas possesses plenty of speed but didn't get many opportunities to catch the ball lining up opposite first-round pick Roy Williams at Texas.

WIDE RECEIVERS:Johnson, Bradford, Gaffney, Armstrong, Thomas, Taylor, Albert Johnson, Jermaine Lewis, Kendrick Starling, Andrae Thurman

FUN FACT:As the third overall pick of the 2003 draft, Johnson became one of 18 wide receivers to be taken with a top-10 pick since 1990. Of those 18 receivers, only two others started all 16 games as rookies: Peter Warrick (2000, Bengals) and Joey Galloway (1995, Seahawks).