Like many players held over from a season ago, Seth Wand had plenty to prove to new coach Gary Kubiak during the offseason. Players like David Carr and Andre Johnson had to show Kubiak that they were as good as advertised, while Wand had a different challenge: Was Wand the same player that started 16 games for the Texans at left tackle in 2004, or was he the player that played in 14 games in 2005, mostly on special teams?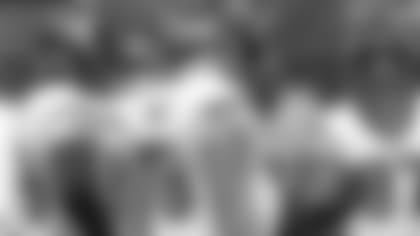 Part of the problem last year might have been all the moving around Wand had to endure. It's not that his 6-7, 337-pound frame can't handle a lot of movement. The problem was most of Wand's moves were not athletic in 2005 as he was constantly changing positions. It's something that clearly frustrated him a year ago and he's happy to be back at left tackle.
"That's what I can do," Wand said of playing left tackle. "I can do it. All that other stuff last year was Mickey Mouse stuff. I'm here to play left tackle. That's what they brought me here to do. I know I can do it."
Things are already on the upswing for Wand. At this point in the offseason he seems to be planted in the starting lineup, and he's enjoying every minute so far.
"It's going good," Wand said. "It's good to be needed. Just the way we're practicing out here, slowly going through the plays, the technique and understanding what the coaches want from us makes it easy to be out here."
Of course, the head coach is not the only member of the coaching staff that Wand needs to impress. Few in the NFL know the offensive line like Texans assistant head coach/offense Mike Sherman.
likes what he's seen from Wand so far and could not care less about Wand's past.
"We're dealing with the present,"
said. "The only evaluation I have to go by is what he does each and every day he is out here. I've seen film from last year, but it wouldn't be fair to hold anything I might see on film against our players."
added that while Wand still has some technique issues to work on, he likes Wand a lot as an athlete and thinks he can be a solid left tackle in the NFL.
"From an athletic standpoint, for a big guy, he really can move around very well,"
said. "Athletically, what you look for from a left tackle as a pass blocker and a run blocker, he certainly possesses the talent you need in those areas."
It's Wand's athleticism that caught the Texans' attention in 2003 when they drafted him in the third round (75 th overall) out of
. He acknowledges that his size and speed are two if his best traits as a lineman.
"I guess that's where I make my money at in my speed and my size," Wand said. "Being as big as I am and being able to run around and make the big blocks. Coming from a small school, that's how I got drafted. I do take pride in that."
's affinity for Wand has not gone unnoticed, and for the linemen, it's a nice change from last season.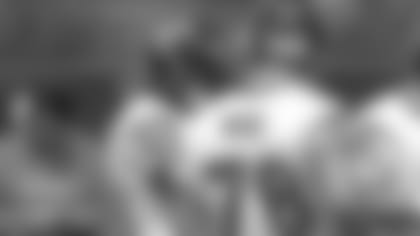 "It's a good feeling as a player to have a coach behind you out there that wants you to play, wants you to succeed," Wand said. "Last year, it didn't feel that way to me. They were trying to find all these different spots for you to go and then all of a sudden, you're not there anymore, you're on the sideline."
It's not as though Wand wants your pity. He freely admits that his plight from a year ago is common place in the NFL.
"It's a tough situation that a majority of the players throughout the league go through," he said. "All of a sudden, you're not the guy anymore, but you have to work through it. You can't quit, you can't put your head in the dirt. You just have to keep on fighting through it and do whatever you can to survive."
Even with a new-found confidence in place thanks to a new coaching staff, Wand still knows there is a long road ahead and plenty of work to do.
"They (the coaching staff) did their part in trusting me and having faith in me that I can get better," he said. "I'm just trying to show them that they can trust me."
Perhaps the hardest work will be during games this fall. While savvy NFL fans understand the importance of a strong offensive line, no other position on the line draws as much criticism as left tackle. It's pretty easy to understand why.
"You always get the money defensive end, the best pass rusher," Wand said. "You're always going to get the blitzes from that side. You always have to be aware of who you're playing against, being aware of what they like to do blitz-wise."
While the offensive line has enjoyed some success over the past few seasons (see the success of running back Domanick Davis as evidence) the Texans' men up front have also been highly ridiculed. Clearly Wand has improvements to make, but even he acknowledges he can't do it alone.
"It's not just for me," Wand said of needed improvement. "It's for all of us. We need to prove that we can do this and that we're all not a bunch of rejects. It's something that we need to work on as a team. As the left tackle, I need to catch the blitzes and make the right calls, but everybody has to work together. It's five of us as one, that's what it really is."
With a new coaching staff and a fresh start, Wand is on track to help lead a much-improved offensive line.