If you're a Texans fan teetering on that ledge, the Texans would like to invite you to take a few steps back. It's awful steep over there.
Yes, the Texans have hit their first full-fledged bump in the road in 2004, dropping three consecutive games. They'll be the first to admit that a few small repairs are in order. But their focus hasn't changed. And neither have their expectations.
"They're still the same," tight end Mark Bruener said Wednesday. "Our expectations three weeks ago were to win every football game that we play. Unfortunately, these last three weeks the outcome hasn't been what we've wanted. However, our focus, our attention to detail and our expectations going into this game against the Titans are the exact same. We have to play our best football and find a way to win the game."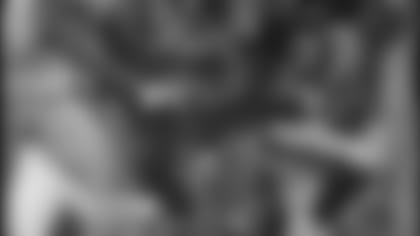 After getting hammered in back-to-back road games at Denver and Indianapolis, the Texans returned home to face the Packers. Houston entered the fourth quarter with a 13-3 lead, only to see it slip away thanks to a variety of factors, the most evident being a future Hall of Famer under center in the opposing huddle.
For some reason, the 16-13 loss to the Packers seemed to ignite something in this city. Criticism is blanketing the airwaves, water coolers and message boards. Perhaps the proverbial honeymoon is over. And that's fine with the Texans because, believe us, their expectations are every bit as high as yours, if not higher.
"You just have to realize that it's part of the game," quarterback David Carr said. "We've all been playing football since we were in the second grade. If it wasn't the fans of your third-grade team, it was your parents telling you to pick it up. We're used to it. It's part of football.
"And to me, expectations should be high. I'm as frustrated as anybody. If I was a fan of the Texans, I'd be upset, too. I'd want to figure out why we're not winning football games that we should win. Each guy has to look at himself and see what he can do to help turn the team around."
Confidence is a word that's been tossed around a lot these past few days, and maybe that's to be expected when things go south for a team that has a shorter life span than "American Idol." But the Texans think they're beyond that stage.
"I don't want to say confidence because I know our guys still have confidence," Carr said. "It's just a matter of executing football plays, really. If we make two or three plays in the second half for first downs to keep drives alive, then we have a better chance of staying on the field and keeping (Brett Favre) off the field."
The Texans built that 10-point cushion by controlling the ball and playing sound defense. But as the fourth quarter rolled around, Houston couldn't make a first down, and that forced a tiring defense to keep returning to the field. Green Bay scored a touchdown and two field goals over its final four drives to win. Meanwhile, the Texans' final four resulted in one first down and three three-and-outs.
In order, the offense faced 3rd and 19, 3rd and 9, 3rd and 5 and 3rd and 3, failing to convert any of them on pass attempts. Houston's failure to run effectively on first and second down resulted in difficult situations on third down.
"If you're not running well, they'll just put seven in the box and play coverage the whole game," guard Zach Wiegert said. "If you're not running effectively, it makes it hard to move the ball in this league.
"I don't know if it's confidence. It's really hard to put a finger on it. We were running the ball effectively and it's not so much yards per carry. A lot of it is not losing yards and converting short yardage. We've just had too many zero-yarders."
Again, it boils down to execution, which isn't a scintillating answer, but the right answer nonetheless. The Texans can't change how they collectively executed against the Packers. They can, however, try to make those corrections heading into this Sunday.
"If you start looking back and thinking about the three games we've lost in a row, then anytime something goes wrong in this game you're going to go 'Oh, here we go again,'" Carr said. "I'm just going to take a PMA – positive mental approach – and see what happens.
"We can't dwell on the past. We have to worry about the Titans and try to turn this thing around."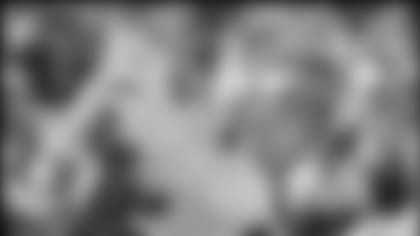 The Texans beat Tennessee 20-10 in Nashville on Oct. 17 thanks to a balanced offense and an opportunistic defense. Houston averaged just 2.6 yards per carry but rushed 38 times, including 10 carries by running back Jonathan Wells in a fourth quarter that the Texans dominated. Carr completed just 16 passes, but four converted third downs into first downs and another pushed Kris Brown closer to field goal range. The defense picked off Titans quarterback Steve McNair four times and allowed Tennessee to convert just 4 of 13 third downs. Just one Tennessee completion covered more than 20 yards.
Houston's win over Jacksonville the next week was remarkably similar. Again the Texans averaged under three yards a carry but kept pounding it to the tune of 32 rushes. Carr completed more deep balls, resulting in 276 passing yards, thanks to an offensive line that didn't allow a sack. The defense picked off Jaguars quarterback Byron Leftwich twice, the second one resulting in a touchdown. Jacksonville was just 4 of 12 on third down and completed just two passes over 20 yards.
And here's a little secret: The Texans weren't perfect in either of those games. Houston committed two turnovers in each contest. They combined to convert just 34.6 percent of their third downs. They managed just two sacks.
But nobody mentioned those things outside the locker room because both games resulted in victories. That's how this business works. Nobody knows better than Bruener.
"When you're winning, there's no criticism," he said. "Nobody says anything about what we're doing wrong. When you're losing, everybody tries to find some fault. That's how this business works, and there's really nothing you can do about it.
"As a player, you have to go out and execute and do what you're asked to do. I feel that every week the coaches have had a great game plan and there have been times that we've gotten out of our game plan due to circumstances in the game. You really can't control that. Every game kind of evolves differently."
The Texans returned to work today determined to make sure Sunday's game evolves the way they want it to evolve. There was no sense of panic, just a steadfast belief that the fourth stab at a fifth win will require a better performance than their previous three.
"You want to recognize what you did wrong and work on it this week," Carr said. "You want to build on positive things." Sweeping the Titans for the first time would be a positive way to start. Accomplish that, and the ledge won't be nearly as crowded. At least until the next loss.