Vernand Morency came into his second Texans training camp with a limited portfolio.
The former Oklahoma State running back had played in 13 games as a rookie last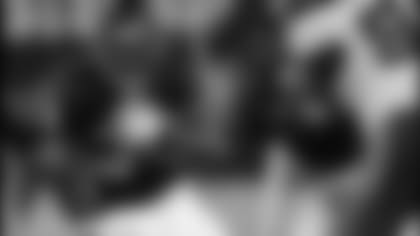 season and started the last game of the year against San Francisco. In that game, he rushed 21 times for 84 yards and a touchdown, and caught four passes for 46 more yards.
That upped his season rushing total to a modest 184 yards and two touchdowns. They weren't overwhelming stats, but certainly respectable for a third-round pick.
Then very early in training camp, coach Gary Kubiak read him the riot act. Kubiak was not delicate, and it surprised many observers.
"I told him," Kubiak said the second day of camp, "when I came here, 'I don't like the way you run. You dance too much, and you spin around too much. We're going to go north and south.'
"And he's listened. He's trying to do it the way we want him to do it. I like his progress and I'm looking forward to watching him in the preseason."
It was a shocking assessment in the staid NFL. The honest, straight-forward Kubiak surprised everyone in that he pulls no punches. While many coaches in the league might think those thoughts, few would speak them outright.
But it didn't bother Morency.
"Coach Kubiak told me what he wanted," Morency said. "I tried to give it to him and be there for my teammates.
"Coaches tell you straight up. It's something I'm accustomed to. So it wasn't something that was a shock to me. It was good. He told me what he wanted and I just tried to give it to him.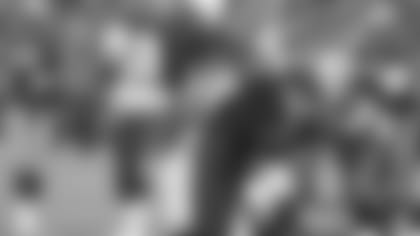 "It didn't surprise me. The thing is, he's the boss. Whatever the boss says you have to do. I'm here to try to win and compete."
Morency admits, however, that the message wasn't completely clear.
"Not at first," he said. "Then I just started doing my research and watching film. I started learning the schemes and learning what everybody around me was doing and that started making my job easier.
"Every day I'm learning. It's an every-day grind. You try to get better every single day. Every play is run differently every time with the same concept, so I try to learn something every day."
It obviously paid off. After seeing no action in the first preseason game, Morency got his chance to shine against the Rams last week and seized it. He rushed 11 times for a club-preseason record 95 yards and two touchdowns, and also caught three passes for 19 yards.
"I liked the way he got the ball downhill, which is something we've been preaching to him," Kubiak said. "Also, one of the things I was impressed with was that he struggled with pass protection in camp and understanding schemes, understanding protections and blocking schemes. He's had some mistakes, but he was mistake-free in that department in the game.
"I thought he was very aggressive cutting people, very aggressive on a couple of blitzes. You have to be able to do that as a back. You have to be able to hold up in there against the blitz. He did some good stuff. He wore down a bit there, and I told him I want him to be able to go all day, but it was encouraging to see him play well."
Morency knew he had a good game.
"It means a lot to me," he said. "I wanted to get some film so I could go back and critique myself. I'm not perfect by a long shot. That's what I did. I went back and saw that I did a lot of good things, but I did a lot of bad things. So I wanted to come back here and get everything right so I can come out and be the back the team needs me to be."
He was most proud of his blocking on the blitz, protecting quarterback David Carr.
"We need 8," Morency said of Carr. "Eight is our guy. We have to do whatever it takes to protect him. If I have to take a bullet for him, that's what I want to do and that's what I want to show the coaches.
"I did some good things, but I also did some bad things. Right now, I'm just trying to get to being the kind of back I want to be and the back the team needs me to be."
Morency said he never worried about what a new coaching staff might mean for him personally entering this season.
"My thing is all that stuff's out of my control," he said. "I can't worry about that. Football's tough enough. You can't worry about the things that are out of your control. I just want to try to come out here every day and try to get better and control the things that I can."
The Denver offense Kubiak brought with him is said to be ideal for running backs to reach 1,000 yards. Morency likes what he sees of it. ](http://store.houstontexans.com/product/index.jsp?productId=1772605&cp=2237490&clickid=mainnavgeartxt&parentPage=family)
"It makes you have to understand the defense," he said. "It makes you have to know what everybody on the field does more than just getting the ball and running. I love it. It makes you learn who has who, where the quarterback's supposed to throw the ball, where the linemen are supposed to block. It makes you a better runner."
Morency went back to OSU last summer and visited with one of his idols, former Cowboy and ex-NFL star Barry Sanders.
"I had a chance to chat with Barry and pick his brain on how to go about your business," Morency said. "He told me just football stuff. He's a Hall of Famer, and you can learn a whole lot from him. It's a great deal. Guys like Jim Brown, Thurman Thomas, Barry Sanders, they paved the way for you. Just to sit down for a couple of minutes, you're in awe.
"(Barry) told me to just go about your business in a professional manner, on and off the field. That's the key thing. He said to get everything in the right order."
It looks like Morency is getting that advice down now.

EDITOR'S NOTE:Jim Carley is a veteran Houston sportswriter who has covered the NFL for more than 25 years. He has worked for such newspapers as the Fort Worth Star-Telegram, The Houston Post, the Los Angeles Herald-Examiner and the National Sports Daily covering such teams as the Dallas Cowboys, the Houston Oilers, the Los Angeles Rams and the Oakland Raiders.