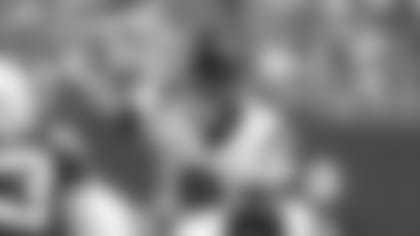 And it's not just that his quarterback rating has gone through the roof. After four games, Carr is leading the NFL in QB rating at 108.9 and that's got to be a good thing for the fifth-year player.
But it's something else. And everyone is noticing it.
"DC's playing his best football," offensive lineman Chester Pitts said. "He's making great calls and he's throwing the ball downfield. He's really hanging in the pocket, no matter what. He's fighting, he's battling. He's doing a good job."
Carr has thrown for seven touchdowns with only two interceptions. He has completed 73 percent of his passes and his 865 yards passing extrapolates to a healthy 3,460 yards for the season.
The difference in him is tangible. And those who know him best believe it is directly connected to new coach Gary Kubiak and the way Kubiak handles his young player.
"David's been working hard," wide receiver Andre Johnson said. "He's been here busting his butt every day and coach has been on him. It's all paying off for him now.
"He has someone here who has played the game and who knows everything that's going on and knows what Dave's going through. I think that's helped Dave a whole lot."
Many believe the key is that Kubiak doesn't use kid gloves on anyone, especially Carr. A former quarterback at Texas A&M and with the Denver Broncos, Kubiak knows what it's like to play the position. He knows it's a pressure-filled job. So he keeps the pressure on Carr.
"I think that's great," Johnson said. "Our first three years here, Dave didn't really have that. He never really saw a coach getting on him or anything like that. If it was, no one ever really knew about it. Now it's out in the open. He's not treated any different than anyone else.
"I think that's very important. He's the leader of the team. He's the quarterback and everything runs through him. He's handled it very well and I think he's playing real well right now."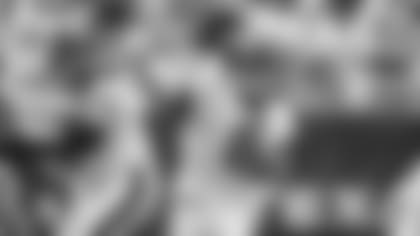 Carr has noticed the difference, too. He knows Kubiak expects the most from him and isn't going to let him off the hook. Ever.
"I think the biggest thing he does is he just keeps me going at all time," Carr said. "It's always a learning process no matter what's going on. No matter if we're winning and no matter if I'm completing almost every ball out there, there's always something I can do better.
"So there's not really a comfort level you can have out there in the game whether you're winning or losing or in practice. That helps."
Kubiak stays on Carr all the time, and regardless of how well he is doing or not doing.
"Oh yeah, during the game he does," Carr said with a laugh. "I'll complete a pass and from the sidelines he'll say, 'Your receiver could have had two extra yards if you'd have kept your eyes down the field.' And I'm like, 'I thought it was a touchdown, but all right, cool.'"
Even in the Texans' first victory Sunday against the Dolphins, Kubiak had plenty to say to Carr.
"I think it's a challenge with him all the time, because I got on him (against Miami) at a certain point," Kubiak said. "I want him to know that I'm going to be there to do that.  We're not going to let it go back, so to speak.
"He's made a lot of progress and I'm on him to continue to make progress.  I don't want him to think, 'Okay, I'm fine now, or I'm playing better now, or my rating's better now.'  It can't be that.
"It has to be a sense of urgency every day as a player for him to get this football team and him going for a long period of time to come, and I don't want him to ever lose sight of that."
Carr, of course, knows Kubiak has worked with some of the NFL's best quarterbacks, starting with John Elway and progressing to Jake Plummer.
"He's been around some great quarterbacks and he played well himself," Carr said. "So as far as him seeing the position played right, I'll take advice from him. All you've got to do is just plug it into the system and you'll be all right."
Kubiak recognizes that Carr is improving. And he thinks the loss at Indianapolis might have been an important time for him.
"I think mental toughness is what I see from him." Kubiak said. "We're four games into a season, but just in my dealing with him on the sidelines during a football game, I know that has been a challenge for me with him, and I can tell y'all that.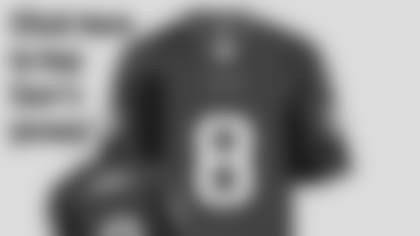 ](http://store.houstontexans.com/product/index.jsp?productId=1776296&cp=2237490&clickid=mainnavgeartxt&parentPage=family)"When we were in Indianapolis, we had a very strong conversation with him late in the third quarter on the sidelines and I told him how important it was that he play very well from that point to the end of the game, to show his team how important the game is to him and how he wants to lead. And he had a real big fourth quarter there.
"I know there wasn't a lot of stock put into it because the game was out of hand, but I think along the way one thing he has learned from me, hopefully, is that I want him to prove to everyone here, along with his teammates, how important it is for him to become a very good player for this organization and to lead this team. And I think he has taken on more responsibility."
Kubiak doesn't intend to let up any time soon.
"I'm trying to send a message to the kid, hey, make this play, make the throw, make the catch and we can go up two scores here," Kubiak said. "We're not going to sit here and be passive in what we're doing.  I want him to know I have confidence in him and the growth of this team is very dependent on David Carr's growth, in my opinion, as we move forward."
Carr isn't relaxing. But he realizes he's playing better, and that is important.
"It's probably the most fun I've had as far as being comfortable and understanding my position when I go out on the field," Carr said. "If you're comfortable and you're confident, and my confidence is at an all-time high with this offense, it's good. Yeah, I'm having a lot of fun."
And the future appears headed for a lot more fun with David Carr.
EDITOR'S NOTE:Jim Carley is a veteran Houston sportswriter who has covered the NFL for more than 25 years. He has worked for such newspapers as the Fort Worth Star-Telegram, The Houston Post, the Los Angeles Herald-Examiner and the National Sports Daily covering such teams as the Dallas Cowboys, the Houston Oilers, the Los Angeles Rams and the Oakland Raiders.