Sometimes it takes tragic circumstances or a sudden turn of events to put sports in the proper perspective. In certain cases, though, those same events can highlight the important role and sizeable impact that sports can have.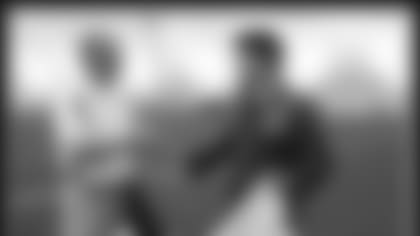 Bone and McNair shake hands in the practice bubble during the Texans Monday night training.
Chief Warrant Officer 2 Kevin Bone, a native Houstonian and a member of the U.S. Army's Seventh Special Forces Group, served an eight-month tour in Afghanistan during Operation Enduring Freedom. At Firebase Lwara near the Pakistani border, Bone contributed to the downfall of the Taliban regime through inspections of rebel strongholds, as well as being a peacemaker and building infrastructures surrounding his base.
Together with the rest of his unit, Bone struggled through many sleepless, home-sick nights in extremely hostile conditions. Fortunately, Bone's mother sent him weekly care packages from Houston to raise his spirits and remind him of home when Texas felt worlds away. In those packages, Bone found Houston Texans memorabilia, such as a preseason guide and photos of the Texans cheerleaders. Since the Texans were in their inaugural season, Bone knew little about the team, but that hardly mattered.
"I've always been a Houston fan," Bone said. "We had the Oilers and they are gone. We have the Texans now. While you are over there, you don't have too many things really positive everyday to look forward to. (The team) is something to think about. My mom sent me a lot of stuff with Houston Texans on it. So I started growing really close to a team that I didn't know."
Bone's favorite Texans possession is his white hat with the team logo, which he wore throughout his time in Afghanistan. Even though the hat is a little worn-out, he still wears it with pride.
"That hat I've had to wash three times," Bone said. "The sand destroys everything (in Afghanistan)."
During Monday night's practice, Bone presented Houston Texans owner Bob McNair with a handmade silk Texas State flag, which was made in Afghanistan, as well as a piece of shrapnel from a 107-millimeter recoilless rifle used during combat, a sword recovered during a cordon-and-search mission, and a Seventh Special Forces coin and hat.
"It was a great honor to meet Chief Warrant Officer Bone and to be presented with the items he brought back from his tour in Afghanistan," McNair said. "The State of Texas silk flag that Kevin had hand-made in Afghanistan will be displayed proudly here in the stadium along with his coin, the shrapnel and sword."
             "I
             admire and support the young men and women of our military and
             appreciate all they do to make it possible for us to live in the
             land of the free."<span>

             Currently, Bone is stationed at Ft. Bragg in Fayetteville, N.C.
             and is awaiting word on where his next mission will take him.
             Wherever he goes, though, the Texans will go with him. 

             Sports are often considered trivial, but when little things are 

the difference between a restful night of sleep and extreme fatigue, a small symbol from home goes a long way. Just ask Kevin Bone.