At 6-4, 337 pounds, rookie offensive tackle Charles Spencer is a mountain of a man. And he has taken on a mountain of a challenge.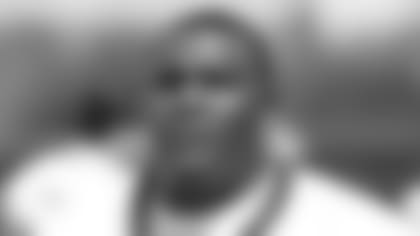 Spencer was the first player taken by the Texans in the third round, the 65 th overall player chosen this past April. He is gifted with great strength, agility and speed for a big man, as well as confidence and intelligence.
So he just decided he'd aim high when he set his personal goals.
"My ultimate goal is to get wins, to help the team win," Spencer said with an easy smile. "But personal goals? Rookie of the Year, that's my goal. It's real tough and I've got some good competition even on this team in Mario Williams."
No offensive lineman, or for that matter, no lineman, has ever won NFL Rookie of the Year, but Spencer is undaunted by the past.
"I just have to take care of business and play the best I can play," he said. "That's how offensive linemen get recognized, protecting the quarterback and getting the running back some yards."
Whatever he does, Spencer will do it with flare. The former University of Pittsburgh standout burst into the Texans training camp and made an immediate splash with the coaches. Coach Gary Kubiak especially likes Spencer's aggressive attitude.
"Yeah, he's pretty nasty," Kubiak said. "I was teasing with him one day last week. I said, 'I can watch you get into your stance, and I can tell when you are fixing to win, just by your attitude. I need you in that stance every snap.'
"I've told you guys (the media) that he has the ability to play in this league, and play very fast. The key is conditioning, and then mentally, catching up on what's going on. It's funny – lights just go on for some of these players when they're young. You watch this kid every day, and he's getting better. He's massive, and he's strong.
"It's just a matter of when he'll be able to do it down-in, down-out, and we're working in that direction."
Spencer enjoys his reputation for being nasty.
"I do like that," he said. "It comes from my competitiveness. I'm a competitive person and I hate losing. That's my mentality and that's where I get that attitude.
"I believe playing defense helped, too. I played defense my first three years in college. The (defensive) coaches always taught a nasty attitude. It has helped me a lot, especially in my running game, to have that attitude."
Spencer was noticed enough in training camp that he has been competing with veteran Seth Wand for a starting position at left tackle.
"Spencer's battling Seth every day, neck-and-neck, and rep-and-rep," Kubiak said. "There's no doubt he has the ability to be a starter in this league. How quick he plays like one of those, acts like one of those, prepares like one of those, that's going to be the tell-tale.
"No doubt he is in the mix as we speak right here. This kid's capable of starting in this league, and playing a long time. He has some issues that he's battling. He's battling being a rookie. He's battling some excess weight that we have to get off of him on a conditioning level. We brought that kid in here to play, and no doubt he's in and we're expecting him to come along as quickly as possible."
Spencer admits this pro football hasn't been easy.
"It's been a lot different than I expected," he said. "The NFL is a lot faster than college and it's more physical. It's definitely been hard.
"I would say adjusting to the heat has been the biggest thing for me. Coming from where I'm coming from, the heat has definitely been a factor. Every day I'm trying to get myself in shape.
"I think I've done pretty well, but I think there's a lot of things I need help on. My footwork, my hand placement. Just the little things that count most for offensive linemen."
Spencer played well in the Texans' first preseason game against Kansas City, and started the second game at St. Louis. But he struggled more in the second game.
"I think we're still searching," Kubiak said. "I think we saw what we felt like was going to happen to Spencer. He did some good things, but he struggled getting off the ball. He was late off the ball in a foreign stadium like that, not in his comfort zone.[ ](http://store.houstontexans.com/product/index.jsp?productId=1772605&cp=2237490&clickid=mainnavgeartxt&parentPage=family)
"He had a few busts, but when you're asking a rookie tackle to do that, I think you're going to have some growing pains, and we understand that. We love his effort. We love his upside. He's headed in the direction we think he would be in, but to sit here and tell you who our starter is today, I can't do that."
Spencer is taking nothing for granted. He knows this will be a long learning process.
"I'm just taking it one day at a time and one play at a time, trying to get better," he said. "We have a couple of veterans on the offensive line, and I am taking the coaching from those guys. It's a great opportunity."