So it's the off-season. For players that means sipping on umbrella drinks on the beach, a few rounds of golf in the morning and mass amounts of relaxation, right? Well, not so much. While most players spend their off-season conditioning at their team's training facility or staying in shape at their "home away from home", some enter the work force.
Texans kicker Kris Brown and former wide receiver Dwaune Jones are just a few of many NFL players that forgo the pads and cleats for the spring months to pursue a career off the gridiron. Yes, there is life after football, and it's never too early to start preparing for post-NFL endeavors.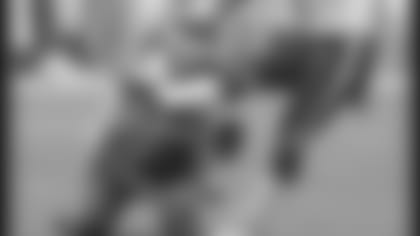 K Kris Brown's day job has gone from splitting the uprights in front of 70,000 to preparing for a financial career with a small, Houston-based firm.
In January, Brown joined the Redstone Companies in Houston to get a taste of what life is like as a financial guru. Though his college degree is from Nebraska's School of Education, Brown always expressed a personal interest in stocks, financial planning and real estate. So Brown did some networking and landed himself an internship with Redstone Companies, who provide stock quotes, trading, asset management, banking, loans, credit reports and a slew of other financial services to the consumer. The Houston-based firm put him right to work and also has let him study for the Series 7 exam, which he will take in April.
"You get a reality check real quick," Brown said about life outside of football. "It's been great. I've gotten a lot of experience and they've allowed me to study for the Series 7 so not only do I read about what I'll be tested on, but I can also now apply it."
The Series 7 is an intense exam consisting of 250 questions and lasts about six hours, picking test-takers' brains on the intricacies of the money market. If passed, the test provides a license to buy and sell, give financial advice for stocks and bounds and countless other benefits.
And just because he plays for the Texans doesn't mean he's received any special treatment. Brown follows the same guidelines as every other Redstone intern.
"I even change the water coolers," he laughed.
Though football is his first love, Brown is realistic about his future, he won't be splitting the uprights forever and he wants to prepare for the transition between careers.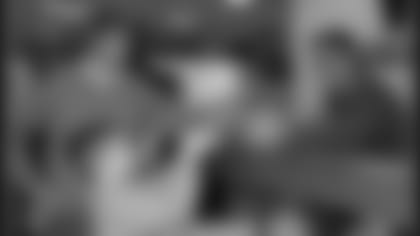 Though Brown was the Foley's Player of the Month during the football season, he was the spring intern at Redstone Companies.
"This is completely different," Brown said about the internship. "It's part of the reason of why this is good. At some point in my football career, it's going to end and this is good for making the physical and emotional transition."
Brown will remain with Redstone Companies until June and has even spoken to the firm about possibly returning next spring, hopefully with a license in hand. While he's built his knowledge about the financial market, Brown has also had a chance to reflect on his job as the Texans placekicker.
"As much as I love coming in here, this has definitely made me appreciate playing games, practicing and even spending time in the weight room," he said.
While Brown has been number-crunching, former Texans teammate Dwaune Jones, who spent the 2002 campaign on injured reserve, is serving as an assistant coach for the NFL Europe's Berlin Thunder. Jones played for the Thunder in 2001, when the club won their first of two back-to-back World Bowl Championships.
After making the winning touchdown catch in World Bowl IX to help the Thunder defeat the Barcelona Dragons, the Texans' scouts took notice and he was signed as one of the team's first free agents in January, 2002.
But during summer training camp, Jones sustained a knee injury that was going to keep him off the playing field. Still wanting to remain part of the team, Jones began to come in a watch film with the Texans' coaches and was soon assisting them with all aspects of game preparation.
He had found his calling. If he couldn't be playing on the field, there was nothing he would rather be doing than serve as a volunteer coach.
"Helping out with the coaching staff this past season changed me as a player," Jones said. "I've become a lot more mature, focused and gained more wisdom."
When the season ended, Jones wanted to continue his newfound coaching success and took an assistant position instructing wide receivers with the Thunder. He arrived in Tampa on February 21 for NFL Europe Training Camp and will remain there until the end of March before trekking across the pond to Germany, where he will utilize his Texans coaching experience and apply the ideas to players on his new squad.
"Some of these guys are playing for the first time in years, for others, it's their showcase to prove they can play in the NFL," Jones said about the athlete's he'll be coaching in Berlin. "They're hungry."
The 25-year-old would love to return and catch passes as a player, but if it doesn't work out, he's got his sights set high for a career beyond playing, as a coach. He's well on his way there and with the Texans and Thunder experience under his belt, Jones has laid a solid foundation.
"The NFL Europe is a training ground for not only players, but also for coaches," he said. "This is definitely what I'm called to do."
The Texans Player Programs Department is a strong advocate of preparing players for life after professional football. In November, the Texans held their first-ever Corporate Combine where leaders from the business and football worlds were brought together to create ideas for future business strategies as well as possible internships and job opportunities.
With an average NFL lifespan of only 3.5 years, players are encouraged to begin searching for non-football career options while they're still actively playing, networking and opening doors via the profession.
"Waiting until you've been cut, hurt or retired is often a post-career setback," Player Programs Director Todd Scott said. "I encourage players to take advantage of the many opportunities that exist.
"The off-season is the perfect time to explore other interests. Internships can give players the relationships, training and experience that make life after football a smoother transition."
Along with Brown and Jones, Texans tight end Jabari Holloway spent January through March at Reebok in New York working in the Management Information Systems department, an internship set up in partnership with the NFL league office. Linebacker Kailee Wong also tested out the business waters with job experience at CHOICE! Energy.