Click Here to watch the video version of First and Ten with Andre Johnson
*1- What's your favorite college moment?
*"Winning the National Championship."
2- What's your favorite NFL moment?
*"I think my favorite NFL moment was just running out of the tunnel my first game here in
, just realizing that a dream really did come true."
3- What's your favorite overall sports moment?
*"I don't know. I would probably have to say making it to the Pro Bowl. That was just a great experience for me, being chosen to go over there and play with some of the elite players in the NFL."
4- Who is the person you admire most?
*"My mom, raising two boys by herself, that definitely motivated me to get to where I am today."
5- What's your favorite movie?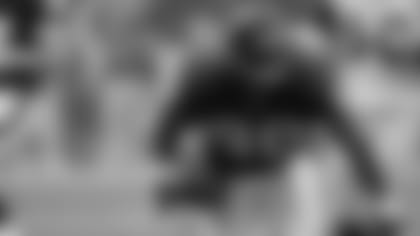 *"I would probably have to say
Scarface*. No reason. I think probably every football player you talk to chooses that movie."
6- What's your favorite food?
*"I like seafood. Shrimp, fish, lobster, any type of seafood."
7- What's your favorite vacation spot?
*"I really haven't had a chance to take a vacation. Most of the time during the offseaon I'm at (the
during the offseason and I've never really had the chance because things always come up. Once I experience that, I'm pretty sure that will be the spot."
*"It was the best. To be there, go play college ball there, and just being there your whole life. Coming to the city of
was a different experience for me. After being somewhere your entire life and moving away, having your family and your friends and then just up and leaving, it was a little bit different."
9- If I wasn't a football player…
*"I always wanted to be a police officer."
*"Basically I would tell them that all the players that are here in the NFL were once in their situations. You know, having dreams, one day wanting to be in the position that I'm in now. The biggest thing that I can tell them is if you have a goal just go out and give your all to get to that."