There was a time last November when Seth Payne faced one of football's biggest fears. He toed a line of confidence with the game staring back at him.
He wondered if the pain and swelling in his knee would ever stop.
He wondered if he would ever be who he once was.
Payne, who is penciled in as the Texans' starting nose tackle, tore the anterior cruciate ligament (ACL) in his left knee Sept. 14. at New Orleans. The eight-year veteran out of Cornell was coming off a career season when he dislocated his femur and snapped the ligament.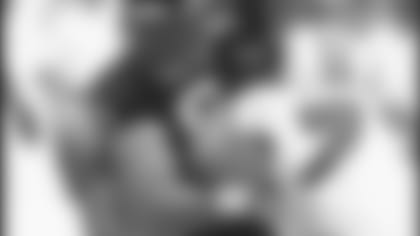 Doctors used a ligament from a cadaver to repair the damage at the end of September. Friends and teammates called him "Dead Man Walking." But problems with the knee persisted. It was later learned Payne's body had rejected the donor ligament.
"November and December, I didn't know if I would ever play football again," Payne said "We just didn't know what was going on with my knee. That was probably the low point."
Doctors repaired the ACL in January after two arthroscopic surgeries. They took a small tendon from Payne's right knee to repair the damage. He's been around for mini-camp and the first week and a half of training camp, but was limited to small drills.
He returned to team drills for the first time Aug. 10. Good news for coaches and fans alike.
Texans coordinator of rehabilitation Tom Colt said Payne has been improving quickly since January thanks in large part to the lineman's own dedication.
"I think he feels good about it," Texans head coach Dom Capers said. "I know he's anxious to get back out there. He's been wanting to get into team. We're obviously being cautious and I think a big part of it is regaining the confidence."
Payne started doing football drills two months ago. Jerry Deloach, who has started all 32 games in Texans history on the defensive line has filled in at nose tackle. Both will be relied upon to improve a defensive line that tallied just three and half sacks last season.
"Really the hardest part has been being patient, not trying to hurry things along," Payne said Wednesday, fresh practice sweat dripping off his nose.

"You make a little bit of progress and you really want to push through to the next level and really you need to stay at a level, plateau for a while, and then move on to the next level."

Colt said Payne's rehab has been different from that of other injuries. According to Colt, while few physicians use a patient's own tendons to repair an ACL tear in the initial surgery, many use it as a secondary option, as in Payne's case.
That means Payne had to work out two knees at the same time – his left to regain motion and his right to build muscle and strength.
"It's hard for me because my knees were always sore before I got hurt," Payne said. "One of the things that come with weighing 320 pounds. It was hard for me to figure out sometimes if it was an obesity problem or an ACL problem."
Time was also spent prepping Payne for the challenges to come. Running drills is easy. Playing in game situations is different.
"I hadn't been thinking about it at all, at least not on the practice field of course," he said. "Maybe it will be different in the game. We've done a lot of preparation mentally to gain confidence and be able to play without worrying about it."
Payne is definitely not worrying about playing again. He's toeing a different line now – the line of scrimmage.