One team needed salary cap relief. The other team simply needed players.
So the events of Feb. 18, 2002, became a win-win situation for the Jets and Texans. New York, teetering on the edge of the league's cap limit, unloaded two rather hefty salaries. The Texans in turn got two veteran cornerbacks upon which to build their defense for the upcoming expansion season.
Aaron Glenn and Marcus Coleman will face their old team for the first time Sunday, though Glenn's groin injury might keep him from suiting up. Between them, Glenn and Coleman accounted for 14 seasons, 167 starts and 38 interceptions as members of the Jets secondary.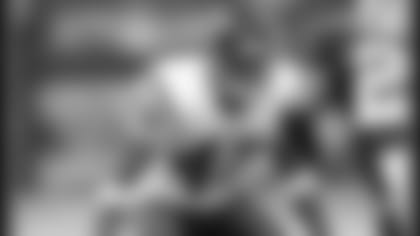 Coleman and Glenn have combined for 10 picks since coming to Houston.
In short, they left a legacy in Gotham. Glenn still ranks third on the Jets' all-time interceptions list. Coleman picked off three passes in the "Monday Night Miracle," a pulsating win over Miami in 2000 that ranks as one of the great moments in team annals. But both cornerbacks are Texas natives that played at state universities. The Lone Star State is home and they couldn't be happier in Houston.
"I love New York, but I'm a die-hard Texan," Glenn said. "I always came back here during the off-season. It wasn't like (New York) was a place I was going to make my home.
"New York was my first team. It's where I was drafted and I still have a lot of friends on that team. It will always be a special place for me."
Glenn made the Pro Bowl as a Jet in 1997 and 1998, helping the Jets advance to the AFC Championship Game in 1998 under current Cowboys head coach Bill Parcells. His younger brother, Jason, even played with Glenn his last season in New York and is still a valuable special teams performer and backup linebacker for the Jets. Of course, a lot has changed in two years.
"Well, back then he stayed at my house, he didn't have to pay rent," Glenn said. "But not a lot of players get to chance to play with their brother. One thing that's different about him is that he's a talker. If he makes a play, he's going to let you know about it."
Coleman was a reserve in 1998 but broke into the starting lineup the following season. Both players helped the Jets again make the playoffs in current head coach Herm Edwards' first season in New York. But then economics kicked in.
"They did a magnificent job of helping us go to the playoffs," Edwards said. "We won 10 games with them. Then to lose them the next year, obviously we were strapped a little bit with the (salary) cap. We had to do some things. We lost them and they're playing very, very well down there.
"Marcus is a tremendous athlete, obviously. He has got great size, good hands, a good tackler. Aaron, he is a speed cover guy, one of the better cover guys in the National Football League. They are very, very good corners. Two of the better ones in the league."
As an expansion team, the Texans had money to spend and they figured a good way to build their defense was to go after two quality veteran cover corners.
"We were very fortunate to obtain both Aaron and Marcus," head coach Dom Capers said. "They've been a big part of our team the last year and a half. Corners are a tough position to come up with."
Landing on the expansion list never appeared to discourage Glenn and Coleman, at least publicly. The modern-day reality of the NFL dictates players rarely stay with the same team their entire careers.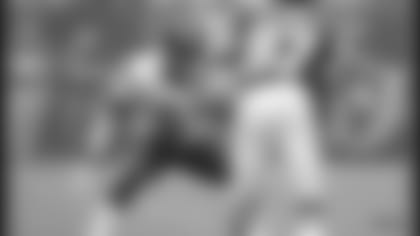 Glenn suffered a groin injury versus Jacksonville after nursing a hamstring injury during camp.
"You also have to understand that this is a business," Glenn said. "Sometimes other factors don't really matter. You can play your heart out for a team but sometimes the business aspect gets in the way and a decision has to be made. I totally understand that."
But getting drafted by the Texans also meant a return to their roots for both corners. Glenn grew up in Humble and was an All-America selection at Texas A&M. Coleman, a Dallas native, played at Texas Tech. When Texans brass took eight expansion draftees to the rodeo the night of the draft, Glenn and Coleman took it upon themselves to explain the festivities to the other players.
And since arriving in Houston, both players have been phenomenal assets to a young team. Glenn made his third Pro Bowl trip last season after intercepting five passes and racking up a career-high 72 tackles. Coleman broke up a career-best 30 passes in 2002 and picked off four passes in this season's first four games, earning him AFC September Defensive Player of the Month honors.
"I'm not trying to prove anything to them," Coleman said when asked about the Jets. "I am trying to be the player that I am. I consider myself one of the best defensive backs in this league and I need to hold myself to that. My standards are higher as far as my playing and being an intelligent player and an athlete. I want to prove it to myself that I am still one of the best in this game."
Houston's secondary had a game it would like to forget last week at Tennessee. Titans quarterback Steve McNair shredded the Texans for a career-high 421 yards. Jets quarterback Vinny Testaverde won't throw deep very often but he's still solid and still very accurate. Just ask Glenn.
"Vinny is a big, strong quarterback," Glenn said. "Being in the league so many years, I don't think he's lost anything with his arm strength. He's never been a big scrambler, everybody knows that. But he's accurate.
"In 1998, when we went to the AFC Championship Game, he broke all of (Joe) Namath's records and you have to able to throw the ball to do that."
It seems like every Sunday a player is facing a grudge match against his former team. The storyline has lost a bit of its punch since the advent of free agency. But Glenn readily admits that Sunday's game is different. You can't just sweep eight years under the proverbial rug.
         "I'll
         be honest, everyone wants to play against their old team,"
         Glenn said. "Not for
         the fact that you can say 'Oh yeah, I told you I could do it,' but
         it's just something you want to do. Regardless if I'm out there or
         not, I hope we can get a win. We need to win some games so we can
         get some momentum going."