A few weeks ago right tackle Todd Wade talked about the biggest mark of success any offensive line can accomplish.

It involves running the football at the end of a game with a slim lead on the scoreboard. The defense knows the run is coming. Now, can you do it anyway?
They did it Sunday against the Raiders.
With 10:52 remaining in the fourth quarter cornerback Demarcus Faggins picked off a Kerry Collins pass at the Texans one-yard line. Houston was holding on to a 10-point lead at the time.
What followed was a masterpiece of clock management. The Texans marched 73 yards in 14 plays, recorded five first downs and kicked a game-clinching field goal.
Nine of those plays were runs.
"We felt like we could really wear them down running the ball like that," Wade said. "Jonathan Wells was doing a great job running the ball and we had confidence in that. Early on in the game we felt like we could run the ball on them at anytime."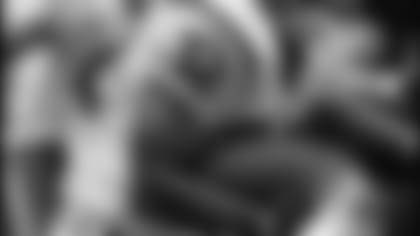 Wells had a career-high 105 rushing yards, so the drive wasn't the only time the Texans had success running the football, but it was the most interesting.
It was definitely the most exciting for the offensive line. According to Wade, dominating the line of scrimmage takes away any semblance of fatigue or pain.
"That's the fun part about it, being able to go out there and run it down their throats and there's really nothing they can do about it," Wade added. "Three or four yards a carry, when you do stuff like that that's degrading to them and it wears a team down. They were dead at the end of a game."
The Texans rushed for 162 yards on 40 carries Sunday. That ranks second all-time to a 169-yard performance against the Jets Oct. 19. 2003. The 40 carries are now a team record.
Head coach Dom Capers cited the statistic when asked how much the offensive line has improved. He reminded reporters the team also didn't give up a sack against a very aggressive Raider defense.
That has occurred only three times in team history.
Quarterback David Carr was sacked a league-high 76 times in 2002. That number went down last season, but the line had difficulty in the first three games. Carr was sacked 11 times going into Sunday's match-up.
But the Texans have rebounded, averaging more than nine yards per pass attempt thanks in large part to pass protection. Carr had one of the best passer ratings in his career Sunday.
"In this offense it's going to be like that," Carr said. "You're going to put it down the field and give guys a chance to make plays. You don't have to throw it 40 times a game to get those yards. As long as we can keep our running game consistent like it was last week and show teams that we will come in and run the football then our passing game should be like it has been."
The Texans are 10th in the league in total offense heading in to Sunday's game against the Minnesota Vikings, so the run game has also benefited from a rejuvenated line.
Running back Tony Hollings got 22 yards on six carries against the Raiders. Starting running back Domanick Davis missed out on the fun with an ankle injury but has a chance to return to the lineup this week.
But the success, especially on the clock-milking drive, was more than an accomplishment to center Steve McKinney.
"If you look at us the last two weeks, we've done things we've never done as an organization," he said. "We went into the fourth quarter down by seven and came out on top (Sept. 26 vs. Kansas City) and this last week protected the lead by driving the ball 80 yards and taking seven and half minutes off the clock. Those are two things as an organization we've never been able to do. That makes all the difference. When you can do that, the sky's the limit. When you get into a situation where you have to do something and the other team knows what you're doing and you still do it, that's when you know you're becoming a good football team."