Points are at a premium for any NFL expansion team. That's why the Texans targeted the kicker position perhaps more feverishly than their counterparts.
"Clearly, field goals will be a crucial part of our game in our first couple of years," Texans general manager Charley Casserly said. "But this isn't a very deep year in the college draft for placekickers. And if you looked around in free agency, it wasn't very deep in free agency. It really was a very short list that all teams were looking at."
So the Texans went the aggressive route, signing fourth-year kicker Kris Brown to an offer sheet last week. The Steelers had until today to match the four-year offer and today they declined, sending Brown to his home state and sending Houston's first seventh-round pick in this year's draft to Pittsburgh.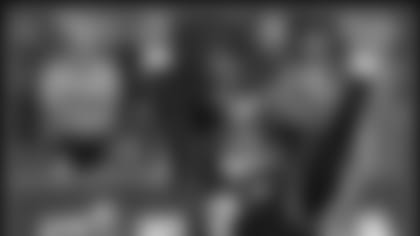 "Getting a young kicker like Kris Brown who is talented and going into the prime of his career is a big asset for us," Casserly said. "I think it's a testimony to Kris Brown's ability that Buffalo was prepared to do an offer sheet and Pittsburgh clearly struggled with deciding to match this or not. We feel good about not only getting Kris, but the quality of the individual and in this market there weren't a whole lot of options."
Brown has converted 77.7 percent of his career field goal attempts (80 of 103) and can also kick off for the Texans. The Southlake native is glad to be coming home.
"I'm excited," Brown said. "This past week has been kind of stressful, not knowing what was going to happen. I'm relieved that it's over but I'm also very excited to be a Texan."
Brown, who kicked at Carroll High School before setting numerous records at Nebraska, has a six-year-old and a three-year-old brother in Southlake. So proximity played a factor is his desire to play for the Texans.
"I told (Steelers head coach) Bill Cowher that I preferred to be in Houston, just from the standpoint that my family is there and it's a very attractive situation for me," Brown said. "And also the chance for me to start off with this organization just like everyone else."
Brown entered the league as a seventh-round pick in 1999 and came out smoking, hitting 25 of 29 field goal attempts, including his first 13 career tries, which set a league record. In 2000, Brown nailed 25 of 30 field goal attempts.
Last season, the Steelers moved into Heinz Field and Brown didn't fare as well. He connected on 30 of 44 attempts, missing 10 of 24 tries at home. Then again, the swirling winds off the Allegheny River at Heinz Field's open end troubled every kicker. Opposing kickers hit just 5 of 11 attempts.
"Last year certainly wasn't the year I would have hoped to have had," Brown said. "I took some positive things from it and I was able to become more mentally tough in dealing with situations. You go through adversity to make you stronger and that's definitely what it did for me."
Brown's perceived 2001 struggles didn't faze Casserly. In fact, he views the season as a positive.
"He's the only kicker in the NFL last year who had 30 field goals and 129 points," Casserly said. "That's says a whole lot right there. And he was the most successful kicker at Heinz Field, college or pro.
"He struggled a bit but then bounced back. And I think that's an asset. I think if you look at all young kickers, it's very rare they have smooth sail all the way through their career. I feel very fortunate to get a guy like Kris who's already had the bump in the road."
Brown will now ply his trade in decidedly different conditions in Houston, perhaps even with the Reliant Stadium roof closed on occasion. But Brown expects to put points on the board for the Texans every time he trots out on the field.
"I have no control over the conditions so I really don't put a whole lot of emphasis on that," Brown said. "Regardless of where we're playing, I'm going to do well."