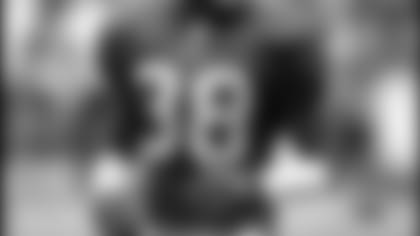 "I'm still working on my technique; I'm not a perfect corner but I see that I'm getting better every day," Faggins said about his continual evolution.
Faggins eased into this 2004 season with a little more experience under his belt than he did last December, when he made his first-ever career start in the Texans season finale against Indianapolis. That was when he found himself face-to-face with one of the league's most experienced and savvy receivers in Marvin Harrison.
"It was like a dream come true," Faggins said about his NFL welcoming matchup. "Marvin Harrison is one of the best receivers in the league. I came in and was just kind of getting my feet wet and they put me on him and told me I had to be on him the whole game so I came out and just played hard."
Faggins was forced to leave the game prematurely with a leg injury, but not before making two tackles and batting down three passes, proving that he belonged as a key contributor in the professional ranks.
Harrison finished the game with only two catches for 34 yards.
It was just the kind of statement Faggins had been looking for in his personal performance. Just a little over a month prior to introducing himself to Reliant Stadium fans last December, he was a member of the Texans practice squad.
But he was no stranger to the Texans defensive system, personnel or coaching staff. Faggins was one of the original members of the expansion squad, drafted in the sixth round of the 2002 NFL Draft out of Kansas State.
In 2002, he saw playing time in two games and was inactive for 14 while easing into a new system with opponents that seemed to tower over his five-foot-ten, 180-pound frame. But he didn't let his size, compared to that of many his fellow NFL cornerback counterparts, discourage him from sticking around.
"I'm one of the smallest corners in the league and I really have to be quick and have great feet," he said about utilizing his strengths. "You have to have ball skills and compete on every play, not even think about how big you are or how big the receivers are that you're playing against.
"If they put you out there, that means that you have to go out there and do your job. I just do the best job that I can and be aggressive."
Texans' opponents are catching on to his aggressiveness pretty quickly – most recently, Jaguars quarterback Byron Leftwich, whose final comeback try last week ended abruptly when Faggins stepped in front of his pass with under two minutes remaining in the game.
The Texans defense was lined up in zone coverage and Faggins was able to place himself in prime position to stir up Leftwich's overthrown attempt.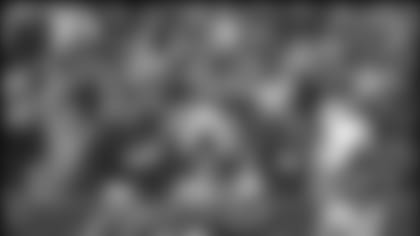 Faggins celebrates with Texans fans after his game-clinching 43-yard interception return for a touchdown.
And with every ounce of energy and speed in his body, Faggins ran the ball back into the end zone for his first-ever touchdown to seal the Texans 20-6 win.
"They were going the fastest ever," Faggins said about his legs racing down the sideline. "I saw (Jason) Babin and I didn't know it was Babin on the side of me running. I thought it was somebody on their team so I started running faster."
After the pick, his second of the season, Faggins enjoyed the notoriety of making the front page of local newspapers while his jump into the sea of red fans after scoring was a favorite on ESPN's highlight reel.
But Faggins' teammates and coaches weren't unfamiliar with his abilities. For three years, they've watched and helped him grow and develop into a professional-caliber corner.
"Being around three years, you learn the system and the coaches know your talents, your weaknesses and your strengths," Faggins said. "They know what you've done in practice since the first day.
"It's been good for me. The coaches know I can play. They know I can make plays."
This season, things really seem to be clicking for Faggins. After spending the first half of 2003 on the Texans practice squad, he was elevated to the active roster, getting some beneficial playing time in eight games, including that start against the Colts.
That steady exposure helped set him up for a breakthrough year in 2004.
"It was a real confidence booster," Faggins said about last season's game experience. "I was activated from the practice squad and came in and made a couple plays in that first game so it kind of boosted my confidence coming into this year.
"They told me they expected more out of me so I've just come in and worked hard every day and on every play I compete."
His pick against the Jaguars was his first-ever touchdown, but he notched another milestone just a few weeks before, against Oakland, when he made his first NFL interception.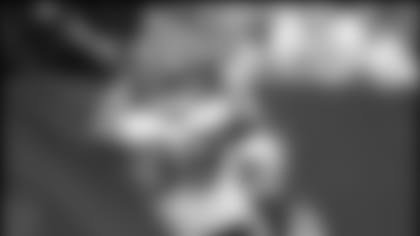 Faggins challenged veteran receiver Jerry Rice, making his first career interception after picking off Rice's intended catch.
With the Raiders threatening in the fourth quarter, Faggins dove in front of Kerry Collins' pass to Jerry Rice, making the pick at the one-yard line. His offensive teammates held onto the ball for over seven minutes after, putting away the game.
Two of his contributions this season have been huge difference-makers for the Texans – both helping to sustain two of Houston's four wins. Faggins credits his heady play to a greater sense of stability and composure in his position.
"I'm calming down," he said about his progression. "I remember going out there in games and being so hyper and then you miss your keys and miss your reads. So they just told me to calm down, relax and just play my game.
"I'm still working on my technique, I'm not a perfect corner, but I can see that I'm getting better every day."
Faggins has come a long way, especially since his first stab at football came during his sophomore year of high school in Irving, Texas. After that, two seasons at Navarro (TX) Junior College prepared him for Division I competition, where he moved on to spend two seasons as a force in the Big 12 at Kansas State.
And back to Texas Faggins returned where he is playing the best football of his life in front of family members and adoring Texans fans.
Now bitten by the big-play bug, Faggins hopes to develop, grow and make a name for himself in Houston in a big way.