His business card says he's a defensive end. You know, one of the glamour positions -- coming off the edge, dropping the marquee quarterback, doing a little tap dance over the poor guy's head.
But odds are you won't find Texans defensive end Gary Walker in many highlight reels or plastered on any posters. Walker is a defensive end in name only in Houston's 3-4 alignment. He makes his money down in the trenches, carrying his lunch pail and fighting off consistent double-teams. Which only makes his recent accomplishments all the more impressive.
"Gary is a rare talent with his combination of size and quickness," Texans head coach Dom Capers said.
In his first season as a Texan, Walker earned his second consecutive Pro Bowl invitation as a defensive tackle. He racked up a career-high 116 tackles and added 6 1/2 sacks in 2002. Walker also emerged as a vocal team leader, helping the Texans' defense turn in one of the more impressive season in the league.
G-Funk's peers helped send him to Honolulu and with good reason. We know tackles are "unofficial" stats in the NFL, but Walker's 2002 stats were remarkable for an interior defensive lineman -- or even an edge rusher. Just check out the stats of his fellow AFC and NFC Pro Bowl selections.
Player (Team), Tackles, Sacks
Richard Seymour (NE), 55, 5.5
La'Roi Glover (DAL), 76, 6.5
Kris Jenkins (CAR), 60, 7
Jason Taylor (MIA), 76, 18.5
Trevor Pryce (DEN), 61, 9
John Abraham (NYJ), 82, 10
Kevin Carter (TEN), 71, 10
Simeon Rice (TB), 75, 15.5
Michael Strahan (NYG), 75, 11
Hugh Douglas (PHI), 55, 12.5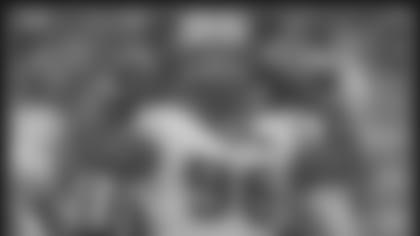 Aside from the sick sack numbers posted by Taylor and Rice, Walker's docket can stand up to any defensive lineman's. Walker's strength allows him to hold his ground against opposing offensive linemen at the snap. But he can also boast uncanny quickness and athletic ability for his size, which enables him to get around a block better than most interior guys.
And whether he's in Jacksonville 4-3 alignment or Houston's 3-4, the goal remains the same for Walker -- get to the ball.
"A lot of teams line up in the 4-3 but they're actually playing the 3-4 once they stunt. We're just lining up in the 3-4 and running our stunts from there," Walker said. "I didn't know a whole lot about it when I got here but the 3-4 scheme is an advantage for me in certain situations."
Expect Walker to continue posting strong numbers in 2003. Last year was a whirlwind for him before he even lined up against Dallas in the regular season opener.
Walker was exposed by Jacksonville in the expansion draft and wasn't too happy about it at first. But after seeing what the Texans offered, even as a first-year club, the former Oilers draft pick started envisioning his career finishing where it started.
"I was kind of mad at first," Walker said. "But to be back here in Houston and to be where my career started and hopefully where I'm going to finish my career, it's a blessing."
But the move was just the beginning. Walker had the advantage of knowing Capers from their days together in Jacksonville. But in mini-camp Walker suffered a groin injury that forced him to miss most of training camp. He still bounced back to start all 16 games and post career numbers.
This off-season has been a little calmer. Walker is fully entrenched in Houston and is one of the team's more active community members. He knows the defensive system cold and has been healthy throughout the Texans' coaching sessions, though that might not actually be a good thing.
"I like being out here now but I don't mind missing training camp," Walker said with a wink. "No, it's nice to be out here, actually. I enjoy it."
Walker also enjoys what he sees around him. Fellow Jaguars buddy Seth Payne had his own career season (147 tackles) next to him at nose tackle. And the Texans are logically beginning to get deeper up front.
"We've got three rookies on the d-line and they're coming around. It's encouraging," Walker said. "We've added depth.
"When you've got people that know the system and you maybe only have to teach one guy instead of five, everything is going to be smoother."
If the young players like Charles Hill and Keith Wright are smart, they'll absorb everything they can from Walker, from technique and intensity to his passion for this game.
         "This
         is what I do, this is what I love," Walker said.