Ask any rookie in any NFL locker room this week and he'll tell you he's jacked up about making his regular season debut.
For wide receiver Andre Johnson, the Texans' schedule has provided him with additional incentive for kickoff weekend. Houston opens at Miami, a city Johnson knows better than almost anybody.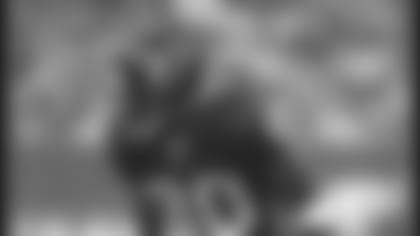 "I grew up right around the corner from the stadium so Miami was always my team," Johnson said. "To have my first professional game to open up against Miami will be a great feeling."
Johnson was born in Miami, prepped at Miami Senior High School and helped the University of Miami win its fifth national championship before becoming the Texans' first-round pick. His zip code has finally changed, but he's looking to launch his Houston career on familiar soil.
He'll have some goose bumps, to be sure, especially considering he snagged 145 tickets for Sunday's game. But Johnson plans to keep his focus between the lines.
"I've been to a lot of Dolphins games so I know how hostile that crowd can be," Johnson said. "When I am on the field the crowd doesn't bother me. I just go out and play and not worry about the crowd because the crowd can't blitz anybody."
Johnson showed flashes of brilliance in the preseason, catching eight passes for a team-high 113 yards and one touchdown -- a 24-yarder against San Diego. The Texans drafted Johnson to give quarterback David Carr a big, physical go-to target and open up the field for fellow receivers Corey Bradford and Jabar Gaffney. That strategy appeared to work in the preseason and the Dolphins' veteran secondary took notice.
"Carr has a strong arm and being that Andre is pretty much one of the fastest guys on the team he is going to be able to stretch the defense," Dolphins cornerback Sam Madison said. "I'm not saying they weren't able to do that last year with Corey, as well as Jabar, but you just add another threat to it.
"Andre's a big, strong, physical guy and goes up and fights for footballs. Some of those balls that were dropped last year I think he is a guy that can go up and make those catches and make those plays to move the chains. Once they are able to move those chains, they will be able to do a lot more stuff with their offense. I feel that he is a guy that can really contribute to helping them move the chains and get more points on the board so they can win football games."
Thus, Johnson starts his first game Sunday with a target already on his chest. It comes with the territory of being a first-round pick. But Johnson just shrugs it off.
"I just need to go out there and play to the best of my ability," he said.
It's that humble, gym-rat attitude that has impressed the Texans' brass ever since Johnson set foot in Houston. Count Madison among the impressed. He just wants to make sure Johnson's happy homecoming is capped by a frustrating three hours at Pro Player Stadium.
         "He
         knows that I'm a guy that if he needs something he can come ask me,"
         Madison said. "Not this week, but in weeks to come."