At 5-9, the Texans may be removed from the postseason picture. But anybody who thinks Houston doesn't have anything to play for in these last two games of the 2003 season should have been at quarterback David Carr's locker Friday.
Head coach Dom Capers confirmed after today's practice that Carr will indeed return to the starting lineup after a four-game absence Sunday when the Texans host the 10-4 Titans.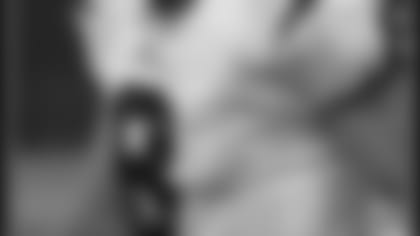 Carr will start Sunday against Tennessee.
"I'm fired up, man," Carr said. "I feel like the season's starting all over again for me. We've still got something to prove and we need to get a good feeling heading into the off-season."
One player a football team does not make. But there's little question that Houston's offense should improve with the return of its starting signal-caller. Carr's ailments have been well-documented. He has essentially been battling two injuries since the first half of the Texans' loss at Indianapolis Oct. 26. First it was ankle sprain, then a sprain in his throwing shoulder at Buffalo Nov. 16
"When you go all the way back to the Indianapolis game when he sprained his ankle, he missed some time there," Capers said. "He was able to come back and play, although he wasn't a full strength, in the Cincinnati game. He played very little in the Buffalo game and essentially he played a half of football in our last home game.
"I know he's excited about being back and you could just tell by watching him in practice this week."
In Houston's first six games, with Carr taking all but a few mop-up snaps, the Texans' offense averaged 348 yards per game, 235 of those through the air. In the ensuing eight games, with Carr in and out of the lineup, those numbers have dipped to 211 and 113, respectively.
The numbers don't lie. Houston's offense wasn't resurrecting the Run 'N Shoot early this season but it was humming along nicely. Carr is eager to jump back into the fray and get reacquainted -- at full strength -- with the likes of running back Domanick Davis and wide receiver Andre Johnson.
"I want to get back out there and get this thing going," Carr said. "It's not just one person, but I think the mindset of our team is we have to improve. We've got to feel like we've improved since last year. I felt like we were on that track and I want to get back onto it, even if it's only for two more games."
Carr felt he was ready to start last week at Tampa Bay but the coaching and training staff thought it best to stay on the sidelines for one more Sunday. But in practice this week, it's been fairly obvious that Carr is ready to return.
"He's significantly better," Capers said. "He threw the ball this week with the kind of zip we've grown accustomed to seeing from David. I think his situation is much better than it's been the last couple of weeks."
Carr played every snap in his rookie season so his injury-plagued 2003 campaign has been an adjustment. But it's not as if Carr's mindset is once bitten, twice shy. He proved that much in the Texans' win over Atlanta three weeks ago, neglecting to slide on a 36-yard scramble that set up the go-ahead touchdown.
If he had a do-over, Carr now might opt to slide on that one. But he will continue to play the game the only way he knows how, and that's full speed.
"My mom and dad and brother and everyone else that I know are threatening me that if I don't slide, there's going to pull me out of the game," Carr said. "But there's no apprehension (with the shoulder). There probably would have been apprehension two weeks ago if I was out there playing. It feels good enough now that I don't really notice it too much."
Meanwhile, for the first time in quite awhile, Houston's opponent actually has more questions under center than the Texans do.
Titans quarterback Steve McNair, who earned his first Pro Bowl berth yesterday, missed last week's win over Buffalo with an ankle injury. Billy Volek led Tennessee to a win, but lacerated his spleen in the process. So the Titans cleared up some salary cap space to sign former backup Neil O'Donnell.
"Neil is a veteran guy," Capers said. "He's a guy that has savvy, he's been around a long time and he certainly knows their offense. If it gets to that point, I'm sure he's very capable of going in."
That being said, the Titans have been in this position before. And more often than not, McNair emerges from the tunnel and heads right to the huddle.
"I think you just have to go off of history," Capers said. "There have been so many weeks that Steve McNair hasn't been able to practice but has gone in and played extremely well. We anticipate seeing Steve McNair and we've prepared for Steve McNair."