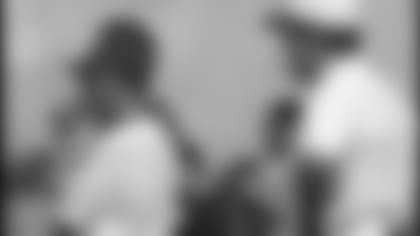 Defensvie coordinator Vic Fangio and head coach Dom Capers evaluate the Texans revamped defensive unit.
When the first horn blew to launch Saturday morning's practice, the 2004 season was officially christened.  Out with the shorts, in with the pads. Say goodbye to balmy spring weather and welcome Houston's 91-degree 10 a.m. heat with open arms.
It's time to get down to business. The May and June crash course in Texans Football 101 was effective in prepping the squad for these two-a-day practice sessions and game planning, now the execution begins.
"It looked like we had good carry-over from the spring," head coach Dom Capers evaluated after the Saturday's morning session. "Training camp is where you lay the foundation to the team. We've got more experience and more maturity. You've just got to take it one day at a time."
The first of those 30 days got off to a good start. Injured players from the 2003 season began to work out the rust, veterans felt a sense of nostalgia and rookies got their first taste of how eating, breathing and sleeping football will now become a way of life.
"Every year I come out here excited and ready to work," cornerback Aaron Glenn said on the first day of his 11 th NFL training camp. "This year I'm coming into camp healthy and I'm ready to get out there and make a difference."
While Glenn has rebounded after playing with a nagging groin injury throughout last year's campaign, other veterans are making slow but steady strides back into action.
Nose tackle Seth Payne participated in preset individual drills during the morning session, just the first of many steps along the road to recovery from ACL surgery.
"The next phase is to get him into some reaction, where it's not pre-determined," Capers said about Payne. "We'll have to see how he responds and if he has any soreness, but it was good to see him back out here with pads on and taking part in individual drills."
No one was pumped more than Payne himself, who has watched and coached his teammates from the sidelines for what seems like a decade to the stalwart lineman.
"You feel pretty guilty watching all of those guys practicing during mini-camp and doing the run test yesterday," Payne smiled. "So it's nice to get out here and commiserate with them a little bit."
Payne spent the off-season in the weight room and on the training table, maintaining his stamina while nursing his knee back to good health. Through the process, Payne admits there were times where his anxious and determined nature sometimes sent him into overdrive. But with the first regular season game just six weeks around the corner, Payne and the training staff are being cautious and conscientious about his participation.
"I feel like if I wanted to practice today, I probably could, no problem," he said. "But obviously they want me to be pretty careful with it so if we just add a few things every day, it should be no problem."
Payne's fellow defensive teammates are in somewhat unchartered waters this training camp. A mix of veteran and rookie players took the field this morning with a look much different than the Texans first two seasons.
At his point in time, seven guys have been either shifted into different posts or added to the lineup. Robaire Smith was acquired in free agency to man the right end spot along the line. Jerry Deloach has since shifted into the nose tackle position with Seth Payne on the fringe and Gary Walker has returned from injury to his niche at left end.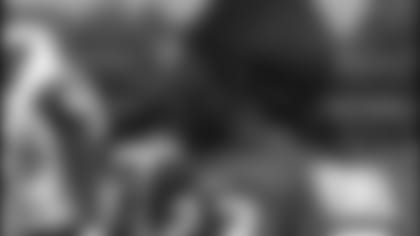 Dunta Robinson had a busy Saturday morning at his new cornerback post.
Also lining up in new positions during training camp is Kailee Wong, who is newly taking over right outside linebacker duties and former cornerback Marcus Coleman, who returns to his collegiate post as free safety. Add in cornerback Dunta Robinson and linebacker Jason Babin, making their NFL training camp debuts, and the Texans defense is taking an entirely fresh approach to stuffing offenses.
"For us to be the kind of team we want to be, we've got to play good defense," Capers said. "There's been a lot of change over there. We don't know a lot about our defense right now so hopefully when it comes time to line up against San Diego here, we know a lot more about our defense and we have a lot of improvement."
On the offensive side of the ball, David Carr also felt a sense of unfamiliarity as he huddled up his troops. He was minus a rookie starter for the first time since becoming the Texans quarterback. With ample playmakers back in the fold, and the addition of veterans like tight end Mark Bruener and right tackle Todd Wade, the offense could be shaping up into a dangerous force.
"I think our offense is going to play fast and we're going to know what we're doing," Carr said. "That's really all you want at the quarterback position, is that the other 10 guys know what they're doing and they do it fast."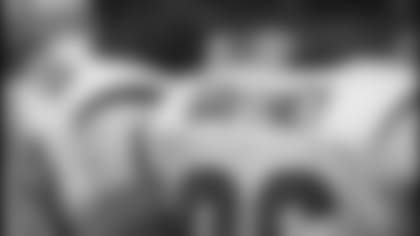 Receivers Andre Johnson and Jabar Gaffney are poised and ready to blow away defensive competition.
Carr got exactly what he'd hoped for when he hit Corey Bradford on the deep throw up field. While the completion officially introduced Robinson, the Texans first round draft pick, to the NFL's potent air arsenal, it was just a preview of what the unit hopes to accomplish this season.
"It's something that we've put a lot of emphasis on," Capers said about beefing up the Texans' deep passing game. "I think we've got the speed and we've got the quarterback that can get it there, we need to make some more big plays downfield.
"It's nice to come out in the first practice and see that happen because it didn't happen enough last year."
All units seemed to be prepared though for the morning heat and humidity, a friendly reminder that summer and the season are in full swing.
"It felt great, nice and cold out here," Carr laughed. "It was good to throw the ball around a little bit, sweat a little bit. I went through four hand towels; it's no big deal though. I'm just excited to be back out here whether it's hot or not, that's fine."
Others, like Domanick Davis, checked in for camp with a new look to beat the heat. Shaving down his tresses was just one of the few adjustments he made for camp.
"It's hot," Davis declared. "I don't know what it's going to be like later on, but it was hot today. If I have too much hair, I can't deal with the heat and having it too close to my head. So I cleaned it up for camp."
The grueling practice schedule and heat are just part of the process. Capers knows that battling through tough conditions early on will only build his team's character, strength and endurance, all qualities that are essential in a league overflowing with talent.
"As I look at our team a year ago, a large majority of our games and everybody else's games came down to the fourth quarter," he said. "You're going to need a lot of mental and emotional discipline to hang in there and you've got to be in great shape to do it. That's why this work is so good for us."