David Carr's vantage point for this year's draft was a little less conspicuous than his vantage point last year.
No lights, no cameras, no cruising around the Big Apple in a suit for the Texans' quarterback. Just a couch in Sugar Land with shorts and a t-shirt.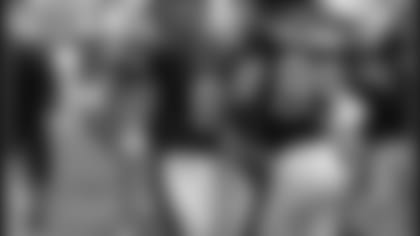 Houston's draftees have Carr envisioning a happier 2003.
But while Carr will never forget the day he became the No. 1 overall draft pick, he plans to remember the 2003 draft fondly as well. Why? This is the draft in which the Texans secured him the weapons this offense needs to take it to the next level.
"It's like Christmas in April," Carr said after working out Monday. "Getting Andre (Johnson) out there and Bennie (Joppru), and we got some good guys later on in the draft too, but those guys seem like guys that can come in right away and help our team. It will be an added bonus since we were dead last in the NFL last year."
Johnson is a big and fast wide receiver than can stretch defenses and also get physical in run blocking. Joppru is a monster tight end who is an excellent blocker and rising pass catcher. Carr is already envisioning the options those two can add to the current mix of wide receivers Corey Bradford and Jabar Gaffney and tight end Billy Miller.
"I think we have a lot of options this year, which is nice," Carr said. "It's something that we really didn't have last year, we had what we had and we had to go with it.
"But this year, we can really put four wide receivers on the field and put two tight ends and two wide receivers on the field and do an I-formation. We can do a lot of things now and it's nice to have. We've got a little diversity and it's something that an offense always wants to have."
The Texans added free agent running back Stacey Mack to the backfield and drafted LSU running back Domanick Davis in the fourth round, envisioning him as a good third-down option. Houston also upgraded its offensive line in hopes of giving Carr better long-term protection in the pocket.
"I've gotten to talk to Mack and he seems like he is a guy that wants to work hard," Carr said. "I think that we're going to solve our problems with our offensive line with the free agents and the guys getting better.
"To be in a position that I'm in, to get drafted first, and not only get drafted first, but to put guys around you that can help you play better. A great player can't be a great player by himself. He might make a couple of plays, and do some things, but you've got to have a team around you. That's why football is such a great sport; it takes 11 guys. If you have some superstar guys around you, there's no telling what you can do."
The Texans will still experience some growing pains on offense in 2003. But the offense doesn't expect to be viewed as Houston's Achilles' heel anymore. While that may seem ambitious for a unit that ranked 32nd in the NFL last season, Carr seems undaunted.
"I'll take pressure, if they give me more weapons like this," he said. "If you can get good players around you, you should be expected to play well and I expect to play well. I expected to play well last year and now with these guys around me, I expect to play even better. I'll take that kind of pressure if we get players like this."
Speaking of players, the Texans drafted two that play Carr's position -- Louisville's Dave Ragone and Michigan's Drew Henson, late of the Triple AAA baseball Columbus Clippers. Ragone will be here for mini-camp next week, while the Texans (and the rest of the NFL) will wait and see if Henson abandons the diamond for the gridiron. Regardless, Carr knows he's the starter and welcomes any additions that make the Texans better.
"I'm happy with what we did yesterday," Carr said. "I got to talk to Dom (Capers) and Charley (Casserly) and all those guys, they called me before every pick and told me what's going on. So, I felt comfortable in knowing what was going on before it even happened.
"I think the things they did yesterday with the moves they made, I think it's only going to help our football team."
If you haven't seen Carr lately, you might not recognize him from afar. He's been a regular in the weight room and has bulked up considerably. But weights can only feed a portion of the beast -- Carr is ready to hit the field and is anxious to connect with his teammates, especially Johnson.
         "<span>As
         soon as we get him in here, I'm going to have him at my house and
         throwing some balls with me," Carr said. "I've already
         got him a car to drive around. I'm trying to get him down here as
         fast as possible. It's going to be fun when he gets here."</span>