It served as the most repetitive image of the Texans' initial season.
Rookie quarterback David Carr dropping back, feeling the pocket collapse around him and eventually falling to the turf. And every week the same question arose. Can the offensive line keep this kid upright?
Reporters, broadcasters and fans all weighed in. Even ESPN got into the act after the season, taking a light-hearted jab at the Texans' most severe need in a pre-draft commercial.
And all of this, to be blunt, has ticked Texans center Steve McKinney off. He and the rest of his line mates have a chip on their shoulder as training camp opens.
"Absolutely, that's how we're going to go out there," McKinney after the Texans wrapped up their first two-a-day session Saturday. "I'm sick of hearing all of the heat that we took last year and are still taking.
"We've added more talent. We've got some younger guys that got experience last year that are better this year. Hopefully, we'll go into the season knowing which five are going to be the starters and not have to switch guys around all season like we did last year. Hopefully, everyone can stay healthy and if that happens we're going to be a lot better."
If you're reading this, you know that Carr was sacked 76 times in 2002, setting a dubious NFL single-season record. Sacks aren't exclusively the fault of the offensive line, but it was obviously a trouble spot for Houston in its first season.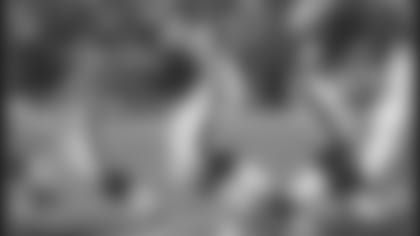 McKinney and his line mates are looking to give Carr more time this season.
Saddled with injuries and inexperience, the Texans' offensive line was in constant flux last season. The Texans trotted out seven different starting combinations over 16 games at a position where chemistry is paramount.
But the team made the line its top priority in the off-season and it will be closely watched throughout camp.
"We're going to try to play a number of players and we'll have the plays scripted throughout the course of the preseason so we can try and put players in positions to compete with each other and see who rises to the top," Texans head coach Dom Capers said. "The bottom line is that when we get ready to play we have our best five offensive linemen on the field."
That first group isn't set in stone, which is actually a positive. The Texans have enough depth this season that will produce some healthy competition at certain positions.
Two positions appear set. One is obviously McKinney at center. The sixth-year veteran also took every offensive snap in 2002 and has developed a good rapport with Carr.
The other is at left tackle, where Chester Pitts returns as the starter, albeit under completely different circumstances.
Last year, Pitts was thrown into the fire as a rookie at one of the game's most demanding positions. But many felt he was just keeping the seat warm for the eventual return of five-time Pro Bowler Tony Boselli. When that happened, Pitts would either back up Boselli or move to another position on the line.
But Boselli retired 10 days ago. Now the position is clearly in Pitts' mammoth hands, and he feels that improves his mental approach as camp commences.
"Last year I had no idea what was in front of me," Pitts said. "Now I know what to expect. Now I know it's my position and the only way I'll lose it is if I don't perform."
Early on, it looks like Milford Brown will be suiting up next to Pitts at left guard. Brown had what amounted to a redshirt season in 2002 after the Texans plucked him in the supplemental draft. He didn't play a down but gained invaluable experience in practice. Off the field, Brown might make Andre Johnson seem loquacious. But on the field, he's a mauler.
"Milford will be an interesting guy to follow," Capers said. "We really liked what we saw from him on the practice field, especially his size and strength."
Right guard would appear to be a battle between Ryan Schau and Fred Weary, who split the starts last year. Schau started just four games because of knee and toe injuries and Weary started the remaining 12 contests as a rookie. Schau lined up with the first team at Saturday's first camp practice.
"Ryan is a smart player and one of those guys that can really play any position along the offensive line," Capers said. "He'll jump right back into the middle of things."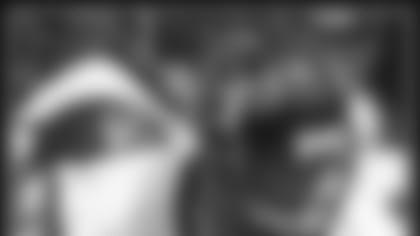 Wiegert has started 89 career games.
The Texans' first free agency signing was a big one, literally and figuratively. Zach Wiegert can play either guard or tackle on the right side and brings some stability to the line. Although he played in Jacksonville last season, Wiegert is well aware of Houston's line problems a season ago. He's also well aware it's fixable.
"We're going to have a prove a lot during this camp but I think we'll have a quality group," Wiegert said. "On the line, if one guy messes up, all five guys look bad. You have to all be on the same page and the more we play together, the better we'll play."
Wiegert lined up at right tackle through most of the first day of camp, but also saw some snaps at right guard.
"It doesn't really matter, I can play guard or tackle," Wiegert said. "I started four years at both. If I could guess right now, I'll be playing tackle but I go where the coaches tell me to go. They're just going to find the five best guys and have them play."
When Wiegert did line up at guard, it was former Patriot Greg Randall that took his place at tackle. Randall bears watching in camp. He started every game during New England's Super Bowl run two years ago, but landed in Bill Belichick's doghouse last season with weight issues.
On Friday, Randall checked in under the Texans' weight requirement for him. With a productive Randall on the roster, Houston's line only gets deeper.
The Texans also signed former Buccaneer Todd Washington to back up McKinney. Washington could also play guard in a pinch. Houston drafted left tackle Seth Wand in the third round. And tackle Jimmy Herndon also returns.
In all, the Texans simply have more depth and experience than they did last season. Injuries won't cripple the whole unit. It showed in the first day of camp. The offense ran much smoother and both practice sessions resulted in just one false start.
"They did some good things," offensive coordinator Chris Palmer said. "There were some clean running plays that looked pretty good. In the first group, there was some good give-and-take between the offensive line and the defensive line."
Palmer hits on a key note. The sack total got most of the ink the 2002, but the line also needs to help upgrade a running game that ranked 31st in the league last season. Ball possession is crucial for this offense, not to mention for the sanity of their defensive cohorts.
So with the offensive line well on its way to recovery, Carr can simply sit back and relax, right? Not exactly. After all, his chosen profession isn't exactly croquet.
"Hey, this is the NFL," McKinney said. "You're going to get hit. Those guys on the other side of the ball get paid a lot of money, too.
"It's good to know that your quarterback can take a hit and can get up from them. But we're going to try to cut those down, obviously."
The quarterback no doubt appreciates that.
         "They're
         really focused on being better this year, as a whole group,"
         Carr said. "They're trying to take some authority in the
         huddle, which I have no problem with. Zach is saying some things in
         the huddle, he wants to get those guys going.<span>
         </span>I can really tell that they're interested in getting
         better."