If you see the Kansas City Chiefs saunter into Reliant Stadium on Sunday with a cocky swagger and their heads held high, it's probably because they completely demolished their first two opponents in this early 2003 football season.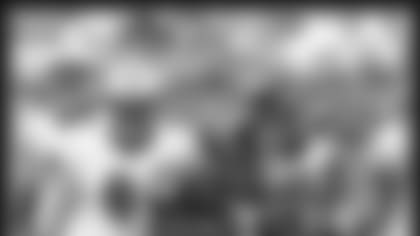 Foreman will be ready for action on Sunday as the Texans' defense will face off against the prolific Chiefs' offense.

The Chiefs' offensive machine racked up 672 yards of offense and 68 points in their first two contests against the San Diego Chargers and Pittsburgh Steelers. Running back Priest Holmes doesn't look like he did last year; he looks better having already scored five touchdowns. The NFL has even jumped on the Chiefs' bandwagon, ranking them first in their NFL power rankings this week.
Like most offensive-minded NFL teams, the Chiefs depend heavily on their offensive line. With a so-so defense, the Chiefs' offense wants to be on the field as much as possible. It's the offensive line's job to control the line of scrimmage and dictate the pace of the game with time-consuming drives. The Chargers and Steelers can attest to that.
In Texans defensive coordinator Vic Fangio's 3-4 defense, the linebackers have the responsibility to fly to the ball and take on pulling offensive guards and tackles to stop the run. Against the Chiefs, they will have the unenviable task of taking on the likes of eight-time Pro Bowl tackle Willie Roaf and seven-time Pro Bowl guard Will Shields.
"The Chiefs have big guys that can move pretty well and they all pass block really well," Texans inside linebacker Jay Foreman said. "They can get out and pull on screens and on their box plays. They are probably the best offensive line that we'll face all year."
Little things such as shedding blocks, anticipating draw plays or plugging holes on short-yardage situations will likely determine the outcome of the game. Additionally, the Texans' defense needs to be prepared for the controversial cut block, where an offensive lineman purposely dives low at a defender to take out his legs.
"They cut (block) more (than other teams)," Texans inside linebacker Jamie Sharper said. "They probably cut second most to the Denver Broncos' offensive line. It's a different type of blocking that we've got to take on."
Through two games, the Texans' linebackers have made close to 42 percent (64/153) of the total team tackles. Foreman and Sharper have a combined 46 tackles and will be counted on even more this Sunday considering the injuries to DT Seth Payne and DE Gary Walker.
Ideally, the Texans' linebackers want to stifle the Chiefs' rushing attack and force them to pass. Without a ball-control offense, the Chiefs will be thrown out of their game plan. However, with the NFL's leading scorer from 2002, Priest Holmes, in the Chiefs' backfield, shutting down the run is much easier said than done.
"As a defense, we need to be fundamentally sound, obviously make good tackles, don't give (Priest) anything easy and try to make him work for everything that he gets," Foreman said. "He is the type of player that you can't really shut down to 20 yards or something. You can't give him big plays because he gets the ball in a variety of ways in their offense."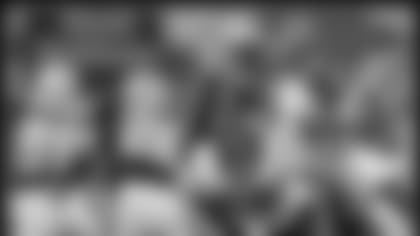 Sharper knows what to expect from Holmes, his former teammate with the Baltimore Ravens.

Sharper knows how hard it will be to stop Holmes better than anyone. They were teammates together with the Baltimore Ravens for four years from 1997 through 2000. Holmes received few carries as a reserve for the Ravens, but now gets close to 30 carries a game.
"(Priest) gets the ball probably 75 to 80 percent of the time," Sharper said. "The main thing is to limit his ability to make plays. Being the offensive player of the year (in 2002), he makes their offense go. If we can stop him, we'll have a good chance of stopping their offense."
The Texans' linebackers will undoubtedly have their hands full on Sunday. But if they can win the battle against the Chiefs' offensive line, they'll likely win the war as well.