* CINCINNATI -*After two 100-yard rushing performances in the past three games and three consecutive NFL Rookie of the Week awards, Texans RB Domanick Davis was no longer a hidden gem entering Sunday's game in Paul Brown Stadium. Needless to say, the Bengals were well-versed on Davis' playmaking ability and expected a heavy dose of running from the Texans.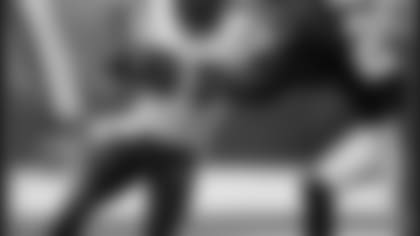 Davis uses a stiff arm to gain a couple more yards during Sunday's 34-27 loss at Cincinnati.
Even so, Davis rushed for 104 yards on 15 carries and one touchdown on Sunday amid an array of Bengals defenders that were gunning for him all game long. As much as teams are focusing on the Texans' improved rushing attack, Davis has still found a way to keep producing with a mixture of power running between the tackles and quick bounces outside the ends for huge gains.
Despite carrying the ball just 15 times Sunday, Davis broke runs of 9, 11, 16 and a team-record 51 yards to carry his rushing average to a team-record 6.9 ypc for the game. His 587 rushing yards on 114 attempts (5.14 avg.) this season surpasses RB Jonathan Wells' single-season rushing record of 543 yards in 2002.
While the records are nice feathers to put in his cap, Davis would obviously prefer to win and not have the records. The three times that Davis has rushed for over 100 yards, the Texans have unfortunately lost each contest.
"It's always frustrating when you're doing so well and then you lose the game," Davis said. "It doesn't matter that I got 100 yards. I just want to win. We couldn't get things going like we wanted to. We had a few mistakes. We just have to get back to work on the mistakes."
At the very least, Davis' record-breaking performance shows how far the Texans' rushing attack has come from 2002. Whereas last season the Texans didn't fully develop the consistency that they wanted in their rushing offense, this season has been a different story, largely due to Davis.
Besides his rushing prowess, Davis also has shown the ability to catch balls out of the backfield and just as important, pick up blitzes--an area that many rookies have trouble in.
While there is no doubt that the Texans have room to improve in many areas, it's always nice not having to spend too much time worrying about a steady and explosive rushing attack--the staple of any successful team.
If the Texans can keep benefiting from Davis' explosive play, and keep developing in other areas of the game, eventually it will yield the results they are really looking for in the win column.