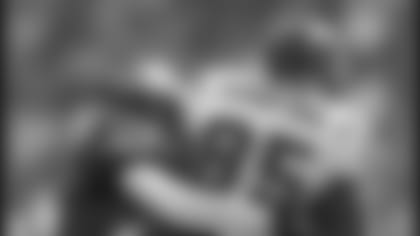 Texans WR Corey Bradford had seven catches for 97 yards and two TDs against Philadelphia.
Corey Bradford is a connoisseur of speed. Just ask the Philadelphia secondary. They will tell you he is just plain hard to catch, especially after he scored two touchdowns against them in Veterans Stadium at the end of September. The former track star has caught bullets from the great Brett Favre and now from what may be a younger version of him in David Carr. In Green Bay, he was known as one of the guys whom Favre hit for touchdown strikes. Among groups of Texans fans, he is known as the team's leading receiver and among NFL cornerbacks, he is known as a speed demon.
Bradford grew up Baton Rouge, Louisiana. Whether it was the water, an overdose of vegetables or some phenomenal gene, Bradford was leaving competitors in the dust on the baseball diamond, basketball court, football field and mostly on the school's track. He was a natural athlete, lettering four times in basketball as well as football where he was an all-state defensive back as a senior while controlling the pocket as Clinton High's quarterback during his junior and season seasons. It was in track though where Bradford's true agility was exposed. He captured the state long jump title his final year in high school and it was as a runner where Bradford continued in college, prepping himself for a future NFL career.
From 1994-95, Bradford attended Hinds Community College in Mississippi where he had a track scholarship and finished eighth in the triple jump and sixth in the long jump nationally his second year. But he still had the itch to play football. Two years under his belt on the track had given him quite the foundation to continue with football. He had gained weight, increased his speed and was ready to throw his name in the hat again.
He transferred to Jackson State as a track athlete and in 1997, responded to a flier he saw posted on a dormitory wall for football tryouts.
"The first day, we ran the 40 (yard dash) in sprinkling rain and I did back-to-back 4.32's," Bradford remembered. "The coaches were saying, "Where did you come from?'
"I had to put down defensive back as my position, but they said, 'With your size and speed, you ought to play receiver."
He had never played a down at wide receiver, but it looked like Jackson State was going to make his dream come true. After four years, Bradford was returning to the gridiron and he immediately began to show that he was a diamond in the rough. During his lone collegiate football season, Bradford registered 48 catches for 937 with a team-high nine touchdowns, four of which covered 50-or-more yards. The Southwestern Conference saw him haul in an 80-yard touchdown pass in his first game, which later prompted the title of conference "Newcomer of the Year."
Just one year later, Bradford heard his name called in the 1998 NFL Draft as the Green Bay Packers' fifth round selection. The Louisiana speedster had some bumps along the way, but his positive attitude and unwavering work ethic had landed him in the big time.
"I always use the negatives to my advantage and turn them into positives," Bradford said about his climb to the professional ranks. "I guess I learned early. My family didn't have everything all of the time. If we didn't get anything for Christmas that year, mom and dad would say, 'Don't worry about it, there are better days ahead.'
"I used that as motivation. Even though I wasn't playing football right away, one, two, three years from then I knew I would. I kept that in mind and one day it came, everything else is history."
There is a story to tell from that 1998 draft day until the present, where Bradford proudly displays his Texans colors as he streaks past opposing cornerbacks. But he started it in Green Bay, in a supporting role behind Ahman Green, Antonio Freeman, Bill Schroeder and Bubba Franks. With so many targets for Favre to choose from, Bradford didn't always find himself in the spotlight, but he was making progress. The Packers' 1999 contest against Seattle was possibly Bradford's defining moment in the eyes of his quarterback. The score was at 0-0 and Favre called his men into the huddle. He barked out Bradford's favorite play back then, a slant, and told him to get ready, it was coming his way.
"I ran the slant and it was a five-yard route," Bradford explained. "When I came off of my third step, the safety came down and I thought, oh man. When that happens, you can't finish the slant. Brett threw the slant anyway between the safety and me. It hit me right in the stomach. I couldn't believe he made that throw. As soon as I caught the ball, I knew it was over. I was just thinking, score."
Bradford went on to catch three passes for 106 yards that game. In the newspapers, he was known as the man who snared Favre's touchdown passes, but among his teammates and coaches, Bradford was emerging as a quiet, but significant contributor. After the close of the '99 campaign, his teammates voted him with the NFL Players Association "Unsung Hero Award." Bradford had finally received acknowledgment for his talents, but more importantly, it was from his peers.
"They told me that I was the type of guy that played hard and didn't get too much recognition but they knew that I tried hard in every game," Bradford said. "That made me feel like maybe I really was a good receiver."
Bradford said it took about three years in the league before he was able to master the combination of his speed with route running. One man who was able to see Bradford's progression was the Green Bay running backs coach Kippy Brown, now the leader of the Texans receiving corps. In 2000, Brown spent the season with the Packers' offense, and knew that someday Bradford would move up from the third receiver into a starting role. When Brown took his post with Houston, he pushed for Bradford's aid.
"Corey had served in a backup capacity for Green Bay, but he's a starting-caliber wide receiver," Brown said. "He could have ended up being their third receiver again. I just think this was an opportunity that he couldn't pass up and we're fortunate to have him."
In March, Bradford said his farewells to Green Bay and arrived in Houston where he fit perfectly into the fast, big-play offensive scheme. He had come from more of a West Coast system that didn't call for as many fast receivers. But in Brown and offensive coordinator Chris Palmer's passing visions, they saw Bradford stretching the field, beating the bump-and-run and cruising right into the end zone.
Brown gave him the push to believe that his first three steps were enough to beat the best corners in the league, that his speed was worthy of a starting position and that practicing against the cornerback tandem of Aaron Glenn and Marcus Coleman would give him the work that he needed to beat opponents. So far, the three-pronged test has rung true. Bradford is leading the Texans in receptions with 18 for 352 yards and is the squad's second-leading scorer, racking in 18 points with an 80-yard catch and 65-yard touchdown reception.
Brown believed. So did Texans general manager Charley Casserly.
"He gives us the presence of speed on the field," Casserly said about Bradford. You can defense a lot of things, but you can't defense speed."