Every day, Chester Pitts busts his rear at training camp. And every day, after the post-practice stretch, he wanders off the field with nary a reporter tugging at his massive arms.
What gives? Granted, this season Pitts has shifted to a less conspicuous position along the offensive line. But that doesn't mean he's relegated to the land of one-hit wonders alongside Dexy's Midnight Runners and Right Said Fred…does it?
"Man, this is the first time I've been stopped," Pitts said Wednesday.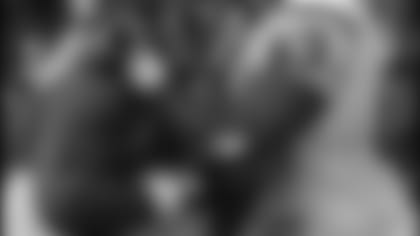 That's not necessarily a bad thing. Trust us, players aren't exactly rushing to embrace the media after two hours under the hot Houston sun. But as a public service, we'd like to remind you that Pitts remains alive and well at left guard, learning a new position -- just like his replacement at left tackle, Seth Wand.
Pitts will be the first to admit that Wand is playing the more high-profile position. Pitts has been there, surviving a trial by fire hotter than most any young player has had to face.
By now you know the story. The Texans drafted Pitts in 2002 to play left guard but Tony Boselli's career-ending shoulder injury pushed Pitts to left tackle as a rookie, charged with protecting the franchise quarterback's blind side. Welcome to the NFL, kid.
"Hey, that's what my team called upon me to do," Pitts said. "It was a challenge and I tried to rise up to it. That's what Coach (Dom) Capers talks about doing all the time."
And don't think Capers didn't notice how Pitts reacted.
"He was put in a tough situation," Capers said. "The normal procedure when you come into this league is to go out, fight your tail off, maybe contribute on special teams and learn the ropes as a backup. Once Tony Boselli had his injury, Chester was thrust right into the starter's position. It was a work in progress but he hung in there, kept working and made the best of it."
Pitts didn't miss a snap in 2002 and improved greatly last year. But in the off-season, the coaching staff decided to give Wand a try at left tackle and shift Pitts inside. It's a tribute to his versatility that Pitts can make the move. But it's not a layup. He still has to go back to school.
"I'm catching on," Pitts said. "It's all offensive line play but there is still a difference. There's less margin for error and a lot of different nuances as far as your set and tracking linebackers. I'm used to holding off defensive ends."
While the left (and right) tackle is sort of on an island outside, guards have to make a few more calls and coordinate movement with the center. And things tend to move a split-second quicker inside. But Pitts is holding his own.
"We feel good about him being at guard," Capers said. "He's got those kinds of abilities to play inside."
Regardless of the mental and physical differences at each line position, Pitts know that, at its root, offensive line production is easy to measure.
"If I don't block anybody, I'll get reprimanded," he said. "If I block somebody, I'll get a pat on the back."
And maybe some recognition from the rest of us as well.