It could be Reuben Droughns, Ruben Sierra or Ruben Studdard.
Or perhaps Quentin Griffin, Quentin Taratino or Andy Griffith.
No matter which gentleman the Broncos stick in their offensive backfield, the results are usually positive. Whether due to injuries, retirement or trades, Denver has trotted out a bevy of productive backs over the past five years. And, truth be told, all but one of them had been virtual no-names before getting the call.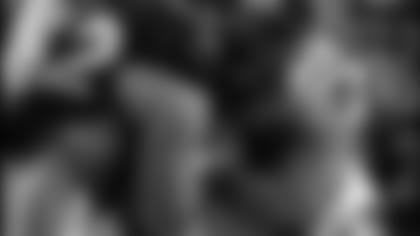 "It's very well known that Denver's had probably the top run game over a five-year period," head coach Dom Capers said. "They're as capable as any team in the league at running the football."
And the primary reason is Denver's long-ago embrace of the zone blocking scheme. The Broncos' five starters have never played anywhere else and have a combined 33 seasons of experience, led by 11-year veteran center Tom Nalen, who has been selected to five Pro Bowls. The star power is up front, and the Broncos know their scheme better than anyone else.
"They force you to use good technique or you could lose your gap integrity up front," Capers said. "They've been running this scheme for so long. They know the scheme. Their runners are one-cut runners. They get the ball to them with enough depth that they have vision and they can run downhill into the seam.
"Our run defense has improved the past two weeks but this will be our stiffest test."
Since Terrell Davis rushed for 2,008 yards in 1998, when Denver won its second consecutive Super Bowl, the Broncos have been the NFL's most consistent rushing outfit, averaging 2,189 yards over those five seasons. Denver is currently fourth in the league this season, averaging 137.6 yards per game.
What has made those numbers all the more impressive is the backs that are gaining those yards. In 1999, Olandis Gary rushed for 1,159 yards and seven touchdowns. In 2000, Mike Anderson rushed for 1,487 yards and 15 touchdowns. Gary was a rookie fourth-round pick, while Anderson was a rookie sixth-round selection.
Denver finally used a high draft pick on a running back in 2002, snagging Clinton Portis in the second round. Portis responded with two terrific seasons, rushing for 1,508 yards as a rookie and 1,591 yards last season en route to the Pro Bowl.
But the Broncos traded Portis to Washington this past off-season for perennial Pro Bowl cornerback Champ Bailey, one of the biggest trades in recent memory. And one of the reasons Broncos head coach Mike Shanahan pulled the trigger on the trade with Washington is that he figured elite cover corners like Bailey are hard to secure. But running backs? As one NFL.com columnist has joked, a Broncos helmet should come with the label "insert running back, gain 1,000 yards."
Shanahan might have to agree because this season, the Broncos have topped themselves. First, the diminutive Quentin Griffin, at 5-7, opened the season with 156 yards and two touchdowns in a win over Kansas City. He managed 311 yards in five games before being placed on injured reserve with a knee injury.
No problem. In stepped fullback Reuben Droughns, he of the 97 career yards in three previous seasons. Droughns promptly rushed for 193 yards against Carolina Oct. 10 in his first career start. He currently has 558 yards on 117 carries, averaging 4.8 yards per carry.
So if it's so successful, why doesn't every team use the scheme? The Texans are actually using variations of it this season, but Denver has geared its personnel specifically for zone blocking. You need smaller, quicker linemen. Houston averages 6-5, 315 pounds across its line. The Broncos average 6-3 ½, 296 pounds.
"What makes them so effective is they're a zone-blocking team that's going to block an area," defensive line coach Todd Grantham said. "They are a little smaller up front but they're also a lot quicker. They have good lateral movement and they work well together."
Denver's favorite running play is a zone scheme, which gives Droughns (or whoever is running the ball) two clear options once he gets the handoff.
"Everybody on the front side is going to block an area," Grantham said. "The tight end is going to block the C gap and the outside linebacker. From there, the tackle and the guard are going to block a defensive lineman and a linebacker."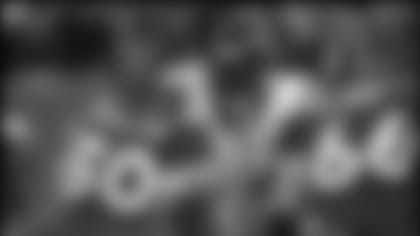 "The tailback has the option of going to the front side based on the alley he's got. On the back side you've also got a zone scheme between the center and the guard. They're going to block a defensive lineman and a backside linebacker. On the backside, you're going to get a cut-off block, high or low, because they're trying to create lateral displacement between you and the next defensive lineman inside. That gives the offensive back the option of keeping front side or moving to the hole that's created on the backside."
For this type of blocking, hesitant runners need not apply. The Broncos want a back that isn't afraid to go straight ahead so Droughns, with his fullback roots, is actually a pretty good fit.
"Droughns is a one-cut runner," Capers said. "He's not going to dance. He's going to go north and south."
So why don't more teams just bring eight men in the box to stop the run? The Broncos boast one of the NFL's most consistent wideouts in Rod Smith, who just last week caught nine passes for 208 yards. Denver has a burner on the other side in former first-round pick Ashley Lelie. Teams have to account for those guys.
"Good receivers always help your running game," Grantham said.
But you still need a good back and perhaps the Broncos are missing Portis a little more than they think, especially in the red zone. Ten of his 14 rushing touchdowns last season occurred inside the 20. Denver has just three rushing scores this season, just one of those in the red zone. The Broncos have actually passed on 54 of their 96 plays inside the red zone, a robust 56.3 percent.
Denver's zone blocking scheme isn't without controversy. Two weeks ago on Monday Night Football, Broncos right tackle George Foster employed a cut block on Bengals defensive tackle Tony Williams away from the ball. Williams suffered a broken ankle and is on injured reserve. The block was termed legal by the league, although many defensive linemen around the NFL had some different adjectives for it.
"It's part of the game," Capers said. "Our guys are well aware. We played these guys in the preseason. Guys just have to be aware to use their hands. When you play a team that's going to cut on the backside, it's a legal block and you just have to be very good technique-wise, not expose yourself, stay in a good football position and play off of things."
Nose tackle Seth Payne has faced the Broncos before and, after looking at some 2004 tape, actually thinks Denver is cut-blocking less than in previous seasons.
"These guys don't do it much anymore," Payne said. "They're very good at what they do. I guess there's some controversy over that block from two weeks ago, but I think they cut-block less than other teams in the league. They work very well as a unit and they're very disciplined.
"When I was a rookie (in Jacksonville) we played them in the playoffs and they killed me. But now we practice against it every day with our guys. It's more common, but they're still the best at it."
And after all, when you choose defensive line as your profession, you expect a little contact from the other side.
"It ain't no big deal," defensive end Gary Walker said. "It's football. If they cut you, you adjust to it. You just go play."