Ask Robaire Smith about his time in a Tennessee Titans uniform and he'll give a brief and thoughtful answer, but it won't be the first thing on his mind as the Texans prepare to face his former team.

The defensive tackle signed with Houston early in the preseason after spending four years with the city's former franchise. He knew the inquiries were going to come (they started just a few minutes after Sunday's game against the Vikings).
"It isn't about me coming back and playing against my old team," Smith said Wednesday. "I go in heavily prepared. I am looking to play against whoever. I am looking to play my best week in and week out. It is not just playing the Titans where I look forward to playing harder. I go out there and play hard every week."
Smith left Nashville for an opportunity. There's no resentment. No second thoughts. He said he hopes to "make a mark" in Houston, a growing football team that has a very bright future.
"It isn't like my feelings were hurt," he said. "Of course I wanted to play there with those guys. But some guys were telling me I needed to go where the best situation was and that is what I did."
He said he keeps in touch with some of his former teammates, including Titans defensive tackle Albert Haynesworth, linebacker Keith Bulluck and cornerback Samari Rolle, and wishes them luck before games.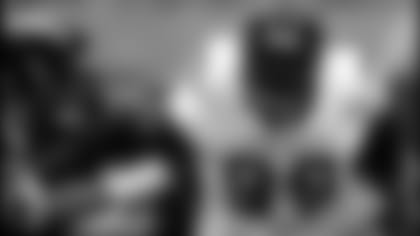 The Titans defense has had trouble stopping the run in Smith's absence dropping from tops in the league in 2003 to 15 th this season.
"I think some of the guys are playing their best," Smith said of the revamped defensive line which also lost Jevon Kearse through free agency. "I watch just about every game if I can catch it on TV or I always watch it on film here. I think Albert, (Kevin Carter) and Carlos (Hall) … I think they are playing good up front. I see that Rien (Long) has been working on his game a lot and he is looking way better, 10 times better than he did last year. I know with those guys it is all about getting comfortable."
Some across the league were concerned about Smith's production when he was drafted in April 2000. He had a mark of being sloth in practice and unmotivated. Those critics have been proven wrong.
Smith said Tennessee defensive line coach Jim Washburn – long known for his fiery, tongue-lashing style – gave him a chance. Smith now plays for Texans line coach Todd Grantham, who coached him at Michigan State.
"I give all the credit to Coach Washburn," Smith said. "He was the guy who gave me a second chance. When everyone was talking about me being lazy and this and that, he took a chance on me. There were a lot of things that he showed me as far as working hard and technique. There were a lot of things he showed me. Most of my credit goes to Coach Washburn without a doubt."
That focus on technique has helped Smith through five games in Houston, where he is switching from defensive tackle to defensive end in the 3-4 scheme.
But, according to him, there's little inside knowledge he can apply to the Titans offensive line. It comes down to skill and execution.
"I don't think it's too much of an advantage because you still have to stop them," he said. "It is all about who goes out there and performs the best. It's about who has the best technique, who does the best things. For instance, with me going against Brad (Hopkins), it is who is going to come out and do the best that day is who is going to win."