At the start of the season, Houston's defensive tackles appeared to be a solid area for the team.
Veteran Seth Payne was back as was Travis Johnson, the No. 1 pick in last year's draft. The Texans felt good enough about their tackle situation through spring training and training camp that they let veteran Robaire Smith go before the season.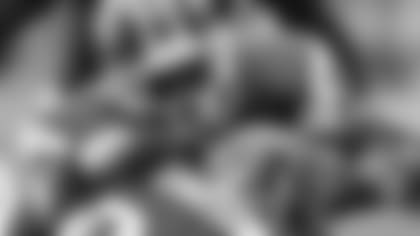 Just weeks into the season, the situation changed drastically. In a span of less than a month, Payne and Johnson were on injured reserve, out for the year.
That would be just about time to check it in for most defenses, since going shopping for starting tackles in October is not often fruitful.
The two young players who had joined the team in September were given their chances and have been holding their own recently in starting roles as the Texans' defense seems to steadily improve.
"It's been unbelievable," veteran defensive end Anthony Weaver said. "It's a credit to those guys that we brought in. We haven't skipped a beat. Those guys have come in and played well for us and that's a credit to them and their professionalism."
The process of placing new people into a starting lineup is usually pretty slow and difficult.
"It's not hard to put in new guys," Weaver said with a smile. "It's just hard to put in new guys and have them be effective. And our guys have been extremely effective.
"I don't know what we'd do without them. It's amazing that we got them on the team, but we got them. Thomas Johnson and Anthony Maddox have come along and worked hard and shown us what they can do.

"It's easy to bring in a new guy here or there and put them on the practice squad and let them work their way up. But these guys have come in and played for us and we haven't missed a beat."
"Our two inside kids yesterday did some good stuff," Kubiak said after last week's game against Buffalo. "Maddox has played well since he's had his opportunity, and Thomas Johnson came in yesterday and did some good things.
"It's a great opportunity for those guys. They are playing, and they are playing full-time, and rotating. They did do some good things for us. We mentioned that in our meeting today. Those two kids did play well."
Both are almost Cinderella stories of players who were out of jobs before Houston came calling. Maddox played sparingly the last two years with Jacksonville, appearing in only five games last year and two the season before that. The Jaguars released him early this season and he was signed to the Texans practice squad on Sept. 5.
Since then, he has started four games and is scheduled to start this week at New York. He got his first NFL start Oct. 29 against Tennessee and registered three solo tackles.
Full of confidence, Maddox, who was taken by Jacksonville in the fourth round of the 2004 draft, isn't surprised he has played so well.
"No, wherever I'm playing, I always expect to play," he said. "So when they called my number, I was prepared. I paid a lot of attention to working on my skills and I was ready to go."
He admits, however, that it wasn't automatic at first.
"Definitely, a new scheme was the toughest thing," he said. "You come into a new place, you run new plays and try to figure out what the coaches are expecting out of you and really just your role on the team. That was pretty much the toughest thing, just finding out what they expect out of you.
"We just hit the ground running. We tried to keep up the pace and get better. That's all we've been trying to do."
Johnson was an undrafted free agent with the Cowboys last year. He also played very little, being on the inactive list for 14 games. He was released by Dallas Sept. 6 of this season and signed with the Texans a day later.
He saw action as a reserve in five Texans games before starting last week in place of Travis Johnson. He had two tackles, one of them solo.
He also felt it took some time to get comfortable with the Texans.
"At the beginning, it was hard trying to learn the plays and trying to get myself adjusted to playing a 4-3 defense after playing a 3-4 in Dallas," Johnson said. "I kind of had to take some time to get comfortable in it.
"To be honest, a couple of weeks ago I started really feeling comfortable in it. I've been studying hard and just trying to learn. I'm not all the way, but the guys have been talking to me and helping me." ](http://store.houstontexans.com/product/index.jsp?productId=1772607&cp=2237490&page=4&doVSearch=no&doVSearch=no&clickid=mainnavgeartxt&pageBucket=0&parentPage=family)Ironically, both players say Payne has been their mentor on the team.
"Seth has helped a lot," Johnson said. "He still comes around in the mornings and shows me things. He's showed me how to study films and while I'm out practicing learning the plays, how to use my techniques.
"It's real big. At first I was the new guy just feeling my way through. But then as time went on, they started helping me more and I've been blessed to have guys like that help me."
"When I first got here, Seth kind of looked after me and tried to show me what they expected and how they do things around here," Maddox said. "He really kind of took me under his wing and I kind of followed what he told me to do."
Both Maddox and Johnson think they have found the right place.
"This is a young team," Johnson said. "All the guys are pretty nice and they show you around and they're willing to help you out. I think it's a good fit for me. I like the coaches. They have a real good energy. I think I fit in pretty good here."
And they fit in just in the nick of time for the Texans.
EDITOR'S NOTE:Jim Carley is a veteran Houston sportswriter who has covered the NFL for more than 25 years. He has worked for such newspapers as the Fort Worth Star-Telegram, The Houston Post, the Los Angeles Herald-Examiner and the National Sports Daily covering such teams as the Dallas Cowboys, the Houston Oilers, the Los Angeles Rams and the Oakland Raiders.