Hundreds of athletes, representing every country in the world, will flock to Athens, Greece this month to chase their dreams of winning an Olympic Gold. As an international audience embraces the Games of the XXVIII Olympiad, the Houston Texans reflect on Olympic memories of the past, look forward to the competition in the present and reveal some Olympic visions of their own as the summer games return to their origin in Athens…
What is your most vivid memory of the Olympic Games?
"Muhammad Ali boxing in the Olympics."
"I remember watching the 1984 Olympics, I think that was back with Mary Lou Retton."
"I remember when Greg Louganis hit his head on the diving board. That was crazy. That was something I've never seen so I remember that."
"I remember Carl Lewis, but probably even more than that was (Michael) Johnson coming out in those gold shoes and winning those Gold's in the 400 and 200. That was probably my best memory."
"The "Dream Team." Michael Jordan, Larry Bird, Charles Barkley, those guys. I remember watching them blow out everybody and that was an exciting moment for me as a kid."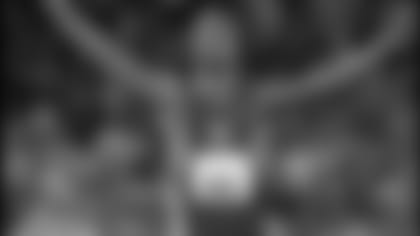 "I think Michael Johnson running the 200 meters in the gold shoes, setting the world record going around that corner. He still has to be the fastest human alive. No disrespect to all of the guys that they have out now but when Michael Johnson was in his prime, you just couldn't stop him."
If you could compete in an Olympic event, what would it be and why?
"I'd probably say the 100 (meters). That's the highlight of the whole Olympics, the 100-meter dash. I'd want to say shot put, but nobody really watches shot put. They watch the relays and the sprints."
"Probably the 4x100 relay and be the anchor, be the one to bring it home and win it for everybody."
"Either the discus or hammer throw. I did a lot of discus when I was in high school and really got pretty good at it and really wanted to start doing it at the amateur level but it didn't pan out."
"I would do the 400-meter hurdles. That's what I did in 10 th grade for one season and I have to redeem myself because I fell over a couple hurdles and hurt myself. I'd like to redeem myself right there."
"Javelin. I did it in high school and enjoyed the heck out of it. They didn't let us have sharp points. We had a rubber point, so I think it would be cool to have a real javelin."
"My dream event would be the 100 meters, but I mean, I'm not built for that."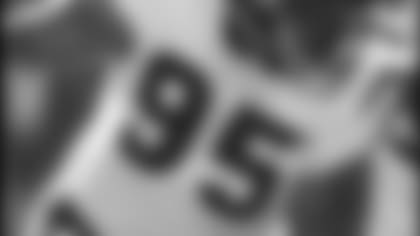 "I'd probably be in swimming. I'm graceful in the water…or maybe the high dive, I'd get in a Speedo and do a triple flip."
What event or athlete are you most looking forward to seeing in Athens?
"Bennie Brazell from Houston. He was an old teammate from LSU. He's going to do the hurdles and maybe a relay so I'm looking out for Bennie."
"I'd like to see Dwyane Wade. I've been watching him and he's bee doing a good job in the NBA. I had an opportunity to play against him when I was playing with the (Cincinnati) Bearcats. He was a great player in college also. I still look out for him."
-LB Antwan Peek(played both football and basketball at the University of Cincinnati)
"(Swimmer) Kaitlin Sandeno. I don't know her that well, I've met her a couple of times, but my wife is good friends with her sister. I'm just excited. This is her second Olympics."
"The 100 meters, Maurice Greene."
-DT Jerry Deloach and LT Todd Wade