Rookie seasons in the National Football League are never a cakewalk. So spending your first professional season on an expansion team takes the transition to an entirely different level. Just ask the Texans first-ever draft class of 2002. Their NFL crash course was a little bumpier than most.

Jonathan Wells was part of that group and had just wrapped up a stellar career at Ohio State when the Texans chose him in the fourth round of the 2002 NFL Draft. Wells rushed for 2,292 yards and 26 touchdowns his senior season with the Buckeyes that followed up a 1,331-yard performance his junior year. It was only natural that he expected to continue that progression when he made the move to Houston.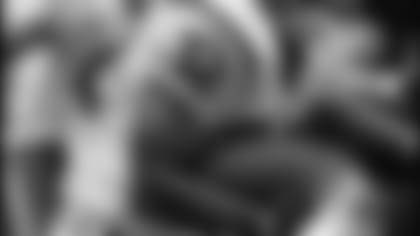 But Wells quickly learned that opportunities and yards didn't come very easily, especially with an offense that consisted of 11 players who were trying to mesh on the field for the first time ever.
Now in year three, Wells has mentally and physically overcome some substantial hurdles and is making great contributions on both the Texans offensive and special teams units.
Last week, Wells ran in his third touchdown of the season, a seven-yard sweep over the left side as he dodged and overcame a group of Titans defenders en route to the end zone.
And against Denver, Wells' heads-up play on special teams spotted teammate Antwan Peek's deflected punt, scooped it up at the Houston 15-yard line and ran it back to the one to set up a Texans touchdown.
Wells' talents have resurfaced this season after he spent the majority of his sophomore NFL campaign as a special teamer. He finished 2003 with 10 special teams stops but carried the ball just five times compared to his 197 attempts as a rookie.
The adjustment was tough, but only strengthened his character and mental tenacity.
A few touchdowns and a 105-yard career-high performance against the Raiders in his first start of the 2004 season gave Wells the boost he was waiting for.
"It definitely motivates me," Wells said about each big play he's able to make. "I had a rough last year. I didn't really step on the field at all as a running back, so I had to get my confidence back up. Running back is all about confidence. This whole game is about confidence.
"My confidence was down last year so I had a pretty good offseason where I was able to get it back up and then made a couple of plays this year. I'm definitely motivated for the rest of the season and the rest of my career."
Called "Big Angry" by his coaches for his aggressive style of play, the 230-pound ball carrier proved that his toughness on special teams could carry over into the offensive portion of the game. Not only was the coaching staff impressed with what he did when he was given an opportunity last season, but they loved the fact that he would do whatever was asked for the good of the team.
"With the special teams and being a backup running back and going in and being able to make things happen, that's a true team player and I think that's what he is," Texans running backs coach Chick Harris said.
That speaks volumes for Wells, not to mention that his sturdy frame can compete and bulldoze even the strongest oxen on defense. The coaching staff loves throwing him into the mix during pass protection and quarterback David Carr couldn't agree more. Wells is the ideal candidate at running back to take on menacing linebackers, defensive backs and even defensive linemen.
"You can trust him in pass protection because he's real physical," Harris explained. "He learned that from special teams and he fears no situation that can occur on the football field. If you have a big dominating linebacker or someone like that, I'm going to put Jonathan Wells on him because the "Big Angry" will go after him."
Wells graduated from John Curtis High School in New Orleans at 225 pounds, so size was never an issue. It helped him reach All-American status while his ability as a power back was exactly the punch Ohio State wanted when they brought him on to bolster the Buckeyes run game.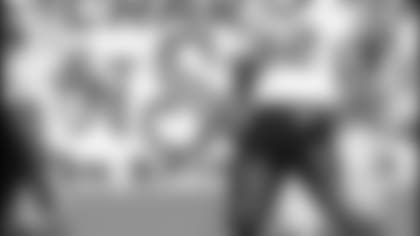 He became known for his brawny stature and ability to run over anyone that stood in the way of a possible opening in the offensive front. By the end of his collegiate career, Wells had really started to find the holes and make things happen for the Buckeyes offense. And if the holes didn't exist, he ran through packs of guys to pick up a few extra yards.
Now about 10 pounds heavier and a lot more experienced, Wells' and his downhill running style is a good compliment to fellow Texan Domanick Davis, a smaller, more darting style of runner.
The two are able to throw defenses off with their individual and unique styles of play. Just when an opponent is able to contain Davis' cuts and jukes, they get a taste of Wells hard-hitting, fearless beeline towards the first-down marker.
"He's a physical guy at 235-240 pounds so if you take that body in one direction as hard as you can, you're going to gain yards," Harris said.
Flattening out the competition isn't as easy at it looks. Sometimes squeezing out that extra two or three yards takes its toll on Wells' body, which makes what he does every day even more significant.
"A crash test dummy pretty much," Wells said describing his position. "Every time you get the ball you have 11 men trying to knock your head off so you can't dodge most of those blows. You take them from the side, the front, it's really like running into brick walls all day – 300-pound guys and safeties that like to hit."
Wells' opportunities are becoming more frequent and he's making the most of everything thrown his way. He recognizes that if he continues to produce, slowly but surely, 'Wells' will become a household name in this league.
"I think I have a bright future," he said. "I plan on being a starter in this league, a productive starter. I think I have that type of ability whenever I get the opportunity. But this game is about patience. My opportunity will come sooner or later. I just have to keep working hard and whenever it comes, I just have to be ready to take advantage of it."