The draft grades are flying in, fast and furious, an annual April rite for football scribes across the NFL landscape.
And it all seems rather silly, frankly. Do Fortune 500 companies rate their fresh-faced college recruits before they've even filled out their W-2 forms? Of course not. But as the draft has grown in visibility so has the need to determine how teams fared. Like now.
But ask most coaches or scouts and they'll tell you that you really can't determine the success of a draft class until three or four years down the road. There are physical, mental and emotional adjustments that each draft pick faces when he arrives on the NFL doorstep. You can predict some of those results on film, but certainly not all of them.
Yet as a third-year club, the Texans expect more from their draft picks than most. Quarterback David Carr, left tackle Chester Pitts and wide receiver Andre Johnson started all 16 games as rookies. Running back Domanick Davis rushed for 1,031 yards in his first season. And although Houston's depth issue is slowly being resolved with each passing season, the Texans will still expect a lot from their rookie class in 2004.
The Texans entered the draft determined to make their defense better and steadfastly adhered to that strategy as their first seven picks were on that side of the ball. But Houston also took a few gambles, which shouldn't come as a surprise to those who follow the team closely. General manager Charley Casserly isn't one to lay up from the fairway on a par-five come draft weekend.
The overall result? A happy head coach. Dom Capers has plenty of young bodies to upgrade his defense. Plus, topping his pre-draft wish list was a shutdown cornerback and an edge rusher. The Texans were able to maneuver to snag both in one bountiful first round, potentially snagging two starters.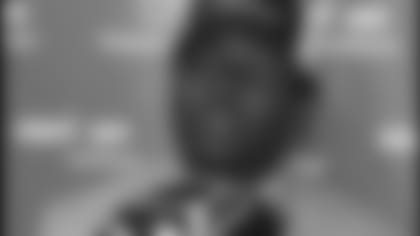 "This is an exciting day for the Texans," Capers said Sunday. "As we moved into year three, we felt our greatest need was to try to improve our defense. As the draft started, our goal was to improve our pass coverage and pass rush. I made the statement that if there was some way to get Dunta Robinson and Jason Babin that would give us the best chance to move forward.
"Not only are we getting two talented players, but players that we feel are the type of players we look for from a workout standpoint. When you combine that with talent, you get a winning combination."
Every team claims that a player they drafted was the "highest-rated" on their board. What do you expect them to say? Well, trust us, when the Texans were on the clock at No. 10 overall, one player's card looked awfully lonely sitting by itself near the top of the board. Cornerback Dunta Robinson fills a need, potentially two with Marcus Coleman's move to free safety, but he's also a great talent.
"He's got rare speed," Capers said. "The combination of his speed, his quickness and his change of direction, and what stood out in our minds when we watched him play during his college career was, for a 186-pounder he had very good explosiveness in terms of hitting."
The Texans need their corners to be aggressive and fearless in the 3-4 because in many instances the outside linebackers are crashing the pocket. Robinson is more than ready to embrace that role.
"If you're not confident, you're not going to last long in this league," he said. "This is the NFL. There is going to be many great players and I know that. That means I have to go out there and do my job and depend on my teammates to do theirs."
As he attempts to adjust to the right cornerback slot, Robinson will be fortunate to have one of the best possible tutors on the opposite side.
"I could not have come into a better situation," Robinson said. "Aaron Glenn is a great cornerback and I'm looking forward to learning a lot from him. I'm just happy that he's able to extend an invitation to hang out."
It was invitation that went out within minutes of the pick.
"I'm looking forward to him coming down and letting the mentoring process begin," Glenn said. "I really enjoy teaching players. It's almost like coaching. I love working with kids who want to get better. He's of a similar stature, so he can relate to what I had to go through."
Capers likened Babin to former defensive end Kevin Greene, whom Capers coached at both Pittsburgh and Carolina. The Texans managed just 19 sacks a season ago and only eight from their outside linebackers. Babin racked up 30 sacks in his last two seasons in college.
Much will be made of the picks that Houston surrendered to get Babin, and the fact those picks went to division rival Tennessee. And the questions are fair. But when it was all said and done, the Texans' second-round pick turned into a first and, since they already had a fourth-round selection in hand, the only round Houston essentially missed out on was the third round.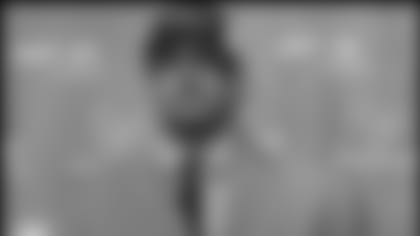 And Babin doesn't feel any additional pressure with the Texans giving up those picks to draft him.
"I would not say the words 'give up,'" Babin said. "I think it's more along the lines of commitment. They look at me to get the job done and I will get it done for them.
"I would work just as hard for them if I were a seventh-round pick."
As the draft's second day rolled around, the Texans also took somewhat of a gamble on Notre Dame safety Glenn Earl, who missed the second half of his senior season with an ACL injury. The Texans liked his aggressiveness and Capers likened Earl's knee rehab schedule to that of running back Tony Hollings a season ago.
"It's been a grind," Earl said. "I've been hitting it hard the last five months just to get my knee back to where it needs to be. It's all about getting all my strength back. I'm very optimistic. I definitely see myself full go come the season."
If Earl does bounce back, that pick could be a steal. He was one of the hardest hitters at the college level and can play both safety slots.
The Texans selected another Fighting Irish defensive back in the sixth round in cornerback Vontez Duff, but they did so with an eye towards special teams as well as defense. Duff was a two-year starter at corner but also returned kicks, averaging 26.2 yards on kickoff returns and 10 yards on punt returns.
"I'm not a fair catcher," Duff said. "I don't want to fair catch the ball. I'm ready to take that ball to the end zone. Being a corner you don't get the ball in your hands too much so once you do get it kicked right to you, you want to take it and score."
The Texans pulled another surprise with their second sixth-round selection, snagging Nebraska option quarterback Jammal Lord, whom they will try at safety.
"Obviously he was a quarterback in Nebraska, but he'll work out as a safety this spring," Casserly said. "We really like him athletically, it is a projection going into the sixth round and these are the things you take a shot at. He's a really good athlete and seemed like a natural in the workouts."
Why so many defensive backs? It wasn't necessarily by design.
"I've said from day one that if players were rated equally, we would take the defensive player," Casserly said. "It just fell that way. In the sixth and seventh round, you're just looking for the best players up there. I did not anticipate necessarily doing this."
Defensive coordinator Vic Fangio got two more defensive ends-turned-outside linebackers to play with in the last two rounds. Mississippi's Charlie Anderson posted 5 ½ sacks last season as a defensive end, while Raheem Orr of Rutgers led all Big East defensive linemen in 2003 with 82 tackles.
Many thought the Texans would take a defensive lineman – not so much to compete for a starting position but to provide a little depth. Both nose tackle Seth Payne and defensive end Gary Walker are coming off injuries. But Casserly feels good about their progress.
"We feel good about the health of Seth Payne and we feel good about Gary, too," he said. "We felt like there were other things like the trade for Babin that we wanted to get done."
The Texans finally called an offensive player's name with their second seventh-round pick. Wide receiver Sloan Thomas won't have to wander far. Thomas was overshadowed by fellow wideout Roy Williams in Austin but still managed to catch 88 career passes for 1,362 yards and 12 touchdowns. Houston then wrapped up its draft by selecting Texas Tech's record-setting quarterback B.J. Symons, who held his workout across the street on Apr. 14. Symons' last game was a 38-14 win over Navy in the Houston Bowl at Reliant Stadium, one in which he passed for 497 yards.

One of the reasons Casserly traded down with Jacksonville in the fifth round is that he felt there was significant depth in this draft.

"I said going into this that I was more excited about more guys in the sixth and seventh round than I can ever remember," he said. "With every one of these guys, there's a darn good reason to do it."

But the night is far from over. The Texans are working the phones for undrafted free agents, targeting two positions.

"That's what we're working on now," Casserly said. "We really have to work on the offensive line and the defensive line."

It was a draft that started with a bang (two first-round picks) and ended with a flurry (six picks in the last two rounds). There were plenty of trademark Casserly trades in between.
In a division with the reigning league co-MVPs in Peyton Manning and Steve McNair, not to mention an array of outstanding wideouts, the Texans know that their defense has to improve. And most of these rookies, especially Robinson and Babin, will get the chance to prove they belong soon. Like now.
After all, this isn't the boardroom, right? And while Robinson, Babin and their pledge classmates will definitely face a learning curve, they'll be facing it on the fly. Welcome to the NFL, guys. And welcome to Houston.