Film from Sunday's game against the Colts may have well been a horror movie for the Texans offensive line.

It definitely had enough violence.
David Carr was sacked five times, bringing the total for the past two games to nine. Those numbers were accentuated by the fact the Texans were held to under 14 points in both games and forced to air it out in the second half in comeback attempts.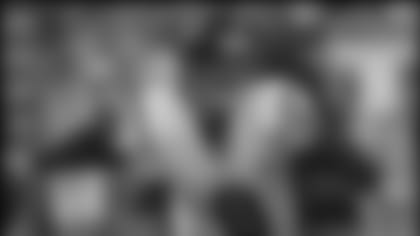 Offensive linemen say they are painfully aware of their mistakes and very close to putting together a great game. Head coach Dom Capers is not dissatisfied with their effort so far, but he's not totally pleased either.
Maybe it's the Texans' zone blocking scheme. Maybe it's some ill placed bad days.
No matter what, improvement in the run game and solid pass protection would make the Texans offense one of the best in football.
It's already moved from the bottom to the top 10 in the league.
"In terms of production there are a lot of things we can do better," Capers said. "We have to certainly eliminate the downside of things we've had the last couple of weeks."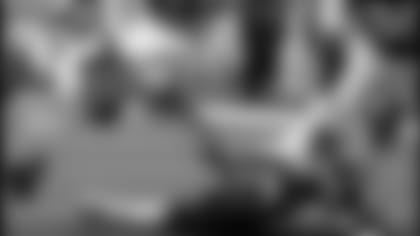 It's hard to tell which is more alarming – an average of 103 rushing yards per game or 25 sacks allowed.
Running back Domanick Davis rushed for a season-high 98 yards against the Colts, averaging 3.2 yards per carry. He averaged 3.7 yards per carry Nov. 7 against the Broncos.
He is on track for 814 yards this season – well below his record setting 1,031 from 2003.
But fans can rest assured that Texans linemen haven't enjoyed their performance in the horror movie film reviews from the last two Mondays and won't accept anything else than a stellar run game.
The intense dedication to improve is already in place.
"When we watch the film it's like it's just one step away," left tackle Seth Wand said. "Maybe if I would have covered somebody up a little bit better Domanick wouldn't have hesitated. It's getting there… We think a good run play is four yards, we just haven't gotten that 15-yard run that we want and what we need in a game."
The Texans are the only team in the league without a rush of more than 20 yards.
The emergence of Andre Johnson as one of the league's best receiver and Carr's ability to throw on the run have eased the pain in that category, but the best teams in the league run the ball effectively.
For example, the Pittsburgh Steelers (8-1) have carried the ball 152 times for 653 yards in the past three games. They have attempted just 58 passes and won all three games because they are able to get a lead and run out the clock.
Having been outscored 80-27 in the last two games the Texans have experienced the opposite.
Playing from behind, according to Capers, is a defensive coordinator's dream.
The Colts defense conceded a few runs at the end of the game because they knew Carr would be dropping back on most plays. Defensive linemen licked their chops and raced full speed for the quarterback.
Balance is the key.

And while Capers isn't ruling out the fact that the Texans could indeed be a "pass-first" team, the run is still vital for a successful offense.

"When you run the ball defensive ends in particular have to worry about playing the run, draw, screens, stuff like that," right tackle Todd Wade said. "When you're in the second half of a game trying to throw the ball playing catch up all they need to worry about is rushing the passer. It makes it a lot easier for them. It's still no excuse for a tackle getting burnt or an offensive linemen getting beat but it doesn't help us out any."
The past two weeks have been particularly painful for Wade. He has missed the last game with an ankle injury, but is on track for a return this weekend against Green Bay.
Capers said an offense that relies on the pass opens itself up for mistakes, i.e. sacks, penalties and interceptions.
Wand has struggled some this season – his second in the league and first as a starter. At left tackle he often draws the best defensive ends.
On the positive side he limited the Colts Dwight Freeney to no sacks. However Freeney's backup, Robert Mathis, had three sacks and three forced fumbles last week.
It's a work in progress but Capers has confidence that Wand will continue to improve and the line will hold together and open up more doors for the offense.
"I think we've got seven games to go here," he said. "I see our offensive line coming back and I think we've made progress in a lot of areas on the offensive line. I'm not disappointed in any single guy."