Psychologists tell us we're a product of our environment and the coaching fraternity seems to support that claim.
Hire a coach and you also hire his general philosophy, tendencies and formation. The Jets knew what they were getting when they hired Herman Edwards as head coach three seasons ago. They were getting a young, energetic, defensive-minded coach. And they were also getting some form of Tampa Bay's Cover 2 defense.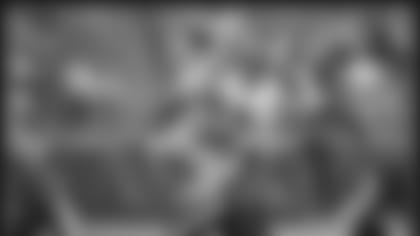 Carr might find a quick dump to Miller enticing Sunday.
The Bucs have thrived in the Cover 2 since former head coach Tony Dungy arrived in Tampa in 1996. Edwards coached the Bucs' defensive backs for five seasons before snagging the Jets gig.
At its best, the Cover 2 -- essentially a fancy term for a zone defense -- gives opposing wide receivers a nice cushion but closes those gaps with quickness, especially from the linebackers. The Bucs actually drop three (both safeties and the middle linebacker) deep because they can blanket the field so well. Bucs linebacker Derrick Brooks thrives in a zone because he's so fast.
The Jets, however, don't exactly have that luxury so they play more of a conventional zone with two deep and five underneath. New York's three starting linebackers -- Mo Lewis (strong side), Marvin Jones (middle) and Sam Cowart (weak side) -- average 10 NFL seasons and 31 years of age. Cowart, entering his sixth season, is the youngest. Meanwhile, when Jones and Lewis step onto the field at Reliant Stadium Sunday to face the Texans, they will have combined for 300 starts in green and white.
"They might be the strongest two dudes on the field so with age they make up with strength," tight end Billy Miller said. "They still look good. They're two very good linebackers."
Miller is right. Jones and Lewis haven't been around this long by accident. But the Jets, who lead the NFL with 19 sacks, rank 30th in the league in rush defense. Before holding the Bills to 53 rushing yards last week, New York's first four opponents were averaging 174 yards. Once the opposing offense finds some space, the Jets' linebackers are finding it tough to make up ground.
What does this mean for the Texans? Quarterback David Carr is coming off a 371-yard passing performance at Tennessee. He connected five times with wide receiver Corey Bradford for 127 yards. But 17 of Carr's 25 completions were either to tight ends or running backs. Edwards took notice.
"He can make all the throws," Edwards said. "He has some gifted receivers down there and he understand how to get the ball to the backs. He does a great job of checking the ball down to the backs."
Rookie Domanick Davis, who is getting more practice reps with the first team this week, caught seven passes for 70 yards. Miller had his best output of the season with six receptions for 47 yards. Even tight end Jabari Holloway, regarded more for his blocking prowess, hauled in two passes for 40 yards.
We all knew Davis was quick. But he's also shown the ability to make people miss and he's tough to bring down, a trait Edwards sees in Houston's entire backfield.
"They are all strong runners," Edwards said. "They are tough guys, can break tackles. They are all strong-legged guys. They do a good job. They are physical when they run."
Carr faces a formidable defensive front that made life miserable for Bills quarterback Drew Bledsoe last week. The Texans' offensive line has done a solid job through five games but might be facing its toughest test of the season Sunday.
"They're awful good up front," head coach Dom Capers said. "(Defensive end) Shaun Ellis is probably having his best year with 7 1/2 sacks. They're all athletic and all you have to do is look at the tape from Sunday to see the kind of pressure they get on a quarterback."
Carr would love to look downfield to Bradford, Andre Johnson and Jabar Gaffney, especially with New York's secondary hurting (starting left cornerback Donnie Abraham and free safety Jon McGraw are out). But knowing that, and knowing their linebackers aren't playing sideline to sideline like they used to, the Jets might even allow for more of a cushion. That could open some lanes underneath, which would welcome to Carr if he's feeling pressure in the pocket.
"All we can do is worry about ourselves," Carr said. "If the situation dictates it and we take advantage of one of those new guys then so be it."
Another week, another chess match. It all comes down to the matchups the Texans can create. And as this season wears on, it's become obvious that Houston's offense is starting to pose matchup problems, regardless of what coverage scheme the Texans encounter.
         "The
         defense is made to stop the offense," Johnson said. "You
         just have to go out there and run your routes. Sometimes you have
         routes just for a Cover 2 and you can still get open."