Playing before more than 80,000 people in college is supposed to be fun.

But playing at Notre Dame changes a man.
Texans strong safety Glenn Earl describes his time with the Fighting Irish as the most wonderful and nerve-racking experience of his short life.
He started two games as a 19-year-old redshirt freshman. The hype surrounding the historic "Golden Domes" is unlike anything in the country. According to Earl, the attention was the best and worst thing about Notre Dame.
But it prepared him for what was to come.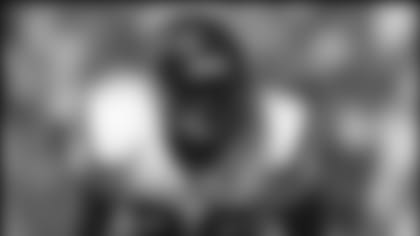 Unlike fellow rookies Dunta Robinson and Jason Babin, Earl wasn't listed as a starter in the preseason. Injuries hampered him through the spring and training camp.
He got his first shot Sept. 26 at Kansas City – one of the toughest places to play in the national football league. He took on the full-time starting role two weeks ago at Indianapolis.
"I could walk out there and play in front of a million people and it wouldn't seem any different than a home game at Notre Dame," Earl said. "It definitely prepared you for big time situations. Nothing impresses me really. I'm definitely grateful for that. That type of stage definitely prepares you for anything."
Or was Earl groomed for the big time earlier in his football life?
Earl played receiver and defensive back at Naperville North High School in Naperville, Ill. – a suburb of Chicago. The Huskies went 10-3 his senior season and are perennial favorites to win the state title.
He played with NFL talents like Jets receiver Justin McCareins and grew up with Tennessee running back Chris Brown.
"I just know that we knew what we wanted to do and what we wanted to be," said Brown who leads the Titans with 872 rushing yards. "We were determined. We always wanted to be the best, and that's helped us out in the long run."
Brown started his college career at Northwestern before transferring to Fort Scott (KS) Community College and on to Colorado. He entered the NFL Draft after his junior year.
Glenn red shirted his freshman year at Notre Dame but played in all 11 games in 2000 after switching to safety from wide receiver. He played in 38 career games recording 169 tackles, four interceptions and five fumble recoveries.
But even with a history of shuttling talent to Division I colleges Glenn said he thought little of his future opportunities in grade school.
"In high school none of us ever talked about the NFL," Earl said. "As a matter of fact we barely talked about college. We were all about trying to win the state title. That was our biggest concern. We were so into that. That was the most important thing for us."
Friendship was just as important.
Brown and Earl were Pop Warner stars too.
Brown has taken heat as a pro for his straight-up running style. Critics say he is wide open for punishing hits. Yet before a hamstring injury that kept him out of games as a rookie, Brown had few major ailments.
Earl grew accustom to Brown's style at an early age. He blocked for him through high school and knows all of the running back's moves.

He chuckles when asked if he can stop him.

"He's the same exact player," Earl said of his childhood chum. "He was the same player when he was 8-years-old as he was in high school as he was in college and now. You see him stiff arming people into the ground and always wanting to bounce it outside and turn the corner. He's been doing that ever since we were pee wees.
"I know the way he runs but I think a lot of people know the way he runs. The thing about it is can you stop it because he does it really well. He's had success at every level. He's obviously good at what he does."
Of course Brown has equal praise for Earl.
He said he talks to Earl occasionally – the NFL doesn't allow much time for chit-chat. But he has kept up with his friend's accomplishments, from Notre Dame on to Houston.
Athleticism has always been one of Earl's stronger points.
"Great guy, great athlete," Brown said. "Whenever we were playing ball, you could depend on him to go out there and get the job done. We'd always put Glenn on their best receiver, and he locked him down."
Notre Dame carries plenty of challenges.
Each year the schedule reads like the Top 25.

Actually, it usually is.

Impossibilities and juggernauts aside, South Bend was home to Earl, who began turning heads in professional football after posting career highs in tackles, forced fumbles, interceptions and passes defensed as a junior.
He injured his knee as a senior and played in only six games.
But the Texans have never been afraid to take a chance. General manager Charley Casserly plucked him in the fourth round of the 2004 Draft.
"As the draft evolved around and we came to the fourth round, there were some players there we liked," Casserley said after the draft. "Glenn Earl was a player that we had rated as the second best safety on our board. He was coming back from a knee injury, but everything pointed towards a full recovery."
Quick hasn't been a word to describe such a recovery.
Earl fought a couple of injuries in the preseason, including the knee injury that lowered his draft stock. He started the season on the inactive list, but was thrown into the starting lineup in the third game of the season when Eric Brown suffered a knee injury.
He recorded 10 tackles in his first start at Kansas City.
But that wasn't the hard part. The atmosphere wasn't much different than Homecoming in South Bend.
"I remember my first game at Kansas City people were trying to tell me 'relax, you'll do fine.' I was cool. You play in so many big games (at Notre Dame). So many insane arenas. Nothing can faze you really."
What did faze Earl was another injury. He picked up three tackles in the next game but did not return to action until Nov. 7.
Starting as a rookie is hard enough, he didn't need the added problems.
Texans defensive backs coach Jon Hoke said playing in the NFL requires impeccable technique, mental toughness and stamina. Most college teams finish their season around Thanksgiving. At that point pro teams have five or six games left, not including the playoffs.
"You've got to be resilient," Hoke said. "If you have a bad play you have to be able to put it behind you and move on to the next one. You can't let it shake your confidence and those type of things. You got to understand you're going to make some plays and there are going to be some plays they make."
Pro defenses normally have two or three times more plays than the average college team. So dedication in the classroom is equally important.
Earl said he watched plenty of film at Notre Dame. Now he takes tapes home with him.
"You have to get any kind of edge," Earl said. "If I can get anything from the tape, I'll take it. Everyone is so good in this league. You can't go out there and win on athleticism.
"You play against a lot of great players (in college). So you see these guys on NFL teams. Playing the best prepares you for that. You realize what you have to do. You have to step your game up and try to play the perfect game. That's the way it is here every game."
Earl definitely missed the high road to becoming an NFL starter.

But he will start his third-straight game when the Titans visit Reliant Stadium Sunday. He's getting the hang of durability. He has 31 tackles already this season, 16 in his last three starts.

Still, he'd much rather have made his rookie mistakes in the preseason.
"There's a difference between knowing it on paper and getting reps and doing it," he said. "I always knew it on paper. I always followed along. I always answered questions in meeting but when you get out there you have to make the checks and when you get tired that's when you make mistakes. I had to get past that."
He admits he zoned out a couple of times against Kansas City. He didn't put his mistakes immediately behind him.
Then again, no one ever said life in the NFL would be easy. That's something that wasn't covered in high school state championships. If it was, the Naperville North Huskies probably wouldn't have went 10-3 six years ago.
There's a fine line between confident and cocky – knowing pressure and embracing it. Earl seems to have that understanding well before his years.
It seems he's heeded some advice from a high school pal.

One of the guys that does impress him.

"Don't worry about the pressure," Brown said. "Know what you're supposed to do when you're out there playing. Play hard and stay healthy, and you'll be all right."