You know, former Florida running back turned NFL star? Taylor is the only player in Jaguars history to rush for more than 1,000 yards. Actually, he's done it four of his seven years with the team.
He has 31 100-yard games in 73 starts.
Jacksonville (5-2, 2-1) has always had wide receiver Jimmy Smith to complement Taylor, but the ascendance of second-year quarterback Byron Leftwich has morphed the Jaguars offense into more of a passing threat.
As a result Taylor's numbers are sub par compared to his past production. He has 501 rushing yards and 224 receiving yards this season with just two touchdowns.
But he is still Fred Taylor, so the Texans will certainly have an easy time remembering him when the Jaguars visit Reliant Stadium Sunday.
Actually, he is kind of hard to forget.
"He's a big guy you've got to contain," defensive end Robaire Smith said. "Fred is a good running back. He can stop on a dime and make a cut and make you miss easy, but he's also got the power to run you over so you've got to really put a helmet on him."
Taylor exposed a banged-up Houston defense last December by rushing for 163 yards and a touchdown. It was the fifth-best performance of his career and the third most allowed in Texans history.
The Jaguars won that game 27-0 – the only shutout in franchise history. Taylor went on to rush for a personal and team record 1,572 yards in 2003.
"Fred is a good guy," linebacker Jamie Sharper said. "He has that explosive part of his game. If you don't look at him then he can take it 60 or 70 yards so you always have to keep your eye on him."
Taylor has 27 plays in his career of over 30 yards, second on the team only to Smith.
Jacksonville coaches hinted about getting Taylor more involved in the offense earlier in the week, but it appears for the moment he is just another capable weapon for Leftwich to throw to out of the backfield.
The quarterback's confidence has lifted the team to five fourth-quarter victories this season, partly because of the talent surrounding him.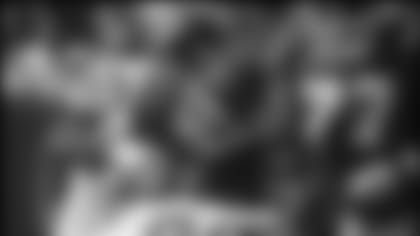 "He looks like he's been throwing at this level for about five or 10 years," defensive end Gary Walker said of Leftwich. "It helps to have guys like Fred Taylor and Jimmy Smith and (tight end) Kyle Brady and that offensive line around you taking care of you too. He's got every reason in the world to be confidant back there."
As for Taylor, he has proven himself as an adept receiver and keeps finding ways to contribute to the offense. He has a long reception this season of 64 yards and has averaged 8.4 yards per catch over his career.
Walker, a former teammate of Taylor's in Jacksonville described the running back as "a complete package," comparable to San Diego's LaDainian Tomlinson with a few extra pounds added to his frame.
So while he might not take center stage in a Jaguars offense filled with stars, Taylor still grabs plenty of press around the Texans locker room.
Forget about him. And you can forget about the game.
"I'll tell you he hasn't fallen off our headlines," Walker said.