---
NOTE: This feature first appeared in Houston Texans Gameday on August 12.* Eric Moulds begins his first season with the Texans tonight against the Chiefs. He is entering his 11 th season in the NFL and has been selected to the Pro Bowl four times. Moulds has hauled in 48 career touchdown passes and needs 904 receiving yards to become the 26 th member of the NFL's 10,000-yard club.
1-What's your favorite type of car?
"I like Andre's (Johnson) Bentley Continental. That's probably my new favorite. It's an unbelievable car. It's got pretty much everything you need in it, but a bed. It's got a refrigerator in it, anything you need, you could live in that car."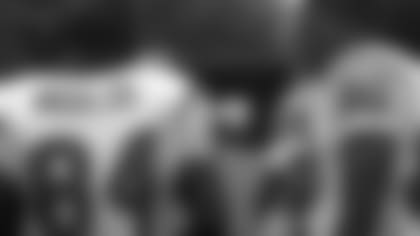 2-What's your favorite vacation spot?
"I have to say the Pro Bowl in
is always beautiful no matter what time of year it is."
3-If you were not a professional athlete, what would you be doing right now?
"If I wasn't a professional athlete I would probably try to get into television or work with my dad. My dad owns his own construction company, so I would probably be working with him doing concrete work and things like that. I kind of do it in the offseason, just to kid around with him. It's a tough job."
4-What's your favorite gadget?
"I would have to say my pocket PC. I don't think I could live without that thing. It does so many different things. It keeps my schedule, and it wakes me up in the morning. So it's like my alarm clock and my personal bookkeeper in one. I think I would be lost without it."
5-What music is in your MP3 player right now?
"It's just a mixture. Coming into work everyday, I try to listen to a little R&B to relax and put my mind at ease. When I'm working out, I try to listen to a little Hip-Hop or something a little more hardcore to get me motivated and up and running."
6-If you had three hours to yourself, what would you do?
"There's nobody around, just me? I'd probably get two and a half hours of sleep and then lay in bed for the next 30 minutes."
*7-What's your favorite restaurant in
---
"I haven't been here that long, but I had the opportunity to go to Fleming's the other night and it was a great steakhouse. That was my first restaurant experience in
. That's my favorite for now."
*8-Who is or was your favorite player to go head-to-head against?
---
"I came in as a rookie in '96 and I got to go up against Deion (Sanders). The first time I went up against him I had like four catches, and the second time I had something like six catches against him. It was always fun to go against him in his prime. I saw how good he was."
9-What's the best football movie that you've seen?
"I would probably have to say "Friday Night Lights". I enjoyed that movie. It was well put together."
10-What was your rookie or "Welcome to the NFL moment"?
"There was a big thing when I got drafted about me ordering a pizza at practice one time in college (