You remember the last day of school.
The excitement, the anticipation. Watching the clock tick down to the final bell when the collective jailbreak would occur.
Things are a little different in the National Football League. The Texans' locker room slowly emptied Monday, one day after Houston's season concluded with a loss to Tennessee. But there was no sense of euphoria or relief. In this league, you don't want your season to end, even if you are an expansion team.
A dozen teams woke up this morning with dreams of a Super Bowl still alive. Twenty woke up with those dreams dashed. The Texans are in the latter group, which was essentially a given this season. But as of today the expansion moniker can be tossed aside. This team is planning to lay a few more bricks to the foundation in 2003.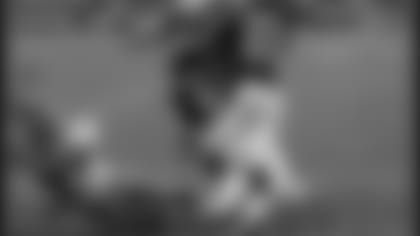 Houston's defense kept the Texans in games throughout the season.
"This season was a good start," Texans linebacker Kailee Wong said Monday. "What's great about it is that next season we can look at the season and say we are no longer an expansion team. With that being said, there are going to be higher expectations and pressure."
Which suits the Texans just fine.
"Now that we have gone though this first year, you go into every year wanting to go to the playoffs," Texans quarterback David Carr said. "That might be a far-stretched goal for us, maybe we can't do it next year, but that is going to be my goal. In this league, anything can happen."
The Texans went 4-12 this season, tying the 1995 Jaguars for the second-most wins by an expansion team. Two of those wins were on the road (Jacksonville, Pittsburgh) and two were against eventual playoff teams (Steelers, Giants). Houston played 12 games against plus-.500 teams, the most in expansion annals.
And the Texans proved to be a tough out for nearly every team on their docket, thanks in most part to a veteran-laden defense that ranked 16th in the NFL in total defense and produced two Pro Bowlers in cornerback Aaron Glenn and defensive end Gary Walker.
Meanwhile, the offense started six rookies and predictably finished 32nd in the league in total offense. Injuries decimated the offensive line and Carr was sacked 76 times. The Texans couldn't develop a consistent running game to take pressure off the rookie signal-caller, bottoming out with a 28-yard rushing performance yesterday against the Titans.
"We've got more veterans on defense, more guys that have played and understand the fine line between a winning performance and a losing performance," Texans head coach Dom Capers said. "As a rookie, it's hard to understand that."
Only Chicago had fewer rushing yards per game than Houston's 84.2 and no team yielded more sacks. But five-time Pro Bowl left tackle Tony Boselli missed the entire season with a shoulder injury, forcing projected rookie guard Chester Pitts to shift to Boselli's slot. Right tackle Ryan Young missed eight games with a groin injury. Guard Ryan Schau missed significant time with a knee injury and fellow guard DeMingo Graham was suspended by the league for the final two games.
"There are a lot questions regarding our offensive line," Capers said. "I think we'll have far more possibilities heading into next year. We all realize what an important position that is. We don't like to go through the scenario we went through this year but hopefully in the long run we'll be better for it."
Boselli continues to rehab and expects to return.
"I have more range of motion and strength and those are two keys you need," he said. "We've made progress and if it keeps going at this pace I'll be fine."
Running back Jonathan Wells led the team with 529 yards but averaged just 2.7 yards per carry. Nevertheless, he knows that he gained valuable experience that most rookies can't lean on for next season.
"We have to really go to work on running the football better for us to move forward," Capers said.
Wells admitted that the season was frustrating at times but he knows that he gained valuable experience that most rookies can't lean on for next season.
"It will pay off for me in the end," Wells said. "There were a lot of ups and downs, frustrations and fun, but I know it will pay off in the end. I'm looking forward to it."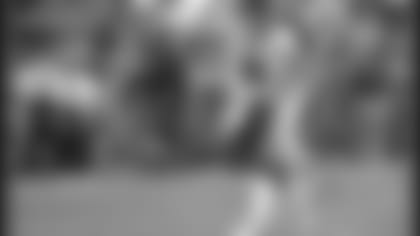 Carr threw for nearly 2,600 yards as a rookie.
Carr completed 233 of 444 passes (52.2 percent) for 2,592 yards with nine touchdowns and 15 interceptions. More importantly, he took every snap from center.
"I have learned a lot," Carr said. "I had a lot of fun -- I always have fun playing ball. I wouldn't change anything that happened this year. It is all going to be positive when I look back at it later in my career because I am going to learn from every experience that I had, especially when I have a chance to go back and watch all these games again."
Tight end Billy Miller paced the Texans with 51 receptions. Wide receiver Corey Bradford led Houston with six touchdown catches and a 15.5-yard per catch average.
Glenn, Walker and linebacker Jamie Sharper anchored a defense that kept the Texans in games throughout the season. Houston finished the season ranked 16th in total defense, 10th against the pass. The hard-hitting unit should only get better with one season in the 3-4 under its collective belt.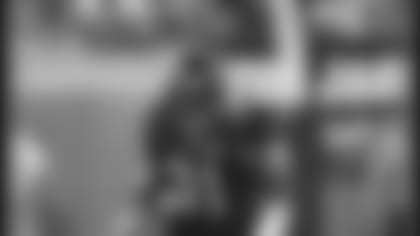 Glenn led the Texans with five INTs.
"I feel like we did some good things, but by being a competitor and being an athlete, I always feel we could have done more," said Wong, who switched to outside linebacker for Houston. "I feel that the last four or five games, I started to get the hang of it. I understand how to beat tackles and tight ends."
In all, five players -- Sharper, Walker, linebacker Jeff Posey, linebacker Jay Foreman and defensive tackle Seth Payne -- set career highs in tackles. Posey (8) and Wong (5.5) established career highs in sacks.
"I thought our defense fought their tails off all season," Capers said.
The Texans had a punt and a field goal blocked yesterday, but overall the special teams were solid in 2002. Kicker Kris Brown hit 17 of 24 field goal attempts, including two game-winners and 13 of 19 beyond 40 yards. Punter Chad Stanley tied a league record with 114 punts. His net average of 36.8 ranked second in the AFC and he placed 36 punts inside the 20. The Texans yielded just 5.7 yards per punt return but averaged just under 20 yards per kickoff return.
"We've had our share and ups and downs throughout this first season but I think one of the things we were able to do was establish a work ethic and the right kind of attitude," Capers said.
Those elements will be key as the Texans approach 2003. Six of Houston's 12 losses were essentially winnable in the fourth quarter. But the opposition made the plays at the end. The Texans need to learn how to make those plays.
"There's a number of games we could have won," Capers said. "Our challenge is we have to find a way to win those close games, those games that come down to the fourth quarter. I think that's the next step."
The Texans will face five playoffs teams next season -- Tennessee, Indianapolis, Tampa Bay, Atlanta and the Jets. Three of those teams (Titans, Bucs, Jets) are division winners. Houston's combined opponent record is 136-119-1. Of course, in today's NFL, records mean little from season to season.
"Anything can happen in this league," Glenn said. "Just look at last year's two Super Bowl teams (New England and St. Louis). Neither one of them made the playoffs this season."
Does that mean the Texans can make a playoff run in just their second season, like Capers' Panthers did in 1996? Nobody knows for sure but Capers likes where this group is headed.
"You'd like to win more games," he said. "But having been through this process before, I understand it's a step-by-step process. I'm proud of the way this team has hung together. I think we have a good core to build from and move forward."
So now what? Capers and his staff will spend the next few weeks evaluating personnel and schemes. The Texans have some contracts to address. Free agency starts in March and the players report for the off-season conditioning program on Mar. 24, a month before the 2003 NFL Draft, where the Texans will have either the third or fourth selection in the first round.
         "I
         think we'll have the opportunity to make up some ground on people 

in the off-season," Capers said.