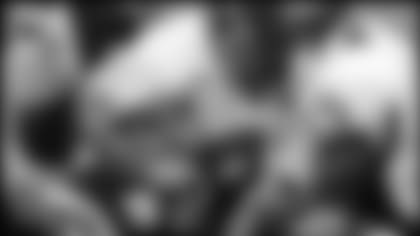 Babin started 25 of 47 career games while stifling opposing passers 38 times for 188 yards in loss.
The Texans dove into trade action during what will go down in NFL Draft history as one of the wildest first rounds, when they negotiated picks with Tennessee to scoop up Western Michigan defensive end Jason Babin.
Though Houston gave up its second (40), third (71), first of two fourth-round picks (103) and swapped its fifth round selection (138 for 159) with the Titans, it was the price the organization was more than willing to pay to satisfy its draft day wish list.
"Our two top guys were Dunta Robinson and Jason Babin," Texans general manager Charley Casserly said about the draft game plan. "Those were the top guys we wanted to get in the first two rounds of this draft so we accomplished that objective."
Trade rumors began to run rampant near the end of the first-round selections, insinuating that Babin may be taken before Houston would be able to call out his name with their second-round pick. So the Texans made the call to Houston's former franchise to acquire the 27th pick overall, sealing another piece of its defensive puzzle.
"Jason was a player that we had rated the highest at his position," Casserly said. "He's going to be an outside linebacker for us. We got wind that there were other people who were trying to trade up to get him so it became a bit of a race to go get him."
The additions of Robinson and Babin will beef up the Texans' corner coverage and pass rush. Last season, Houston's 31st-ranked defense recorded just 19 sacks. So Capers and the defensive coaching staff were looking for a big-play, high-impact pass rusher to really exploit the many possibilities that 3-4 scheme opens up.
Babin fit the mold perfectly.
The college defensive end recorded back-to-back seasons of sacking opposing quarterbacks 15 times in both 2002 and 2003 while his 38 career sacks topped the old school career-record of 34 (Joel Smeenge).
In Houston, Babin will be asked to make the transition to the outside linebacker post, where his knack for stalking quarterbacks will add depth and disruption from the edge. When Capers and company traveled to Western Michigan for Babin's workout, the two-time All-American looked even more impressive in person.
Though Babin's stats spoke volumes (299 tackles, 38 sacks, 43 QB pressures), the coaching staff was equally taken with his gritty style of play and unwavering work ethic.
"He plays with a tremendous motor and plays hard all of the time," head coach Dom Capers said. "Our inability last year to rush the passer was probably the thing that jumped out the most at you. This was really the top guy that fit into our scheme and could come in and give us what we need in terms of rushing the passer."
Babin will also add a competitive spark to the already existing outside linebacker corps of Kailee Wong, Antwan Peek and Charlie Clemons. Babin was one of the fastest linemen in the game last season and won't be afraid to make an immediate splash in the professional ranks.
Babin enjoyed his most productive season as a senior, playing in all 12 games with 115 tackles (75 for loss), three forced fumbles and 15 sacks. His accomplishments earned him numerous All-America nods as well as the All-Mid American Conference Defensive Player of the Year award. Babin was also a candidate for all of the national defensive awards including the Outland, Lombardi and Nagurski.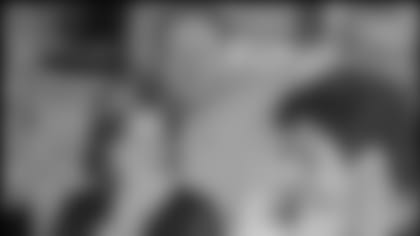 Jason Babin and his family celebrated back in Kalamazoo, Mich. when he received the phone call from Houston.
The Texans expect to utilize Babin on first and second downs at the outside linebacker post before moving him to defensive end in third-down situations. Babin, along with a healthy Gary Walker and recently acquired Robaire Smith, will improve Houston's defensive front by leaps and bounds heading into 2004.
Look for the 260-pound disrupter to also be a valuable addition to the special teams unit. His dynamic leaping ability allowed him to block three punts during his career and he even chipped in a kick return. During the 2002 campaign, Babin stretched his versatility onto the offensive side of the ball, where he caught three passes for 35-yards in gain.
The Texans are ecstatic with their 27th pick and Babin seems to mirror their sentiments. Though he wasn't sure if his name would be called in the first or second rounds, the unexpected trade for his services was met with loud cheers of approval in his Michigan home.
"I was really excited when I got the photo call that they were going to trade up to get me," Babin said. "They (the Texans) came up to work me out and I really liked the coaches and the defensive scheme they had going."
Though the Paw Paw, Michigan native doesn't have any previous Texas ties, he can rest assured that the city of Houston, and the Texans defense, will welcome him with open arms.