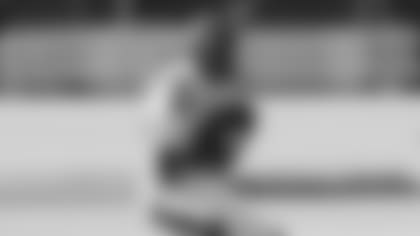 Training camp is tough and the competition for Mathis' spot is grueling. But Lewis figures nothing can be as bad as being homeless and trying to find your children in the Astrodome after Hurricane Katrina.
"I figure if I can go through that," Lewis says now, "I can pretty much go through anything."
Life hasn't been easy for Lewis since leaving San Diego State in 2002, where he caught 85 passes for 1,731 yards as a senior. The former New Orleans High School track standout bounced around the NFL for four years and spent an offseason in NFL Europe.
So when the Tampa Bay Buccaneers cut him in 2005, he didn't expect things to get worse. But they did.
"I was released the day Katrina hit, so I couldn't go back home to New Orleans," Lewis said. "I had to stay in Tampa almost two weeks. Then I had to make my way to New Orleans and try to find my kids, which I couldn't do for a long time."
Lewis ended up in Houston, scouring through the sea of humanity at the Astrodome where thousands of New Orleans evacuees sought temporary shelter.
"I was in the Astrodome about three weeks after the storm hit," Lewis said. "I went there to try and find my kids.
"It was heart-wrenching."
Lewis finally found his children, but his troubles were just beginning.
"I was homeless almost five months," he said. "I lived in a hotel almost three months, then I moved out and a friend of mine let me use one of his houses. Then I got the call to go to Austin and they pretty much resurrected my career."
The Austin Wranglers of the Arena Football League needed a speedy receiver, and Lewis had nowhere to go but up.
"When I got the call to go play for the Wranglers, I had to do it," he said. "I was homeless and I needed to do something to provide for my kids.
"It was a great experience and it helped make me a better receiver.  Now I feel that much faster and more confident in my playing."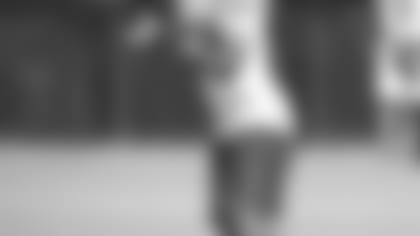 In fact, Lewis feels his season with the Wranglers, in which he set the AFL rookie record for receiving yards with 1,411 on 113 catches and 23 touchdowns, helped prepare him better for the NFL. He thinks the AFL made him faster.
"It helped a lot," Lewis said. "My first year in the NFL, the game seemed so fast. It was almost a blur, and I felt like I was two steps behind.
"In the NFL, these guys are extremely strong. And they have a lot more room to hit you harder. In the Arena League, the windows are so small. When you catch the ball, you don't have much time to react.
"So when you get out there on the big field, you actually have a step or two to do something. The velocity might be faster in the NFL, but they're just farther away from you."
The AFL, Lewis thinks, helped him learn to speed-shift to a faster gear in traffic.
"The Arena League was just a little bit faster," he said. "It's kind of slowed down here for me a little bit now. I feel I have room to make better moves. It's just helped me a lot."
Especially in the area of kick returns, where Mathis' injury has left a huge opportunity for someone.
"In the Arena League, the minute you catch it, they're right in your face," Lewis said. "Here you get a chance to read the field and set up your blocks. They're two different games, but they're still football. It's still, catch the ball and make people miss."
Lewis empathizes with the plight of Mathis, but knows this might be his best shot in the NFL.
"You don't want to see good guys go down," Lewis said. "We all like Jerome. We know he's a part of this team, but that's just the game of football. There are only so many spots, and they have to be filled. And if that's the way I have to try and get on the roster, then that's the way I have to go.
"It's nothing toward Jerome's misfortune. You don't want to ever see anything bad happen to the guys, but everybody needs an opportunity, and if I can get that one to make a name for myself, that's the way I have to go."
The kick return position is wide open on the Texans as Mathis, in a foot cast after surgery on his ankle, is on the physically unable to perform (PUP) list and won't come off before the sixth game of the season.
Others vying for his position include rookie running backs Wali Lundy and Chris Taylor, wide receiver Kendrick Starling and wide receiver Jake Schifino, the free agent from the Tennessee Titans who is reportedly the fastest man remaining in camp, running the 40 in the low 4.3s. ](http://store.houstontexans.com/product/index.jsp?productId=1772605&cp=2237490&clickid=mainnavgeartxt&parentPage=family)
"We've got some pretty fast guys out here," Schifino said. "I didn't know I was the fastest now. But I'm happy to have speed and I'm going to take advantage of it. I hope it can help me get deep.
"I love returning kicks. I did it some with Tennessee and I'd love to fill Mathis' spot while he's down."
At this point in training camp, it's anyone's job. But after the hardship he's endured over the last year, Lewis might just be the people's choice.
EDITOR'S NOTE:Jim Carley is a veteran Houston sportswriter who has covered the NFL for more than 25 years. He has worked for such newspapers as the Fort Worth Star-Telegram, The Houston Post, the Los Angeles Herald-Examiner and the National Sports Daily covering such teams as the Dallas Cowboys, the Houston Oilers, the Los Angeles Rams and the Oakland Raiders.