It was NFL Draft weekend in 1997 and the Sharper house was buzzing. Family and friends gathered by the dozens, eating, visiting and keeping a close watch on the television set in the Sharpers' Virginia abode. The group anxiously awaited the announcement of not only one draft pick in the family, but an astounding two brothers, separated by just 11 months in age, who were now about to celebrate one of the most treasured days of their athletic careers.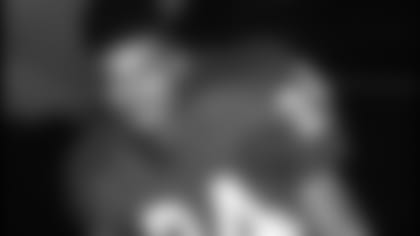 Is that *really *Jamie Sharper?
It wasn't long before that day that
Jamie
and Darren played side by side as offensive partners for their Hermitage High School football team. The two had been playing sports together since they were just tykes, getting their feet wet in soccer before moving on to baseball, basketball and finally football.
Much to their mother Pauline's chagrin, it was football that stuck.
"My dream was that they would just stick with soccer or either play basketball," Pauline laughed. "They weren't quite as rough and violent as football.
"Their father was a football player so they decided that football was their love but they still played other sports too."
Jamie and Darren's father, Harry, Sr., received a four-year scholarship at Virginia State, where he was an All-America selection on the football team. He also split time in college serving as a member of the ROTC. Shortly after graduating, Harry was commissioned to Vietnam where he served for two years. When he returned from duty, he tried out as a running back for the Kansas City Chiefs, but only stayed with the team about a month until he was released with a knee injury.
Harry returned to Virginia with Pauline and went on to pursue a career as an assistant principal and educator in Glen Allen, a small suburb of Richmond where they raised Monica, their oldest, Jamie and Darren. The two football stars really began to flourish during their high school years. Darren was at the helm of Hermitage's offense as the team's quarterback. Jamie played some defense, recording 90 tackles his senior year, but mainly rambled over opposing defenders at running back, where he rushed for over 1,000 yards that same season.
The two then had their chance to face off in college. Both received football scholarships, Jamie as a linebacker at Virginia, and Darren as a defensive back down the road at William & Mary. Jamie entered college in 1992, just one year before Darren. When he was redshirted his freshman season, the two were on course for the same four-year playing time table. Better yet, their two squads were able to meet up a few times, giving family and friends another forum to watch the pair's football talents.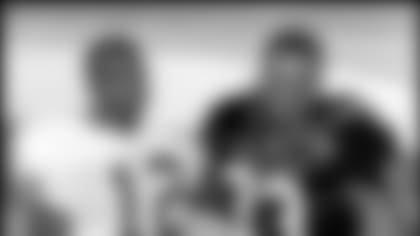 Darren and Jamie both played college ball in their home state.
After their collegiate careers, there weren't many folks in the Virginia area and beyond that hadn't heard of the Sharper talents, including NFL scouts. Jamie, the quick, bruising linebacker and Darren, the big-play, athletic defensive back were names discussed around many pro scouting roundtables.
The Sharper family heard rumors that Jamie may be plucked in the first set of pickings while Darren was a possible third or fourth rounder. Whatever the outcome, the family just prayed for both boys to get a shot. The opportunity was so rare; one that even Pauline never imagined would be in the cards for her sons.
"My dream for them and their father's dream for them was to be able to play well enough in football that they would get a scholarship and be able to go to college and get a decent job and be able to take care of themselves," Pauline said. "But they said it was their dream-come true."
Jamie and Darren's dreams became a reality almost simultaneously. The family rejoiced after hearing Jamie's name called early in the second round when Baltimore chose him with the 34th overall pick. Just 26 picks later, Darren found out he would be joining one of the most eminent football franchises in the league when Green Bay made its second round selection.
"It was unbelievable," Darren said about sharing draft day with his brother. "Up until my brother went to the Super Bowl and I went to the Pro Bowl, it was probably the highlight of our careers at that early point, with both of us going in the same round on the same day.
"All of the anticipation we had going into that day, it was exciting. It was the start of our careers and we kind of reached our goal that we had set forth in college of getting to the NFL."
And the competition continued. In 1998, Darren and Jamie would meet for the first time as pros. It was the first of two meetings that Green Bay and Baltimore would have, the second coming in 2001. Both were on Green Bay turf. Both were Packers' wins.
Sunday, the two face off again. In Darren's case, it's a game for preserving the past. But for Jamie, the significance is three-fold.
"It's a big game for me not only this season, but since I've been in Texas," Jamie said. "I'm playing against my brother; we're playing on national television in a Sunday night game and then it's also around my 30th birthday."
Whoever secures the win, the Sharper family, sons included, is eager to enjoy another rung in Jamie and Darren's astounding career. And nothing will change the fact that the two are best friends.
"It's been great having a brother who has achieved the highest goal, making it to the NFL," both Jamie and Darren reflected. "You don't find too many guys who have done that as far as brothers who have been in the league. It's a blessing."